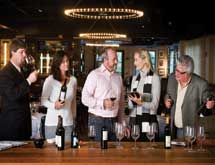 Any good bartender will tell you that knowing what your customers like best is very important. Knowing how to mix the perfect cocktail or pour the proper glass of wine for each individual's taste is the difference between success and failure. It's no different for wholesalers like Atlanta's Quality Wine & Spirits, as well. President and CEO Joe Best says the company has carved out its own spot in the marketplace in a short amount of time by knowing exactly how to serve its diverse customer base.
The company has been supplying customers in Georgia since 1999. Best got involved merely as an investor at first, but by 2002 he took the reins as president and CEO to help bring the fledgling company back on track. Best says he drew upon the experience he had gained as the leader of eight companies in seven different industries to help grow Quality Wine & Spirits' business from $3 million to $22 million in just four years.
Because the laws in Georgia favor wholesalers and offer little barrier to entry for start-ups, the competition in the marketplace can be "intense," Best describes. For example, there were around 19 wholesalers in the market when Quality Wine & Spirits was founded, but now they number more than 40. However, despite the intense competition, Quality Wine & Spirits has been able to maintain a rank of fourth or fifth in the market, Best says.
Local Favorites
There are several reasons why Quality Wine & Spirits has become so successful, according to Best. The first and foremost is that the company knows its customers. The company's customers can be broken down into three categories: on-premise customers such as hotels and restaurants, wine and liquor stores, and large-scale chain stores. Although many of these customers buy the same products, the way in which they buy can be completely different.
For example, Best says, hotels typically stock hundreds of wines, but chain stores can carry up to 2,500 brands. As wine represents only a portion of the products chain stores carry, they sometimes lack the individual service aspects of unique wine shops. This is where Quality Wine & Spirits comes in.
"You have to have enough expertise to communicate the features and benefits of the wines when you present them to corporate buyers," Best says. "In addition, you have to develop the required point-of-sale to tell the story, as many chain stores operate without a knowledgeable wine expert working the floor. To achieve this, we have dedicated individuals that capture ratings and others salient sales data for every wine."
World Class Team
"Another integral reason for our success is our knowledgeable sales force," he adds. "We have been able to basically keep our sales staff intact for our 12 years of existence. Our company has the lowest turnover rate in the state, if not the nation. Our competition has told our customers that they don't have a sales force that can compete with Quality's because we sell on knowledge of the specific account and also thorough knowledge of our products. Keeping our operations team at the same level of excellence is the responsibility of Rick Howe, executive vice president of operations."
"Our mission in operations is to provide the best service possible to our sales staff, vendors, and customers," Howe says.
Best reports that Quality Wine & Spirits was named one of Atlanta's Best and Brightest Companies to Work For. "Quality Wine & Spirits has created an environment promoting excellence through commitment, dedication, and service to our employees, customers, and vendors," he says.
Advanced Technology
The company's knowledge of its customers is backed up by a sophisticated software system that tracks each individual customer's purchasing habits and collates the data into information that is useful for the company, its vendors and the customer. "We're one of the few in this industry that tracks purchase frequency," Best says, adding that the company can access years of customer history instantly through its computer system. In addition, the company is providing its vendors and customers access to its systems and inventories online. This enables its vendors to spot trends and monitor its sales efforts in real time.
"Our customers can review their purchasing patterns to achieve additional discounts, but the real benefit is that our customers can mine our inventory to select specific products based upon prior purchasing habits," Best says. "The system will eventually work like the Netflix model. If the customer has purchased a certain wine or liquor in the past, the system recommends other similar products to try. We have partnered with Brixiom software development company to give Quality a competitive advantage."
The biggest advantage the company's software system has is the fact that it provides up-to-the-second information to anyone anywhere in the network, Howe says. "I don't think there are a lot of systems out there that are real-time."
With the real-time software system in place, Quality Wine & Spirits has the capability to hold inventory for particular customer groups or individual customers. Howe says the company continues to refine and evolve its information technologies, and the most recent upgrade of its portal will allow sales representatives, customers and consumers to have access to information about the company's inventory.
Along with the company's intense focus on knowing its customers, Best says Quality Wine & Spirits benefits from the fact that it has not narrowed its focus on wines from particular regions or with specific price points, like some of its competitors have. "Throughout our existence we have focused on building a portfolio that is respected and is deep in products from virtually every wine region in the world," Howe says. "We can be a one-stop wholesaler for any restaurant or retailer and satisfy all of their needs."
Cool and Collected
The company's understanding of wine means it takes an unusual but necessary step in its logistics process, according to Howe. "We are 100 percent temperature-controlled, which is certainly unique in the business," he says.
From its fleet of trucks to its warehouse to its distribution center, Quality Wine & Spirits ensures that the wine it stocks remains at the ideal temperature for as long as it has possession of it. Howe explains that the company believes in treating wine properly to ensure the highest quality for its customers. "Wine is a product not unlike produce," he says, adding that most distributors neglect to take this additional step, which puts their wine at risk.
"[Temperature control] allows a wine to remain stable, to evolve over time as it is supposed to – very gradually and gracefully," Howe says. "Poor handling of wine and exposure to extreme temperatures can result in a spoiled product."
Getting to Know You
Consolidation within the industry is one force Best says Quality Wine & Spirits and its competitors will have to contend with in the future. As wholesalers consolidate and become bigger, the major brands will gravitate to them because of their size. However, Best believes there still will be plenty of opportunities. "There are still enough independent wine brands that seek out companies like Quality because of the way we take care of our customers and the integrity of our sales force," he says. "We consider every wine to be fine wine, regardless of price point."
Quality Wine & Spirits knows its customers well, and Best says the company is looking to get to know another market just as well in the near future. "We are currently looking to expand outside the state of Georgia," he says. "We're evaluating where our philosophy and our approach to business would work best."