Quest Food Management Services is doing fresh foods on a scale rarely seen in the K-12 market.
Students today have far more sophisticated palates. The fast-food places that were once staple after-school hangouts have been replaced with fast-casual eateries such as Chipotle and Panera. Their parents take them to trendy foodie restaurants and serve them meals at home made from all-natural ingredients. As a result, teens are accustomed to high quality, nutritional meals.
That demand doesn't end when they walk through their school doors. An easily heated-up meal from the school cafeteria doesn't cut it anymore. Students crave variety, and if a school's lunch provider cannot match the quality and service of meals on the outside they risk being replaced by a company that can.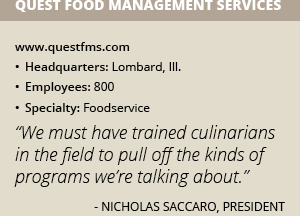 Fresh food and cooking from scratch have been a staple of Quest Food Management Services since Dave McTaggart and Sandy Kasprzak founded the company in 1985. It is now run by McTaggart's son, Mike McTaggart, and remains family owned. The company has always been strong in the Chicagoland market, but it's seen a major boost in business in the past few years as the healthy eating trend trickles down from the larger food industry into school lunches.
"Over the last two years we've really figured out how to message our brand of fresh, wholesome food and be more articulate about what's in our food and what's not in our food," President Nicholas Saccaro says.
The company has seen a 35 percent increase in growth during the past two years and earlier this year was named one of the top-50 food management companies by Food Management Magazine. The company primarily serves K-12 school in the Chicago market but has begun attracting clients in colleges and businesses. In all, Quest has 70 different customers and serves about 150 buildings.
Culinary Culture
Quest prides itself on made-from-scratch meals free from substances MSG and trans-fat. Meals are made on location, as opposed to the regional commissary model some foodservice providers utilize. Saccaro boasts that the company's attention to detail on the ingredient side and its ability to mass-produce fresh food every day doesn't exist on a regional scale outside of Quest. "Our food program mirrors college and university offerings in a K-12 environment," Saccaro says.
The schools Quest works with have food committees to act as a liaison among the company, parents and students. The committees, some of which meet on a monthly basis, provide feedback on meals and help Quest develop menus specific to those students – like hand-rolled sushi offerings and a made-to-order Mexican concept. "The balance we're always trying to find is what do the kids want, what are they going to feel good about eating and what are parents going to feel good about their students eating?" Saccaro says.
That level of interaction is possible because Quest stays within the Chicago region, enabling the company's representatives to meet face-to-face with students and parents. "That's a unique experience we can offer from a responsiveness standpoint that competitors aren't able to do," Saccaro claims. Having that direct feedback from customers helps the company overcome challenges such as providing better alternative menus for students with dietary restrictions. "The number of students dealing with allergen issues is growing so much," Saccaro says. "It's no longer acceptable just to have an option for them. They need a full food experience."
Quest strives to have a culinarian present in each location. "We must have trained culinarians in the field to pull off the kinds of programs we're talking about," Saccaro says. That's a difficult goal considering the competition for chefs in the Chicago market. Chicago alone has 7,300 restaurants, according to data from the city of Chicago, and the suburbs have thousands more, creating a massive demand for chefs.
But even if it doesn't have the glamor of running a five-star restaurant, Saccaro says Quest offers chefs numerous benefits. The work/life balance is far better, since schools don't hold class on the weekend and the cafeteria never has a dinner rush. The critics are also much kinder and customer interaction more common. "They get to be celebrities or heroes in some of these schools," Saccaro says.
Investing in Growth
With the K-12 market nearing saturation, Quest is working to entrench itself with other kinds of customers. The company already has a few business clients and scored its first college/university customer for the 2015-16 school year with Dominican University, a Catholic university in Chicago's west suburbs. The Quest difference made an immediate impact as student participation in meal plans rose 30 percent in the first year, according to Saccaro.
With those new areas of business comes a need for a larger workforce. Most of the company's hires in recent years have been through referrals from existing employees. Saccaro says that's a testament to the company's internal culture, but believes Quest can do an even stronger job recruiting to meet its goal of having a culinarian at every location.
The company is working with an outside support firm to better define the value proposition for potential employees and improve job marketing. "I don't think we've been as diligent as we could be to understand that our marketing efforts are not seen just by current and potential customers, but current and potential employees," Saccaro says.
Filling out its roster of chefs is just one necessity of growth. The company is also creating several new positions that will help it further push food quality and improve its service to customers and patrons. Quest recently added an organizational development position focused on training, team management, safety and sanitation. A newly hired director of food experience will focus on the front of the house part of the business – the branding, specific language that staff uses and the design of employee uniforms.
Focusing on the foodservice experience is yet another way Quest is drawing inspiration from the wider restaurant industry. "We're trying to catch up to some of the other prominent quick-serve restaurants that students are frequenting outside of school in terms of the dining experience," Saccaro explains.
The company is also helping its clients invest in better foodservice facilities, sometimes at its own expense. In the last two years, Quest has had a hand in about a dozen cafeteria and kitchen remodels. "The physical space is a huge part of that [foodservice experience]," Saccaro says. "If we don't have the space to do assemble-to-order or the equipment to do fresh food we can't do our program."