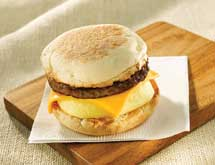 Just because we live in an era of convenience with little time to spare in our daily activities doesn't mean our food and drinks can't be freshly made – that's Quick Chek's philosophy and a key reason why the Whitehouse Station, N.J.-based chain of convenience stores continues to grow by about six to eight stores per year. "Since our beginning in 1967, Quick Chek continues to redefine the term 'convenience' and remains the market leader in food service, fresh coffee, fast fuel and friendly people – something we call 'fresh convenience,'" it says.
Quick Chek could be considered one of the original convenience stores based on its origins with Durling Farms, a dairy operation founded in 1888 that served families across central New Jersey with quality milk and dairy products delivered to their doorsteps.
In 1967, Carlton C. Durling opened the first Quick Chek in Dunellen, N.J., to ensure its customers had a convenient and friendly place to pick up their fresh dairy products. Soon, Quick Chek became a neighborhood shopping destination where customers could pick up fresh dairy, sliced deli and fill-in grocery items. Today, it consists of 125 stores in central and northern New Jersey, and in the Hudson Valley of New York.
'All About Fresh'
Quick Chek produces hot and cold dispensed beverages, fresh soup, salads and deli subs on breads baked fresh three times a day. Based on consumer preference, it has expanded to include additional service items such as fuel stations at some of its locations and in-store pharmacies in 12 of its stores. Still, the company is best known for being a foodservice provider, and a fresh one at that, Vice President of Sales and Marketing John Schaninger stresses.
"We are famous for our fresh program," Schaninger says. "A lot of what we sell is food on the go. Our No. 1 pro­duct is our coffee. That's a very strong driver for us along with a great hot breakfast offer, and toasted subs and soups in the afternoon.
"Everything in our store is made fresh – our sandwiches and subs are baked fresh, every­thing is sliced fresh, we grind our coffee fresh, and we maintain that fresh attitude, so we're all about fresh," he adds.
Quick Chek employs a category management team that develops all of its recipes in addition to working with area chefs, Schaninger says. It adds and removes items each quarter and performs a menu rotation every month or two, depending on the season. "We look at trends and what's going on in the industry, we listen to our store teams because they are close to the customers, and we get a lot of great ideas and input," Schaninger says. "But we also do some fun things on the Internet."
Internet Sensation
A few months ago, Quick Chek offered a create-your-own-sub promotion through www.ilovemysub.com, with more than 4,000 recipes submitted by customers. Customers voted and the company held a sub-tasting competition in one of its stores. "It was tremendous fun," Schaninger says. "We had a great turnout in the store."
According to Schaninger, the winner was unanimous. The crowning achievement went to Alan Kahn's "The Big Bad Bacon Chicken Sub," which includes breaded chicken tenders, bacon, lettuce, provolone cheese, sliced burgundy mush­rooms and honey mustard dressing on toasted parmesan Italian bread. It's available in all Quick Chek stores now.
The company is getting ready to launch a similar competition on its website, www.ilovemycoffee.com, for customers to create their own coffee using Quick Chek's signature coffees, whiteners and sweeteners. The winner will get his or her picture on a Quick Chek coffee cup. "It's a lot of fun; it really is," Schaninger admits.
All-Star Team
Quick Chek's No. 1 factor for suc­c­ess, according to Schaninger, is the company's employees. "The reason for our growth is really due to our great store teams," he states.
"If I'm a store team member, and I want to get ahead, the way to grow is to develop my skills and take advantage of advancement opportunities, so we need to grow more stores to create more opportunities for our teams," he adds.
Schaninger is a prime example of how an employee can grow through the company. He joined Quick Chek 32 years ago as an assistant store leader and worked his way through every operation position into marketing. "This is, without a doubt, the best company to work for," he asserts.
He says the company "hires for attitude" in that employers can train recruits to make a cup of coffee or bake the bread, but they can't train someone to have a good personality. "Our philosophy is you have to have the right attitude, be energetic and love customers – that's how we hire," Schaninger explains. "On your first day, you are required to come to our support center and meet President and CEO Dean Durling and Senior Vice President of Operations Mike Murphy. That's a pretty big impact to come into the company and meet the owner on the first day."
Quick Chek maintains it's the work force that sets apart the good from the great. "We have the best team members in the New York metro," Schaninger says. "I also believe the quality of our food is second to none. We offer a really high-quality product at a tremendous value served to you by fantastic people, and if you value great taste and nice people, I don't know what else you could want. Anybody can sell a great cup of coffee or make a great sub or soup, but nobody can deliver it with the experience that we offer from our great team members."