As long as R.L. Schreiber remains true to its roots when it comes to quality, the company aims to grow significantly in the next few years.
Raymond L. Schreiber founded R.L. Schreiber Inc. in 1968 with one goal in mind: to make products he could be proud of. With its 50-year anniversary approaching in 2018, today R. L. Schreiber is a leading manufacturer and distributor of food bases, spices, seasoning blends and related products.
The Pompano Beach, Fla.-based company continues to be family owned and operated. "Our upcoming anniversary is a tribute to the organization, especially a family business," CEO Ronald Frump says proudly. "Both the second and third generations are involved in the business. So this is also a tribute to Raymond Schreiber, who had the vision and saw the opportunity to create this company here in south Florida.
"Over the past 50 years, R. L. Schreiber Inc. has been built into a national company that provides products to virtually every state in the country," he adds. "As we look ahead, we're excited about continuing the legacy and success our founder."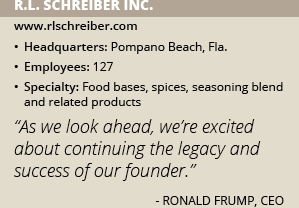 Keys To Success
Frump attributes R. L. Schreiber's success to several things, including its high-quality products and superior customer service. "We've been successful because of our attention to detail and focus on food safety," he says. "All of that circles back to our ability to customize products to meet customer demands. It's also a nod to our independent purveyor network, who take our products to market to the foodservice operators we serve across the country. What sets us apart from our competition is the quality and personalized service our purveyors provide."
R. L. Schreiber' customers are foodservice and manufacturing companies. "We service hotels, casinos, restaurants, caterers, schools and universities, and healthcare and assisted-living facilities," Frump explains. "We're fortunate to be in a great category that is experiencing strong growth.
"The projected annual growth rate of the spice, seasoning, and food base categories for the next several years is five to 6 percent," he continues. "We expect to exceed that because of the substantial investments the company has made recently in adding more management support for our regional purveyors and customers.
"The company has also made investments in new programs that drive performance and attract first-class talent over the past several years," Frump adds. "These investments support the company and have helped to spur performance."
R. L. Schreiber employs 127 people, all of whom have been key factors in the company's success, Frump notes. "When hiring, we look for several characteristics including integrity, accountability, commitment and drive," he says. "We have hired many of our employees with those qualities, and that is supported by the fact that several of our employees have been with us for more than 10 or 20 years."
The company's work culture is what has led many employees to stay, Frump says. "It's truly a family business across the board," he says. "The company wants employees to share in its success, which keeps them here. Not only do our employees feel like family, but they also work alongside second and third generation family members who are involved in various roles at both the corporate level and in our manufacturing facility."
The company moved its spice manufacturing to the Lebanon, Ky.-based 125,000-square-foot state-of-the-art facility in 2011, and its food base manufacturing four years later. As part of the move, the company invested in and created a training center.
"We conduct training sessions at our plant monthly," Frump says. "We bring in new employees and also our newest independent purveyors. We used to call them distributors, but we think that 'purveyor' captures the higher level of service, which they certainly provide. So we have 100 purveyors nationally who work with and represent R.L. Schreiber products, some of whom we have worked with for 30-plus years."
Though the business was built by one man, Frump notes that R. L. Schreiber is now supported by "employees and motivated purveyors" who not only help produce and sell its quality products, but also help the company to grow to the next level.
"As part of our initial investment plan, we realized the importance of our independent purveyors in achieving our goals," he says. "Because they are a key contributor to our success, we pay a great deal of attention to them and provide top-notch training to all of our new and existing purveyors."
Quality Assurance
Quality assurance and control is one of the main functions that R.L. Schreiber takes very seriously. That's why its state-of-the-art facility in Lebanon has a dedicated laboratory for the quality team.
"Supply Chain is critical to any company and it certainly is to us," Frump says. "Our attention to high-quality, consistent ingredients – which are sourced from around the world – and the priority placed on adherence to the requirements of our food safety plan, demands that we build relationships with a select group of suppliers that can consistently provide and hold value in the type of products and service we expect," he says.
"Most of our products come from international markets," he adds. "That's why we maintain rigorous standards for quality checks and testing to ensure that every raw material that comes into our plant meets or exceeds our expectations."
The company recently invested in new technology to enhance its testing "to get reliable quality results faster," Frump explains. "We have also implemented new testing in our processes to make us more efficient," he says. "We know that a quality finished product begins with quality raw ingredients, so we pay close attention and don't compromise for our continued success."
"The company restructured the organization to align and develop a three-year strategic plan," he recalls. "Our overall goal is to continue to uphold the type of products and service we are known for, and increase the number of employees and independent purveyors to serve even more areas of the country. This recipe has resulted in impressive results so far."
Frump notes that the company believes it will be successful as long as its management team is focused on ensuring all of its actions support achieving R. L. Schreiber's goals.
"I'm most proud of the management team that we have built," he says. "As long as we are working together and getting contributions from everyone in our organization, we will achieve our goals. That wasn't the case when I got here, so that's where it all starts – with a team. Nothing happens just because a CEO wants it to. You have to build a team, create a vision, and develop a strategy that can drive the changes and performance to achieve our goals."