RaceTrac remodels and evolves its more than 400 locations to deliver high-quality food and beverage items and a rewarding service experience.
With more than 400 locations in the southern United States, RaceTrac is always there for its guests who need to refuel both their vehicles and their bodies. Founded in 1934 as a chain of gas station and convenience stores, the company offers guests fully stocked food and beverage options at a great value – for people on the go or those looking to unwind and take a break during a road trip.
While RaceTrac has a long history of offering customization options for guests, it continually evolves with the times. Its wide array of options reflects its attention to what the everyday customer wants, needs and expects from a convenience store location – with some bonuses to make their day even better.
"As we evolve around the world of portability and on-the-go food and beverage consumption, we're playing a part in people's lives," says Robby Posener, vice president of marketing, merchandising, design and construction. "I don't think our guests want to forgo value and customization. Today, we have an expansive offering that allows people to come in and get all sorts of fresh offerings. And we want to continue that as we look to the future."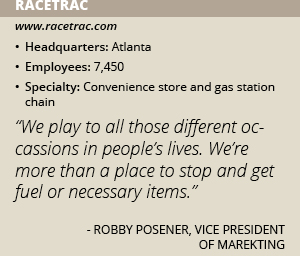 RaceTrac's mission is to make people's lives simpler and more enjoyable. But if every location is different inside and out, then that can take away from the simplicity. Therefore, the company is upgrading and remodeling its stores to reflect that simplicity and give guests a consistent experience across the board. "This will allow us to have a predictable guest experience and be able to really systemize the processes in the store so we can deliver that consistent experience regardless of a guest's location," Director of Food and Beverage Steven Turner says.
"We're not changing the brand, but as each of our markets near remodel completion, we will leverage marketing and PR tactics to let people know that they can expect that consistency," adds Melanie Isbill, executive director of marketing. "We're excited to give our guests that experience and let them know about new services."
RaceTrac's service offerings that will be standardized across all stores include Swirl World, a frozen treat concept with up to 10 flavors of frozen yogurt and ice cream (with swirling potential) and more than 40 customizable toppings that includes candies, chocolates, fruits, nuts and more, which is already available in one-third of its stores, along with its expanded coffee bar that offers seven different blends of coffee with an expansive collection of creamers, sugars, marshmallows and cinnamon to add to every beverage. While today RaceTrac offers wraps, sandwiches and other items in its sandwich cooler, soon, the company will add another key service piece – a working kitchen to offer made-to-order pizzas, wraps, sandwiches and other hot items.
"This will be the engine for how RaceTrac grows in overall foodservice," Turner explains. "We will be delivering that value and having a kitchen to support premium offers that allows guests to come in and customize. We're taking what we're doing in our legacy stores in their limited production capability and taking them to new levels to really drive foodservice." In addition to more food and beverage options, RaceTrac is adding expanded seating to every location, refreshing the overall ambiance with music and LED lighting and breaking the stores into a figure-eight pattern for a more easily navigated retail experience. "If you're on the go or you're in a rush, we're going to accommodate that," Posener says. "But if you're there and want to hang out for 20 minutes for some free wi-fi or to enjoy a sandwich and beverage, you will have that ability on every site. The environment will be elevated beyond what it is today."
Quality Experience
From the food and beverage options to the overall experience, RaceTrac's guests expect quality. And the company is working hard to accommodate every type of guest. For example, its roller grills are a staple in every store, so today RaceTrac uses Nathan's Famous all-beef hot dogs. "That was a quality decision and we wanted the best-quality hot dog we could provide," Turner says. "Our guests respond and buy a lot of hot dogs and other roller grill items. As we reevaluate that offer, think about customization and improve quality by adding a fresh-toppings bar, that taps into the idea of a guest being part of the foodservice experience by being able to optimize and control their selections."
RaceTrac employs Chef Bob Derian, an executive chef in Atlanta with an extensive background of growing foodservice programs and tying in fresher and higher-quality ingredients, along with adding new food options: fresh salads, sandwiches, wraps and a made-to-order breakfast sandwich program. "We go to market with high quality by spending more on the front-end and re-evaluating programs we have existing in our stores," Turner continues. "Every time we improve quality, guests respond positively. That's the No. 1 filter we use when putting new offers in our stores."
One challenge RaceTrac was sensitive to during its upgrades was to ensure it did not alienate the traditional convenience store customer. Despite adding seating and fresher, made-to-order products, the company's grab-and-go guests will still be able to get in and out as quickly – if not quicker – than ever before.
"Guests know what they want, it's made fresh and ready for them when they come in and they're good," Posener relates. "But if a guest wants to play to that customization and try something different and has a few minutes to explore new menu items, then they can hopefully enjoy their meal here rather than on the road or in the parking lot. That's really what the investment in the exterior and interior seating is all about. We hope you come in and spend some time with us."
RaceTrac's goal for its upgrades is to become more of a community gathering place. Posener cites students coming to hang out for a slice of pizza, families taking their kids out for a cup of frozen yogurt and couples enjoying hot cocoa before heading home after a date. "We play to all those different occasions in people's lives," he adds. "We're more than a place to stop and get fuel or necessary items."
The RaceTrac Way
RaceTrac is a competitive organization, always wanting to improve upon the previous day. "We have an insatiable thirst for growth and education," Posener says, noting that RaceTrac is on a path to grow 10 percent annually and open 40-plus stores every year.
"Every day, we wake up hoping we're smarter than the day before to make the business more successful and attractive to consumers," he says. "People want personal growth in their careers and we also know that our guests want us to deliver more in the coming years. We rise to that occasion and continue to pursue innovation and improvement."
It's not just about the consumers; RaceTrac wants its employees from the Store Support Center to all of its store locations to not only thrive in their careers, but to enjoy coming to work every day. The company calls it "The RaceTrac Way," which is its culture of possessing a warrior's passion, humble attitude and living for fun every day. "There will be hard days, of course, but in general the feeling of having fun and enjoying what you're doing spans across our Store Support Center and in the stores," Isbill says.
In addition, everyone in the company goes through store training. RaceTrac believes it's important that team members at all levels understand the hard work store-level teams do as the face of the brand, delivering a high-quality experience to its guests on a daily basis.
"You can see the level of engagement and ownership people have for the work they do," Turner adds. "They can see they can make a difference, whether it's their first day or after 15 years here. Everyone has a strong sense of ownership and is given opportunities to grow."
Rewarding Visit
After 10 years of research and development, RaceTrac launched its new rewards program on April 1: RaceTrac Rewards. By using the smartphone app, RaceTrac guests earn points with nearly every purchase in-store or at the gas pump and move up the loyalty rankings.
Each loyalty rank is associated with a different level of RaceTrac "royalty" – from Duke of Hot Dog to Prince of Pastry and King of Coffee to Sultan of Soda. Each rank offers different rewards to redeem – and naturally, the more points earned, the better the rewards. The app also features a store locator that lists the closest stores by mile and includes each store's gas prices and amenities offered.
"We have a strong philosophy of using the marketplace as our teacher," says Melanie Isbill, executive director of marketing. "This rewards app is a great example of how historically we've looked at the marketplace and recognize what's trending and make decisions on what we're seeing."