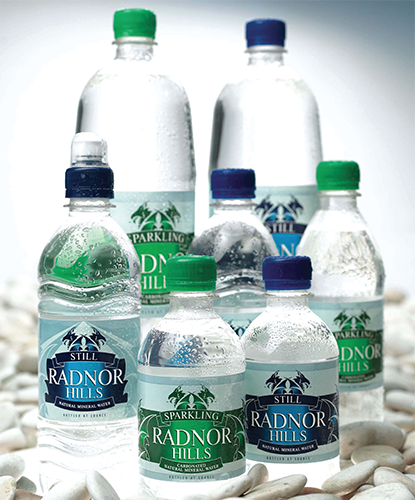 Radnor Hills Water Company
A sparkling example
Radnor Hills Water Company caters to increasing demands for appetising and healthy soft drinks
Based in Mid-Wales, Radnor Hills Water Company is a family business that produces soft drinks that are healthy alternatives to sugary, carbonated soft drinks. Since the Watkins family began extracting water from the mineral water source on their land in 1989, the company has grown successfully to offer an everexpanding range of flavoured mineral and spring water, and juice-based drinks to a variety of markets.
Bottled at Heartsease, Radnor's soft drinks are consumed in mainland Europe, Scandinavia, Australia, Japan, Hong Kong and Malaysia, and over the past 12 months it has won numerous contracts with high profile UK supermarkets by offering simple, natural products.Managing director and founder William Watkins outlines Radnor's growth: "We have been very proactive in offering new types of drinks to our customers in different formats in the segments that have been growing throughout the supermarket sector. We have a strong production capability so attaining contracts with companies such as Morrisons was just a case of having the right product, sector of the market, taste and price."Considering the demand for healthier drinks in schools, Radnor has recently launched successful child-friendly beverages. "We released Aqua 50 three months ago after developing it specifically for the schools market and we're selling it in 100 schools already," says William. "It's a healthy combination of 50 per cent juice and 50 per cent sparkling water with no preservatives, and was partially developed as a reaction to new legislation drawn up by the School's Food Trust."
Success across its broad variety of ranges has allowed Radnor to thrive and in recognition of its outstanding contribution to the UK and global economy, the company was presented with the highly prestigious Queen's Award for Enterprise in the International Trade Category in 2006. Radnor impressed by achieving an export sales increase of 87 per cent between 2003 and 2005, far above the industry average.
In order to maintain its exceptional reputation, Radnor is embarking on new collaborations. Having previously supplied Aldi, Netto, Superdrug and Co-Op, Radnor is now acting on new contracts with major supermarkets. "We have many different supermarket groups that we've started dealing with," says William. "In January we start working with Iceland and Somerfield. We've already launched ranges with Asda, Sainsbury's and Morrisons that have been extremely successful, and most are ownlabel, premium, adult soft drinks. The Asda product is a 100 per cent juice drink, not from concentrate, with very powerful aromas and taste profiles. The successful Morrisons range, sold under its Best label, is six drinks consisting of white grape mixed with a variety of fruits."
Given its substantial success in its current markets, Radnor is considering the best time to enter the US sector. "We think our products would work there although there are some labelling issues requiring expensive changes," says William. "We would tackle it in a concerted effort due to its size and possibly collaborate with the Welsh Assembly, which takes regular trade missions to the US. We'd focus on higher value products, such as our premium waters, to justify distribution costs."
The current state of the market is not as strong as in previous years, says William due to the British climate: "The weather has been very wet, which doesn't help soft drink sales, whereas in 2006 we had a hot summer. We have maintained our turnover through attaining more customers but everybody operating in soft drinks has experienced little growth. However, the overall market for soft drinks is strong – we're seeing certain sectors developing and a continuing trend towards still, healthy drinks, less preservatives with more provenance. There's still dynamism in the marketplace, especially for drinks with higher juice levels as healthy, natural ingredients are the future."
High demand coupled with concern over preservatives, has led Radnor to develop its production capabilities. "We have committed ourselves to a completely new £2 million production line, starting in May 2008, that will increase our production by 20 per cent over two years," reveals William. " Importantly, we're putting in a line that will run at 20,000 half litre bottles an hour that can be hot filled, as we've decided to use heat to get rid of micro-organisms in the products. This is a major development in the effort to find alternatives to preservatives as our customers are concerned about research identifying certain food colourings and sodium benzoate as potential sources of hyperactivity in children. It'll be something our food service customers and retailers can use as a point of difference against competitors."
William believes that Radnor's future development will reflect the growing trend towards provenance: "We're following the demand for more information on origins and natural products. The big contracts on our books will be all about removing preservatives and I expect those to come to fruition in the fourth quarter of next year. We've had 35 per cent growth for two years and I think we'll return to that next year, providing there's a decent summer."
Continuing, he concludes: "There are three components needed for a soft drinks company to grow – water, electricity and the people to deliver it. We have anabundance of the first two and employ the right people, so we're well placed to get back to our 35 per cent growth year-on-year."