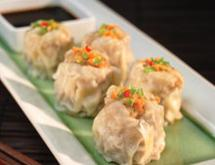 Specializing in Filipino cuisine, Ramar Foods' numerous product lines can be found in most Asian supermarkets across the country, ranging from large chains to small mom-and-pop retailers. Its Magnolia line of ice cream is among the most recognized ice cream brands in the Asian marketplace.
But for the past 40 years, the Pittsburgh, Calif.-based, family owned business has been confined to a small niche of ethnic food retailers and only recently is emerging into the specialty foods industry. Now, with the third generation preparing to take the lead, Ramar Foods' mission is to change the world's view about Filipino food.
"Our goal is to begin introducing traditional Filipino [food] under a new brand that is more accessible to the typical specialty food consumer, but still speaks to the Philippine heritage," Brand Manager P.J. Quesada says. "Data reports indicate that almost half of the United States spends money on specialty foods at the supermarket. We know our products appeal to consumers who are culturally adventuresome and like to try new things. We are excited to share our unique products and heritage with this brand-new market, and we think it will be an integral part of our growth over the next decade."
Minority Shoppers
Prominent supermarket chains are starting to recognize the buying power of minority communities, Quesada says.
"We've been in talks with mainstream retailers and have had face time with large distributors for big-name national grocery chains that want to carry our products so they can attract more ethnic buyers," he says.
"The current spending power of Filipinos is $55 billion, according to a Nielsen study. As larger retailers are starting to take the Filipino buyers seriously, they're going to start looking for a dominant Filipino brand, and we aim to be that brand to service that need."
On the other hand, "We've been observing that, for a lot of the Asian supermarkets, their attendance is going to be a challenge in the next few years," Quesada continues. "Most of their current retail shopping customers are typically immigrants looking for the brands or the products that they are accustomed to when they used to shop in their home countries. As many of them immigrate here, they've noticed their children are not shopping in the same places they are, so we've been working with our retail partners to figure out how we can reach this second generation."
Fulfilling a Need
As second-generation immigrants grow up in the United States and attend American schools, they turn to American brands to serve their grocery and other retail needs. For Filipinos in particular, Quesada says there is a deep need to retain the attributes of this distinct culture.
"One thing that is pretty unique to the Filipino culture in general is its ability to adapt," he notes. "A lot of the Filipinos have adapted to the American culture and customs, sometimes in place of their own. While that has proven very well for them career-wise and financially, there has been a dilution of the Filipino culture. "It's harder and harder to find a unique Filipino experience, and we aim to be the company that can fulfill that need."
Marketing Boost
Although the food business suffered less from the recession than other industries, many specialty food producers – including Ramar Foods – had to tighten their belts at the beginning of 2009. "Our primary goal was to keep as many people working as possible, and we were definitely able to do that," Quesada says.
"The recession, while it may be challenging to most people, can open up some unique opportunities for companies like ours. While many of our competitors were putting the breaks on their marketing efforts, we decided to move in a new direction and rebrand our corporate identity. We've started broadcasting that throughout our current buying market to build our name."
American Dream
By sharing the history behind the company and the Quesada family heritage, Ramar Foods becomes more identifiable to the ethnic consumer base it is trying to reach and more exciting to American foodies who love a good story behind the products they are buying.
"Because of my family's own immigration story – having started out very small with very little resources and growing into this giant in Asian foods – we've decided to let people in on the history and the story behind our company, and the fact that in the United States, you really can achieve your dream," Quesada says. "If you work hard and have the right people in place and a good product, you really can succeed in this marketplace."
Family Heritage
Ramar Foods was founded 40 years ago by Quesada's grandparents, Ramon and Maria Quesada, whose first names form "Ramar" when combined.
The couple immigrated to California in 1968 and began selling handicrafts imported from the Philippines at a San Jose flea market. The following year, they opened their first brick-and-mortar store in Mountain View, Calif.
Primo Quesada, the sixth son of the couple's 11 children, took over the business in the 1970s and decided to change the company's focus after seeing a need in the marketplace for high-quality, authentic, ethnic foods.
Quesada's idea was to take the exotic fruit flavors of the Philippines and Asia and infuse them into ice cream. To do so, he opened the company's first manufacturing plant in Oakland, Calif.
From there, he expanded its operations into traditional Filipino cured breakfast meats and opened Ramar Foods' first USDA-certified meat plant in Pittsburgh, Calif., in 1989.
"Ten years later, we experienced some wonderful growth and moved our ice cream plant from Oakland to Pittsburg," Quesada says. "We opened a third facility in February 2009, which is almost exclusively for egg rolls."
Primo Quesada's children – P.J., Gabe and Susie – make up the third generation that grew up alongside the business, performing miscellaneous tasks such as putting lids on the containers at the old Oakland ice cream factory.
"After college, we went off and did our own things, but we all found ourselves eventually coming back to the company," P.J. Quesada says. "Our father is still president, but he has spent the last year-and-a-half preparing the three of us to take the helm. He's 'practicing retirement,' is what he likes to say."
Innovative Ice Cream
Today, Ramar Foods offers more than 100 SKUs and, according to Quesada, the company's most popular products are its ice creams, most of which made from tropical fruits exclusively imported from the Philippines.
Of the 18 tropical ice cream flavors presently on the roster, Ramar Foods' two most popular flavors are ube – a sweet, deep purple yam that grows throughout Southeast Asia – and mango – from Philippine mangos, which are said to be sweeter and less fibrous than other mangos, he says. Another unique flavor is buko pandan, a coconut-flavored ice cream sweetened by the pandan leaf, "which is like the vanilla of Asia," Quesada describes.
Other flavors include avocado, azuki red bean, cashew-langka (jackfruit ice cream with cashews), green tea, halo- halo (a traditional mixed-fruit dessert), lychee, macapuno (coconut), taro and mais queso – which is made with sweet yellow corn – and cheese ice cream.
This summer, Ramar Foods plans to launch two new ice cream flavors under its popular Magnolia brand, Quesada says. "One is Thai iced tea, a brewed Thai tea that is sweetened with condensed milk and often served with giant tapioca pearls," he describes.
"The other new flavor is a traditional Philippine dessert, which is a plantain-style banana wrapped in a pastry wrapper with jackfruit and deep fried. "We put that whole dessert experience into an ice cream by itself and are really excited to bring it out this year."
Uniquely Filipino
Ramar Foods' second-largest food product line is its Filipino lumpia egg rolls, which are deep-fried and sold in eight different varieties with fillings such as pork, shrimp and vegetables.
"In terms of the Asian food manufacturing space, our biggest differentiators are our product quality and our level of service," Quesada says.
"We always use higher-quality ingredients, and we are able to offer almost all of our customers next-day delivery because we have a very talented and attentive sales force and logistics team that make sure our retail partners are getting the highest level of service."