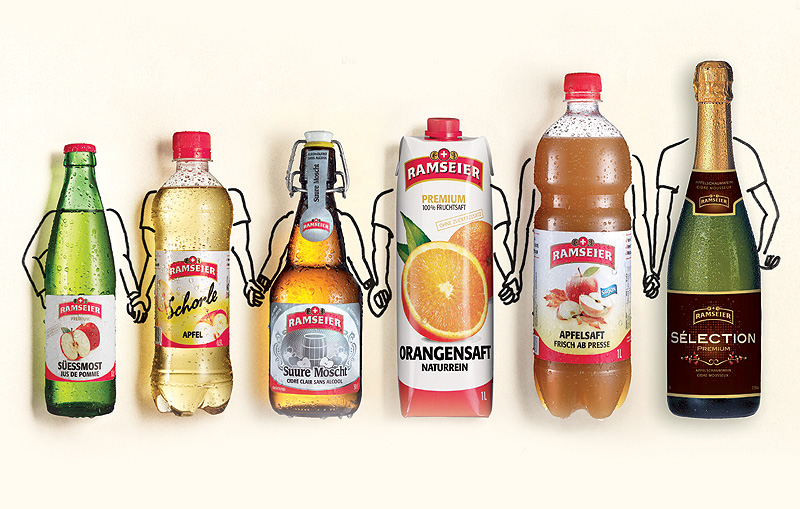 The drinks expert
RAMSEIER Suisse AG is one of the largest beverage producers in Switzerland and combines a full range of high quality beverage brands under one roof
Jann Gehri, CEO at RAMSEIER Suisse, explains how the company evolved into the market leader in Switzerland. "A few countrymen in Emmental had the aim to produce naturally healthy fruit juice using high quality apples and pears from the local area. They collaborated in order to obtain greater quantities of premium beverages and this is how the RAMSEIER cider-association was founded in 1910 in Ramsei, a little village in Berne's countryside."


Shortly after this time the company patented an alcohol free cider and its apple juice began to win awards. By concentrating apple juice the company
was able to supply the Swiss population throughout the year.
"Over the ensuing years the brand awareness of RAMSEIER continued to grow, and the company launched other innovative products such as sparkling apple wine, sparkling apple juice and other special beverages made of fruit," said Jann.
"Today, RAMSEIER offers a wide range of fruit juices and ciders, and it is the leader in the important market of apple juices in Switzerland. Its leading product, the classic sparkling apple juice 'RAMSEIER Süessmost', is the most popular apple juice in Switzerland. The company also still prides itself on innovation and continually creates new products, such as 'RAMSEIER Schorle', which is a natural and light version of apple juice, and 'RAMSEIER Apple Cranberry', which combines Swiss fruit juice with healthy cranberry."
In fact, 'RAMSEIER Apple Cranberry' has been a very successful product launch, and Jann gives more details about its development: "It was important to create a product that had the traditional character of known fruit. The company does not launch very 'high sophisticated concept-beverages' because it does not want to confuse the consumer. The customer must be familiar with the components and the product must be compatible with its brand values. RAMSEIER wanted provide a naturally sparkling product without sugar, preservatives or any artificial sweetener. The result is the first cranberry beverage without sweetener or any artificial ingredients. The product is refreshing and very healthy as it's made of 70 per cent fruit juice and sparkling water."
He added: "The launch of 'RAMSEIER Apple Cranberry' also supports the company's 100th birthday celebrations. On the 11th November it is going to celebrate this anniversary with its customers and partners with an exciting evening programme."#
It's clear that innovation is an important part of RAMSEIER Suisse's operation and the organisation is always interested to source and maintain the best quality apple juice products. Jann explains: "That is why RAMSEIER is always researching the best mixture of apple blends. It is important to mix the sweetness and acidity in order to provide consistent quality and the best taste."
The development of new products by RAMSEIER is underpinned by a dedication to using only the finest fruits produced by Swiss suppliers. RAMSEIER Suisse is owned by Fenaco holding, which is a co-operative society and the leading agricultural organisation of Switzerland. Owned by around 80 per cent of the Swiss farmers, the society employs 8000 people and has over 80 subsidiaries.
Considering its dedication to using Swiss produce and addressing the needs of the Swiss consumer, it's no surprise that RAMSEIER mainly sells its products in its home country. However, as Jann highlights, there are plans to expand its export capability: "RAMSEIER is very interested to deliver its quality to other countries. It recognises the growing demand for drinking natural and refreshing beverages all over the world, and its leading products 'RAMSEIER Süessmost' and 'RAMSEIER Schorle' provide very good alternatives to soft drinks. It is constantly looking for motivated partners who are interested in importing its premium Swiss products."
In addition to the RAMSEIER brand the company also sells soft drinks under the SINALCO name (RAMSEIER Suisse is the brand owner in Switzerland) and mineral water under ELMER. It also has contracts with retailers to fill a part of their own beverages, and produces for industry partners. Jann adds: "For the whole producing and marketing process RAMSEIER chooses reliable partners. They are important to make sure its premium products are finished properly. It also benefits massively from the best suppliers that provide its packaging materials and other commodities."
RAMSEIER has a loyal following in Switzerland and hopefully this will be extended across Europe over 57the coming years. Jann concludes with his plans for how RAMSEIER will continue its success into the future: "RAMSEIER appreciates that the agricultural market of Switzerland in the future will be less protected, and therefore it will be important for it to ensure the propagation of Swiss fruits for its products. It wants to stick to the principles it followed in the past, and combine these with further innovations based on its brand values. In this way it will still maintain and advance the appeal of RAMSEIER products to its customers."