From prolonged periods of closure, to havoc wreaked upon supply chains, the hospitality sector has had one of the toughest years. And, for many business owners, the mass cancellations (as reported in The Guardian) over Christmas due to the Omicron variant was another factor that dampened not only morale, but also the profits they desperately needed.
But, as the sector prepares to wade through another tumultuous couple of months, many businesses will begin to implement fresh tactics in order to survive, adapt and return to pre-pandemic trading. Here are the changes we have seen in the sector over the last year, and the strategies that will be implemented going forward to help achieve one of the largest bounce backs in economic history.
The new technology trialed throughout the pandemic is here to stay
Before the pandemic, a trip to the local pub meant queuing at the bar to order your favorite tipple. However, when reducing social contact became a priority in the sector, the way we ordered drinks changed overnight, with the nation being introduced to 'mobile apps' when visiting local pubs. Previously, this technology was once seen as 'progressive' and a nice to have' and somewhat rare. Now, it's the mainstream and here to stay; with a large demographic quickly becoming comfortable with the process.
So, what does this mean for the sector?
Well, it should be embraced. It offers the opportunity to increase customer satisfaction, as they no longer must face lengthy queues. What's more, the amount of friction when it comes to payments is significantly reduced – enhancing their overall experience. Not only that, but it also enables pubs and bars to capitalize on their data and insights, creating personalized offerings to customers – piquing their interest and pushing them down the sales funnel.
Trading that was once measured by the evening's sole takings can also be further analyzed and broken down into data sub-sets, such as the gender, age, and average order transaction of each customer. Having this data will enable pubs to have an in-depth understanding of their clientele, which can be homed in on when devising strategies. For independent bars and restaurants, expect them to collaborate with third-party apps so they too can offer this service. The pandemic has caused an 'easier and faster' culture which is here to stay.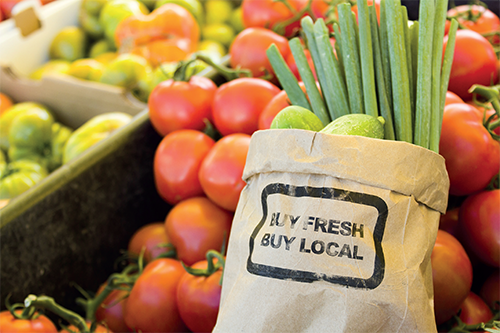 Supply chain issues have changed strategies
Nando's ran out of chicken, McDonald's milkshakes, and Greggs had a short supply of some of its famous pastries. And it wasn't just fast-food eateries that experienced supply chain shortages in 2021. Many high-end chains also became plagued with supply chain issues. It's fair to say, this was an unprecedented time and although issues may have subsided, it has caused many businesses to look at their suppliers and devise a stead-fast strategy to avoid any future shortcomings.
Now, we have seen many restaurants begin to look for local produce, bringing the food source closer to the customer and limiting the length of transport and over-reliance on HGV drivers. This strategy will also fare well due to the increased popularity of plant-based diets. What's more, many restaurants will begin to offer seasonal menus, again reducing supply chain issues that may occur from overseas, which will also increase sustainable practices; serving them well when it comes to conscientious consumers.
Aggregator apps will continue to be a customer favorite
With the hospitality sector unable to welcome customers through their doors for a prolonged period, it gave way to the rise in aggregator apps – with Deliveroo, Uber Eats and Just Eat all experiencing growth in 2021. For example, Just Eat orders in the UK rose to 135 million in the first six months of 2021, with the number of orders up 58 million, or 76 percent compared with the same period in 2020. And, this rise in third-parties to service deliveries meant customers have now become accustomed to 'hyper convenience' being able to view a wide range of options in the confines of one platform – and once their selection has been made, they're able to track its arrival with more accuracy than ever before.
Currently, although restaurants are open, this habitual shift caused by the pandemic regarding takeaways will cause further restaurants and baristas to focus on having not only a presence but also a strong rating on these apps as they become increasingly saturated by competitors. Although takeaways have always been an option, the pandemic can be considered the catalyst in making the omnichannel strategy a priority – as the online orders are of equal importance as in-house footfall.
The hospitality sector has had to rethink its corporate structure
Stepping away from offerings and everyday strategies, at the core of hospitality is customer service, and for this to be exceptional it needs to be upheld by staff. The sector needs to prioritize attracting and retaining talent – however, this is increasingly challenging due to low pay, unsociable hours, causing many to forego it as a career choice. What's more, the availability of the labor pool has shrunk due to Brexit and Covid-19, with other industries fishing for the same talent, but offering more attractive salaries; the recruitment market is now more competitive than ever before.
In response the hospitality sector needs to reposition itself and offer staff a skills and career pathway in an industry that offers comparative salaries, with the opportunity of equitable access to overtime.
Successful businesses will introduce innovative lifestyle benefits to attract employees and increase the available labor pool by making the sector an attractive option for individuals that are responsible for dependents such as parents wishing to return to work. Such initiatives will include flexibility in the allocation of hours and allowing salary to be traded for a holiday to assist work and personal commitments. For those employees requiring financial security in the face of rising inflation, we will see the introduction of salary drawdown schemes used as an employee benefit, valued by lower-paid staff to help them better service unexpected bills that otherwise could lead them to payday lenders.
Finally, a concerted effort needs to be made regarding the ability for employees to climb the ladder and work their way up to head office. Investment in training needs to be a priority, which will increase employees job satisfaction and entice individuals to see the hospitality sector as not only a viable, but also a fulfilling career with longevity.
Overall, the hospitality sector has been transformed by the pandemic, and advancements that would have taken around a decade have happened in less than two years. The rapid rate of adoption in all areas of the sector has displayed innovation and resilience. Once the economy begins to pick up, and the sector bounces back, it won't be business as usual. The socio-economic landscape has changed in all aspects of British society; with the hospitality sector being no different.
For a list of sources used in this piece, contact the editor.
Fujitsu UK
David Nicholls is CTO for Retail and Hospitality at Fujitsu UK. Fujitsu UK & Ireland employs over 9000 people. It promotes a Human Centric Intelligent Society, in which innovation is driven by the integration of people, information and infrastructure. It is committed to Digital Co-creation, blending business expertise with digital technology and creating new value with ecosystem partners and customers. It enables its customers to digitally transform with connected technology services, focused on Artificial Intelligence, the Internet of Things, and Cloud – all underpinned by Security.
For further information, please visit: www.uk.fujitsu.com