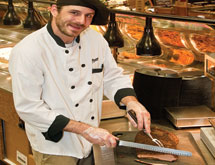 Larry Reasor had a simple yet effective idea in mind when he opened his first grocery store in Tahlequah, Okla., in 1963: sell customers the items they want to buy and put customers first. Today, Reasor's namesake store has 15 full-service locations and two convenience stores/gas stations in the northeast Oklahoma market that continue to follow that principle by offering quality products. "Our value proposition is 'experience the difference through quality, variety, freshness, innovation and service all at the right price,'" the company says.
"We strive to carry on the ideals set forth by my father in that small grocery store in Tahlequah all those years ago – a focus on you, the customer, with the products you want, in the type of place you don't mind shopping," says Jeff Reasor, Larry's son and chairman and CEO of the employee-owned company.
Among the company's products and offerings is an expanding selection of ready-made meals and other food products. Two of the chain's stores added restaurants last year, says Mel Hall, director of bakery and deli operations.
"The restaurants enhance the shopping experience and are a competitive advantage for us, as our competitors don't have that," he adds.
The company also looks to develop exclusive private label products.
Upscale Food
Reasor's is a leader in foodservice within its market, offering upscale bakery and deli items prepared fresh in-house, Hall says.
A team of chefs led by Director of Food Service Lou Pugliese develops recipes for "grab and go" entrees and salads made in-store. Catering is also available. "Any kind of meal you can think of, we're offering to customers," Hall adds. "Our bakery and deli sales are up because of the products we're able to offer to customers."
Reasor's also offers Certified Angus Beef® brand products made exclusively for their stores.
One foodservice offering that Reasor's looks to incorporate into more of its locations is a sushi bar. The bar, operated by Hissho Sushi on a leased basis, offers fresh sushi made in-house at seven of the company's locations. Reasor's also leases out space for coffee bars in two of its locations.
More restaurants, sushi bars and coffee bars are expected to open in Reasor's stores within the next few years, Hall says.
Training Emphasis
Reasor's places a strong emphasis on customer service and employee training. "Planning and developing our people enhances our customer service and our employees' knowledge of the products they sell," Hall says. "Customer service is what we hang our hat on."
A variety of seminars and special training programs are routinely offered in conjunction with the company's vendors, particularly in the deli department. Participating vendors include premium meat and cheese producers Dietz and Watson and Atlanta Foods International.
"These seminars give our employees background about the product and how to use and sell it," Hall adds.
An Active Company
Reasor's is a member of Associated Wholesale Grocers Inc., a retailer-owned cooperative serving 2,500 retail outlets in 24 states with grocery products, fresh meat, fresh produce, specialty care, healthcare and general merchandise, the organization says.
The company is also active in the Oklahoma Grocers Association – which Reasor's president Allen Mills has served as association chairman in the past – and the National Grocers Association. These industry organizations have recognized the company in recent years with a number of awards including merchandising, sales and marketing honors, Hall says.
Reasor's supports the community through sponsorships and fundraising programs. One of the company's most popular fundraising programs is a coupon book offered to community and school organizations for sale.
In December 2010, the store co-sponsored a food drive benefitting the Community Food Bank of Eastern Oklahoma that brought in more than 28,000 pounds of food. Reasor's has a presence on the board of the Food Bank.
The Tulsa, Okla.-based Community Food Bank is a private, nonprofit organization that distributes food and other grocery items to 450 partner programs in 24 counties. Partner programs include food pantries and shelters for the homeless and abused women.