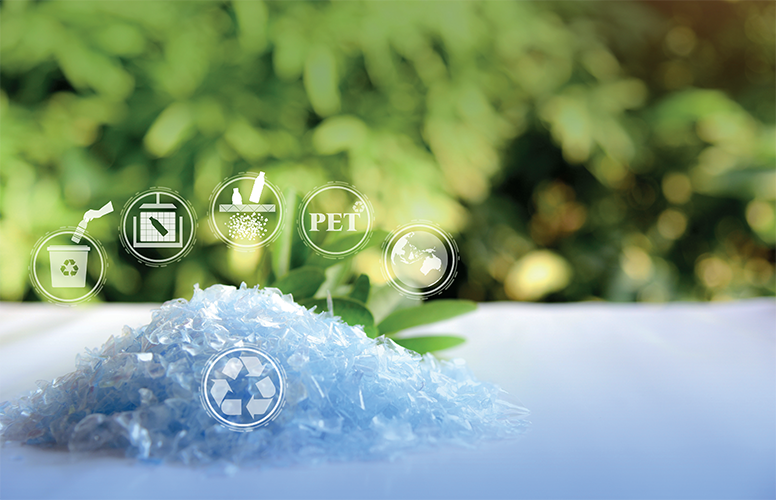 Recyclable versus compostable
Sustainability is a hot topic, especially in the packaging world and it, quite rightly, is not going away thanks to the introduction of the Plastics Tax, which should hopefully come to fruition in April 2022. With this, comes the question: what's the right packaging option for your product and business? Is it recyclable or compostable, or even a mixture of the two for the varying products within your range?
Stephen Frankel, Sales Director at Polypouch, explains.
Recyclable
Recycling is the act of taking products such as PET plastic bottles and putting them into optimal conditions to break the plastic down back to its raw material to be used again.
There are so many different paths that a business can go down when it comes to recyclable packaging materials, and although some are hard to recycle, there's also a huge amount that are widely recyclable, such as code 4 LDPE (Low-Density Polyethylene) materials. This plastic option is the best choice at present for products requiring a defense barrier that can still be fairly easily recycled. It is suitable for almost every end use product, can be easily branded and customized, and has an extraordinarily long shelf-life.
If choosing to use a recyclable pouch, it's important to also look at the areas you'll be selling the product, and where it can be recycled. By making this information clear on the website, customers can understand the type of product they're buying, if it can be recycled and, most importantly, how and where it can be recycled.
At this point not all recycling centers and councils offer the same level of recycling capabilities, so it's vital that this is thoroughly researched to enable the end user to have as much information as possible at their fingertips. It can even be printed on the item itself. Using a handy QR code, which then lists where the product can be recycled, is a smart way of getting your customers onto your website, while sharing your sustainability credentials.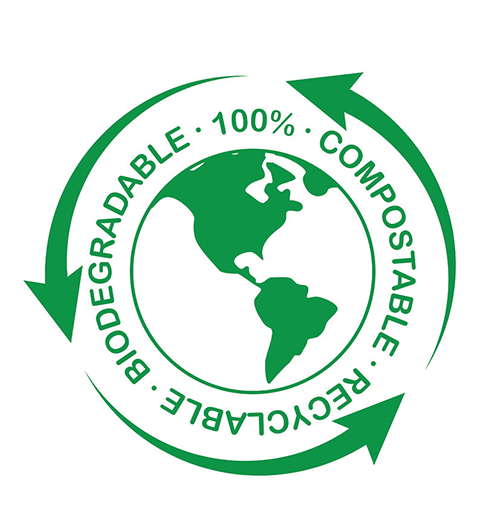 Compostable
Compostable on the other hand, is the act of taking a product that is most commonly known to be made of naturally derived materials in the right conditions that will break down naturally to make a nutrient rich soil. Businesses are beginning to see that compostable packaging is a solution to the landfill problem.
With many consumers now having a dedicated compost heap at home, compostable materials simply get added to their existing heap and break down into the soil, ready to be used on the garden for many years to come. In order for compostable materials to compost effectively, they should have good air flow, moisture and a warm temperature.
Industrial facilities are also on the rise, and can regulate the key elements that make the process easy and quick, such as air flow, moisture and temperature but on a much bigger and better scale. Some councils across the UK are looking for more compostable areas to make this a more common option.
When compostable items end up in a compost pile and their organic matter makes nutrient-rich compost, there's no denying that it becomes a great option for packaging solutions.
Special considerations need to be made when choosing a product to go into compostable recyclable packaging options. Compostable packaging is suitable for dry products only, as any moisture will start the process of breaking down the packaging. It is great for a retail environment, but does have a shorter shelf life and considerations must be undertaken for those handling the packaging, such as hands that are regularly sanitized and must be dry in order to touch the product.
At Polypouch, our clients use compostable packaging for dried herbs, spices and tea and coffee, and this really works well as a solution for sustainable packaging. The starch in our compostable packaging is known as PLA, which is compostable, providing the composting environment complies with the recommendations. It is also suitable for industrial composting facilities if preferred.
Sustainable packaging is the driving force changing the industry for the better. Whichever option you decide to choose, just knowing that recyclable or compostable packaging is making a difference to landfill and both have their varying benefits is a huge positive. The future of sustainable packaging is where both recyclable or compostable work together to make options for all products sold.
The added bonus is how you communicate your sustainable packaging initiatives to your clients and end users. By integrating tech, smart maps, an app or a QR code that allows users to track the journey of their product, see where they can recycle or view the whole process allows consumers to feel part of the solution.
Once consumers are on board with the process and buy into the ideology, it makes the transition to sustainable packaging a much smoother process. And this is really what we advise our clients to do, to take the extra step and thoroughly embrace the sustainable options available to them, be that recyclable or compostable.
Polypouch UK
Stephen Frankel is Managing Director and Founder of Polypouch UK. Polypouch, which is located in Watford, began trading in early 2011, specializing in all pouch packaging. Polypouch stocks over 250 different pouches ranging in quality and size, and prides itself on its 48 hour turnaround time for print pouches. It also offers digitally printed bespoke pouches within two weeks of an order placed, thanks to its large warehouses located in Watford and Hemel Hempstead and its own office in China. In 2017, Stephen recognised that the industry was going to go down the recyclable route and joined CEFLEX – a European consortium of companies representing the entire value chain of flexible packaging. Stephen attends meetings four times a year to ensure that Polypouch is ahead of the game in its packaging options.
For further information, please visit: www.polypouch.co.uk