Red Lion Hotels Corp.'s Hotel RL has blended technology and local flavors to modernize its appeal.
Given all that she has accomplished so far during her tenure at Red Lion Hotels Corp. (RLHC), it seems hard to believe that Amanda Marcello has been vice president of food and beverage for only a year and six months. "I have gotten a lot done, but there still is a lot to do," Marcello says.
She is certainly no stranger to the hotel industry and RLHC, having worked at noted hospitality consulting firm based in San Francisco, Andrew Freeman and Co., for many years, working on concept development, marketing and operational consulting. But now that Marcello has been brought "in house," the early results are promising.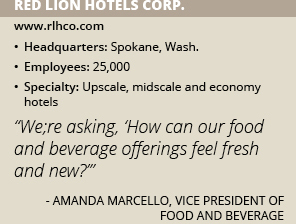 One Goal
Launched in 2014, Hotel RL is the company's mid to upscale hotel conversion brand. Hotel RL targets the top 80 U.S. urban markets and is designed to appeal to customers with a millennial mindset.
Marcello's primary focus has been on creating the look and feel of the Hotel RL food and beverage offerings. "We are targeting millennials and gen x'ers as well," she says. "Right now, we are growing everything from our restaurant menu offerings to our banquet menu packages and presentations, and asking ourselves, 'How can we make this fresh and new? We want to surprise guests with 'craveable' food, creative cocktails, and memorable experiences.'"
Local flavors
Not surprisingly, given the company's headquarters in Washington, one of the first items Marcello worked to develop and implement were the brand's coffee offerings. "We are very committed that high quality coffee is going to be an area of differentiation for us," Marcello says. "We wanted an authentic coffee partner that had ties to the PNW and we wanted to rewrite the rules of how we serve coffee to guests throughout our properties."
Ultimately, Hotel RL decided to partner with Victrola Coffee Roasters, acknowledged as one of the best craft roasters in Seattle. And it isn't just the baristas who have to step up their game. Hotel managers are also expected to understand the coffee standards, what makes the perfect latte, and know how to work at a coffee bar and be baristas themselves should the need arise. Banquet coffee service has evolved to feature Victrola hand crafted coffee, where whole coffee beans are ground at the property, immediately before it's brewed and are never older than 14 days from roast date.
In general, Hotel RL chefs and managers are encouraged to source and feature local products that are unique to their area including artisan cheeses or jams from nearby farmers, ice creams from a local favorite creamery, and even pastries from the best bakery in the area. Marcello says "By bringing unique components of the local culture and food scene to guests visiting our hotel, they can experience some of what the area has to offer right within our four walls."
In targeting millennials guests, Marcello looks for vendor partners with some consistent attributes. For one, it helps if their products are organic or non-GMO, knowing consumers are favoring more natural and healthy foods. For example, Marcello is working on a partnership with Sir Kensington's ketchup to be used in place of Heinz in the restaurants. Sir Kensington's is non-GMO and has 50% less sugar than the leading brand. On the beverage side, RL has partnered with LaCroix Sparkling Water at RL coffee bars and grab-and-go settings because their products have zero sweeteners, sodium or calories. Marcello says, "It's 100% natural and has an avid (almost fanatic) consumer base. We want our guests to have access to great products that they either know about already or learn about from us."
Where People Gather
In addition to freshening up its food and beverage offerings, Hotel RL launched The Living Stage in the midst of their open concept lobby spaces. Typically, its lobbies feature a stage with stadium seating, comfortable chairs and seating areas, communal tables for working and easy access to the coffee bars and restaurant.
Equally important, Hotel RL lobbies have open areas designed as gathering places. "We definitely want to be a place where people gather together for a quick bite, a drink with friends or a fun and casual meal in our restaurant," Marcello says. "At The Living Stage, we want people to feel free to sit in to hear a musician play perhaps hear a lecture on a controversial topic, or learn about a local charitable organization. We want people to use our lobbies as they would a town hall and place to explore new ideas all while having access to great food and drinks. That gives us uniqueness."
Technology Ramps Sales
Hotel RL worked with Aireus (new cloud based POS solution) to add efficiencies in service from the guest and staff perspective. Marcello says, "Those major improvements include letting the guest order grab and go food items directly from our Monscierge app and by adding flexibility to setup pop-up bars during peak business or special events with the wireless POS system. It also allows management at the properties to easily message staff on site, inform them of specials and items we are out of, and remind them about VIP's or groups they are hosting."
The implementation of Aireus also helps staff with building product knowledge and increasing upselling opportunities. If, for example, a customer orders a certain wine or craft beer, a description box will pop up on the screen, sharing tasting notes and suggesting menu pairings. "If our staff can access information on the fly," Marcello says, "that empowers them, gives them easy access to new knowledge, and makes them so much better in their interactions with customers…No more running for a manager or someone at the property with more beer, wine, or spirit education, it is now right at their fingertips. Knowledge truly is power."
Though Hotel RL is still early in it's growth, Marcello says everyone at the company has bought into the future of the brand and the growth opportunities. "If you're not exploring new ideas or concepts in your food and beverage outlets, then really, you're just managing what you know in a moment of time," she notes. "If you do not evolve and dedicate time towards continuous improvement and creative development, you will be left behind."