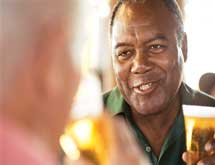 Since its inception, Red Stripe Lager has followed the will of the people. When it was introduced to the Jamaican market in 1928, it was a heavy and dark beverage, more like an ale. This was not suitable to local tastes, the company says, because Jamaicans wanted something that was "light and refreshing" to drink in the hot and humid Caribbean climate. Within a few years, the formula was changed, and the Red Stripe lager known to consumers today was born.
During the same time that Red Stripe was gaining ground in the Jamaican beverage market, the sound of the island country's signature music was being developed and solidified. As a result, Red Stripe and Jamaican culture became intertwined, and the lager and music became worldwide exports.
Red Stripe was born in Kingston, Jamaica's largest city and capital. During the early 1900s, Jamaican folk music was changing in Kingston, eventually developing into the mento genre of music. Mento greatly influenced the ska genre, which became popular in the late 1950s, the company says.
After a few years, the lyrics of ska songs began to reflect Rastafarian themes, with slower beats and chants. By the mid-1960s, ska had evolved into rocksteady, and this gave birth to reggae in the early 1970s.
"As the reggae scene developed in > > the United Kingdom through the late 1970s – following the influx of Jamaican culture and Red Stripe's arrival on these shores – the likes of The Clash went on to transform British music, ultimately leading to the punk and ska explosion," Red Stripe says. "Since then, Red Stripe hasn't looked back. Put simply, Red Stripe has long been the beer of choice for spirited and creative individuals."
Seeking Out New Talent
By the 1980s, reggae was as popular an export as Red Stripe. Both continued to influence world culture, and today, Red Stripe continues the combined heritage by sponsoring a number of music festivals, concert tours and contests. Working to promote emerging musical talent, Red Stripe launched the Red Stripe Music Awards (RSMA) in 2007.
Working with some music-industry publications and concert promoters, Red Stripe hosts about 20 regional events throughout the United Kingdom to discover the best local talent. The winner of the contests gets featured billing at two U.K. music festivals and tours with a high-profile act. Winning bands also receive new music equipment and clothing from other sponsors.
Last year's winner was Ben Howard, a singer-songwriter from Falmouth, England. He competed against more than 150 other bands and won slots at the Brighton's Great Escape, Lovebox and Blissfields music festivals. The contest's judges were Michele Stodart, a bassist for the Magic Numbers, Steve Proud of 14th Floor Records, Paul Bonham of Crown Music Management and Flash Taylor from Sony Publishing.
"The level of talent and diversity at this year's Red Stripe Music Award final was huge," Proud said in a statement. "It genuinely took us an age to decide on the winner, and at several points during the discussion, all four [finalists] almost had it."
Howard had left his university studies a few months before to concentrate solely on his music.
"What has amazed me is that they usually go for bands, but here I am with just my acoustic guitar," he said in a statement. "It was a privilege to play this event and a proper bonus to win it."
Brand Dominance
Red Stripe is owned by Diageo, which has a wide range of beers, spirits, wines and other beverages within its portfolio. Beer makes up approximately 22 percent of Diageo's net sales.
"Our beer brand collection includes the only global stout brand – our much adored Guinness, which recently celebrated the 250th anniversary of signing its lease on St. James's Gate Brewery in Dublin," Diageo says. "We produce several other styles of beer, including the famous Jamaican lager Red Stripe, Ireland's Kilkenny red ales and Sen­ator Keg in Africa.
"Over recent years, we have launch­ed some fantastic pioneering technologies to deliver the perfect brand experience for our customers and consumers, such as the first 'widget' beer – Guinness Draught in cans, which won the Queen's award for Techno­logy Achievement."
Diageo has eight global priority brands, which drive the company's growth. According to the company, its brands lead almost every market:
Smirnoff is the world's No. 1 vodka;
Johnnie Walker is the No. 1 scotch whisky;
J&B is the No. 3 scotch whisky;
Jose Cuervo is the No. 1 tequila;
Captain Morgan is the No. 2 rum;
Bailey's Irish Crème is the No. 1 liquer;
Tanqueray is the No. 1 imported gin in the United States; and
Guinness is the No. 1 stout brand in the world.
Although Red Stripe is not one of the company's global priority brands, it is the leading brand in its region.
Worldwide Impact
Diageo believes that its sustainability as a business "depends not only on our economic performance, but also on the way we manage our social and environmental impacts." As a result, the company has a number of programs in place to ensure its sustainability.
Regarding alcohol in society, Diageo is working to set world-class standards for the responsible marketing of its brands. For example, the company has partnered with a number of community organizations to run 130 responsible drinking initiatives in more than 40 countries. These include campaigns against drinking and driving, and programs to combat underage drinking.
The company also invests in the communities it serves. In Latin America, Diageo started the "Learning for Life" program, which strives to provide disadvantaged people with the skills they need to succeed in society. Working with a number of educational and training organizations, Diageo has a goal of helping 50,000 people by the end of 2011.
Diageo launched an employee fund­raising program in January 2010 when the devastating earthquake hit Haiti.
"So that funds raised reached the people in most need, a small team from Diageo Latin America and Diageo North America worked with The Bridge Foundation to provide on-the-ground assistance in Haiti," the company says. "Working in Port-au-Prince, the team helped to ensure that the aid contributed by Diageo and Diageo employees made it to its intended destination. That aid included water, food and medical supplies."