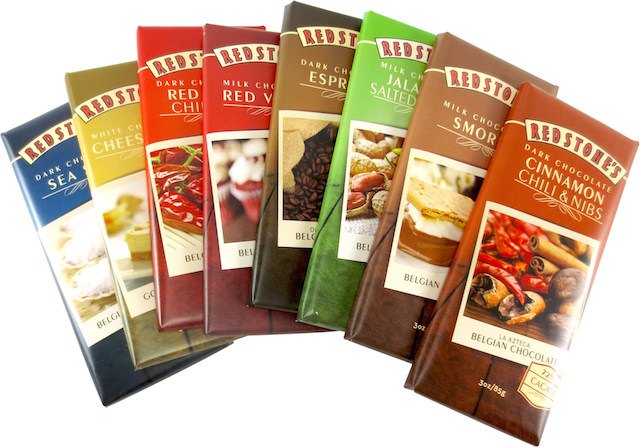 Redstone Foods' dedication to its customers and expansion of its product lines and technical capabilities led it to a major milestone this year.
In some ways, not much has changed within Redstone Foods since it was founded 50 years ago. The wholesale distributor's main product niche and family ownership remain the same as when it was founded.
Redstone Foods' dedication to its customers has also not changed during its years in business, but the ways in which it serves those customers and the breadth of the products it offers have greatly evolved.
The Carrollton, Texas-based company offers roughly 7,500 items including gift, gourmet, bulk and package candy; gourmet snacks; and specialty sodas. The distributor serves thousands of gourmet food stores, distributors, candy stores, florists, gift shops and other retailers.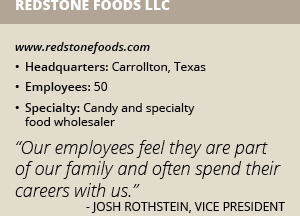 "We have 10 outside salespeople and six inside salespeople who cover accounts all over the country as well as several offshore," President Stan Rothstein says. "We're just about anywhere you would expect to see specialty candy, with the exception of big-box stores."
The company prides itself on customer service, which includes being able to ship orders on a same- or next-day basis. Redstone Foods considers its supply chain relationships, managed by third generation member and Vice President Neal Rothstein, to be a core strength. Redstone ships products within the Dallas region using its own delivery fleet; common carriers are used to carry products elsewhere in the country, and uses container shipping companies to get products to its overseas customers.
Redstone Foods also gets to know its customers on an individual basis. "We can proactively recommend items that would be great for our customers based on their buying patterns and demographics," says Josh Rothstein, the company's vice president and Stan's son. "We're friendly, and get to know our customers so we can respond to their needs and work to their individual goals."
Josh and Neal Rothstein represent the third generation of family leadership at the company, which was founded in 1966 by Stan Rothstein's father, Herman. A veteran of the specialty food and candy distribution business, Herman Rothstein established Redstone Foods following the family's move from Los Angeles to Dallas.
Many of the company's employees have been present for much of its 50-year history. "Our people feel they are part of our family and tend to be around for a long time," Josh Rothstein adds. Three warehouse employees have been with the company for more than 25 years, and a few of its salespeople have more than 30 years of employment at Redstone.
New Products
The company offers major brands including nostalgia brands as well as its own branded line of Belgian-style chocolate bars, which it introduced eight years ago. "We designed the flavor profile for that line, and have a top-notch domestic manufacturer who makes it for us," Stan Rothstein says. "It's been very successful for us."
Redstone Foods this year added several new products to its portfolio including the Pernigotti premium chocolate brand, an Italy-based brand that dates its history back to 1860. Redstone will serve as the brand's main importer to the United States west of the Mississippi River.
The Pernigotti and Redstone Foods chocolate bar brands, as well as all the other chocolate carried by the company, are stored in a special room within the company's air-conditioned 75,000-square-foot warehouse that is kept at 63 F year-round. "This is probably the best chocolate holding facility in the country," he adds. "Keeping chocolate cooled this way is no small feat here in Texas, where our outside temperatures can reach more than 100 degrees in the summer."
Expanded Capabilities
Redstone Foods three years ago added specialty beverages to its offerings when it acquired Vintage Beverage, a specialist in beverages made with pure cane sugar and packaged in glass bottles. "We really look for classic brands – the sort of thing where people can say 'I remember drinking that as a kid," Stan Rothstein says. "We're excited to see those brands here."
The company's beverage lines includes imported major brands such as Pepsi and Coke produced in Mexico as well as domestically produced specialty sodas. "We carry 250 SKUs of specialty beverages," he adds. "That is the fastest-growing part of our business."
The Vintage Beverage acquisition follows Redstone Foods' 2006 purchase of Wild West Products, a company that manufactures and distributes specialty cookies in Western-related shapes such as boots and hats. Since its acquisition, the Wild West line has been expanded to include lollipops and other candy. Redstone Foods owns the mold for Wild West's products, which are manufactured by best in class third-party suppliers. Like Redstone's brand of chocolate bars, all Wild West-branded products are produced at high quality manufacturers, Rothstein says.
Investing in the Future
Redstone Foods continues to enhance its level of customer service by investing in technology, overseen by Neal. In 2014, Redstone Foods implemented an enterprise resource planning (ERP) system across its operation.
The ERP system gives the company insight into lot traceability, and also enables it to better track inventory levels in its warehouse. The system also enables the company to provide documentation such as order histories and buying patterns to its customers. The ERP system directly interfaces with the company's website, which was recently updated to include an online catalog as well as a web ordering portal. "If we added 10 new items this week and our manufacturers discontinued two other items, we update that information today," Josh Rothstein says. "When we had a print catalog that only came out twice a year, it could take months to update our customers about that sort of change."
Customers using Redstone Foods' website can specifically search for items that are gluten free, as well as products that are fair trade or kosher certified. "The ERP system and website allow us to track trends and get ahead of them in terms of customer buying patterns and flavor profiles," he adds.
Future technology investments will likely include systems that will enable Redstone Foods to go completely paperless in its office and warehouse operations.
One aspect of Redstone Foods will remain the same in coming years, however. "We think our family based culture and values are very important, and we certainly don't expect to make any changes to that," Josh Rothstein adds.