Reed Food Technology expands its facilities to allow for greater production over the next decade while it continues to develop new products for its clients.
Reed Food Technology's brand will never be accessible on the shelves of the local grocery store, but many are sold private label and used by food manufacturers and foodservice operators to create meals consumers crave. "We don't have a product line," owner R.J. Reed says. "We work with clients on developing unique proprietary flavor systems. We then manufacture and package it in a manner which fits their business. That can be a sauce that's cooked or cold milled, or a seasoning, breading or dry mix which can then be packaged in a wide array of options from small portion control packs, retail or large industrial containers."
Reed has been involved in the food industry for decades, starting as an assistant manager at a Kentucky Fried Chicken store; he had Colonel Sanders teach him firsthand how to fry chicken before going to college at Mississippi State to study food science and business. "I was always interested in the science of food," Reed says. "And I wanted to combine that with my passion for working with people."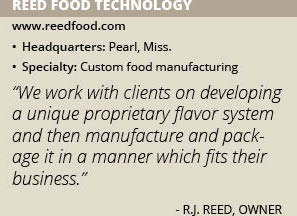 After graduation, Reed worked for a food packaging research company in Illinois and was active in the development of the plastic ketchup bottle. He then journeyed back to Mississippi to work in product development and quality assurance for a family owned poultry company. "My division went from a start-up to about a $200 million operation in the 12 years I was there," Reed notes. "When the family decided to sell to Tyson, Tyson allowed me to be a supplier for a couple of seasoning blends that my group had developed."
In 1995, Reed founded his Pearl, Miss.-based company as a research and development (R&D) group using co-packers and manufacturers. "We would develop proprietary products for manufacturers or other processors of food products and supply them through our co-packers," Reed explains. "In 1999, I was able to acquire one of my co-packers, Specialty Foods, here in Jackson, Miss."
In 2007, Reed Food Technology acquired Taste Maker Foods, a dry blend operation in Memphis that catered to foodservice customers. "At that time, my company was almost all industrial business producing liquids, as well as dry seasoning blends," Reed says. "This was an exciting new market for us and allowed us an avenue to cross-sell our liquids and sauces into the foodservice segment. We gained more efficient operations with the bulk flour system and blending capabilities for our industrial customers."
Today, Reed Food Technology remains a family owned and operated custom food product developer and private-label food manufacturing company. Reed founded the company based on the concept that superior products could be created by combining science, art and high-quality ingredients; he continues to run it based on that ideal.
Developed with Care
All of Reed Food Technology's R&D is done at its headquarters. The facility is equipped with a lab where technicians create products for clients. "Our R&D staff is extremely good," Reed says. "We have a world-class quality assurance department. We just completed an SQF (safe quality food) Level 3 audit, which is the highest level within the SQF system and scored 100 percent."
Reed Food Technology is also certified by the National Organic Program, which enables it to produce USDA-certified organic food products. "I see the continued growth in clean-label, organic and all-natural products and ingredients," Reed notes.
The company has developed a culture among its production employees that values quality performance. "Every person in the company is eligible for incentive pay, so they can make extra money every month if we hit our financial goals," Reed explains. "They understand that if we have mistakes or quality issues and they reach the customer it can be very expensive and hurt them in terms of the incentive check. We have created a culture of people who pay attention and care about what's happening out there in the plant. The quality assurance and production departments work together; on occasion, production will find quality problems and point them out. Every employee has the authority to shut down a production line at any time if they see fit."
Reed Food Technology is expanding its plant in Pearl, where it is adding a new freezer that will increase its capacity to hold ingredients and finished products. The company is also expanding its warehouse space and production floor to accommodate additional processing and packaging equipment. This year, it will add about 20,000 square feet to the Pearl facility, which will increase the space to 80,000 square feet.
The company will double the size of its Taste Maker operation in Memphis also in 2018 to a total of 50,000 square feet. Taste Maker is a production facility and Reed hopes the expansion will take the company through another five to 10 years.
Seasoned to Perfection
Reed Food Technology employs food scientists with multiple advanced degrees and culinary professionals to formulate products and work closely with its customers. The company offers its customers the service of a personal research chef to develop new menu ideas and flavor concepts, as well as work with food manufacturers to incorporate its unique flavors into a protein or base product that would then be prepared and finished at the consumer or restaurant level.
The company's customer base is an even split between food manufacturers, foodservice companies and retail delis. No single client makes up more than 10 percent of Reed Food Technology's business. "Our target audience in foodservice are small to mid-size emerging multi-unit operators, as they often are having problems making products from scratch. Or suffering consistency or inventory issues with ingredients," Reed explains. "We can manufacture their recipe or do part of their process or part of their recipe and provide them with uniformity and cost-effectiveness. We have had some success with regional retail deli operators looking for proprietary flavor systems also."
The company employs an experienced salesforce that focuses on building client relationships face-to-face. "We do have a good website and get some inquiries from that, but most of our new clients and product opportunities come from existing accounts, referrals from existing accounts or salespeople shaking hands with potential clients," Reed says.
When developing a new product, Reed Food Technology signs a non-disclosure agreement with its client first and then, if need be, sends one of its R&D staff members to the client's facility to see how the product is made and receive samples of raw materials and recipes. The R&D staff will bring that knowledge back to Reed Food Technology's lab to formulate a product for the client, a process that can take a week to a couple of months, depending on the complexity. "I have found that it's most effective for R&D to communicate directly with the person who is evaluating the sample," Reed says.
Generational Success
Reed Food Technology will remain a family owned business moving forward with Reed's sons – Justin and Jeff – now overseeing the operation, but that wasn't always the plan. "I always told them growing up that they weren't working for my business – that they needed to branch out and develop their own careers," Reed remembers. "I had been through a bad situation in the family business I had worked for not being able to transition the company effectively.
"But then I was stuck in a small airport in Atlanta and I picked up a magazine that talked about successful family transitions. I realized that if we did the right things we could make it work," he continues. "I've had The Family Business Institute, which is a consulting group headed by Wayne Rivers, come in and work with us. We have learned how to communicate effectively as family members."
Aside from the summers Justin and Jeff Reed had put in at the company, the brothers began full-time at Reed Food Technology in 2007. Justin Reed left his career as a professional pilot and now oversees the Taste Maker facility while Jeff Reed left his career as a manager at Whole Foods to head the plant in Pearl.
Reed has moved into a more advisory position today, providing input on major company decisions. Moving forward, Reed Food Technology plans to continue developing new products and being a supplier clients can count on. "There is always interest in creating new items, new flavors to drive new business and for operators to grow their business," Reed notes. "Our passionate team of food development and production experts at Reed Food Technology are dedicated to producing top-quality custom food products while delivering personalized service."