A touch of REAL ginger
Since 1987, Reed's has been passionate about the sharp and sweet taste of REAL ginger, and, accordingly, continues to provide natural healthy refreshments made with fresh ginger root for its customers
What began as a journey to bring consumers natural ginger beverages 30 years ago has expanded into a business venture inspired to produce high quality REAL ginger beverages across all sectors of the beverage industry. Reed's has become a favorite name in grocery and natural food stores across the US, and Norman E. Snyder, the company's CEO, discusses with FoodChain magazine how the company has successfully overcome recent challenges to continue to deliver naturally delicious, and refreshing ginger-based beverages and candies across all channels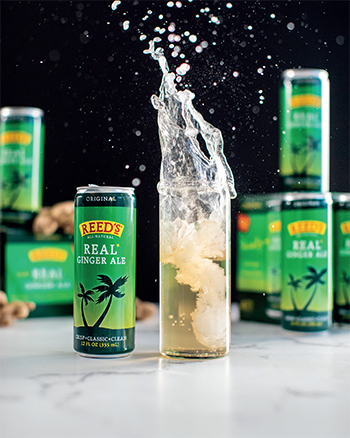 and categories.
Driven by its mission to provide the world with high quality and naturally bold™ better-for-you beverages, Reed's continues to drive innovation across categories delivering products that are simply better and better-for-you. "In 2020, we introduced Reed's Real Ginger Ale, making us the only mainstream ginger ale to use real ginger in our ale. We also came out with a zero sugar ginger ale, and then, following this, as part of our mocktails line, we introduced a Shirley Temple flavor, which is cherry and grenadine, that we call it Shirley Tempting – it's incredibly tasty!" expresses Norm.
Can appeal
When it comes to this level of creativity, Norm is happy to share that a number of ingredients are creatively combined to produce a Reed's drink: a hefty serving of an innovative Research and Development team, a shot of customer feedback, and a pinch of personal taste. "Sometimes our approach can be somewhat selfish: we look at what we like, and then we bounce around those ideas, and it expands into a game of hit-and-miss really. Either the taste works out surprisingly well, or it does not, and we have to go back to the drawing board. For example, lemonade has always been a great summertime drink, and it also happens to mix really well with ginger. So, when we tasted it, we were completely blown away."
Coupled with that, while the business takes great pride in tantalizing fruity tastes, it also places a substantial emphasis on the presentation of its canned beverages. "We make sure our artwork really pops to be as fantastic visually as the contents. Going back to our lemonade spritz, because it tastes great, we had to create a design that is just as intriguing. The more variety of colors we have on our palette, the better, and then the product stands out on its own. This we learnt after one particular product launch where we didn't really think too much about the design and found that the label colors were so similar that in the refrigerators, consumers were confused with differentiating our products," Norm shares with us. Subsequently, the team has incorporated an eye-catching aesthetic to complement its product and to pop off the shelf as a billboard.
Growth and development
On the people side, Norman describes the company culture as a highly entrepreneurial atmosphere where communication is paramount. "It is very fast, pragmatic, structured, and we try to put processes in place to make sure operations are documented. We aren't a massive company, which means we get to know everyone really well, and we look after each other quite closely."
This, he feels, is what will stand the business in good stead as it moves out of the pandemic and towards 2022. Norm is excited for the innovation and product launches that are soon coming to store shelves across the States. "We have a new offering joining our catalogue next year that we are working on behind the scenes, and we feel really good about. Innovation has been absolutely key for us to achieve this, and as a result, we have some pretty neat stuff being set up for next year that we are quite excited to share with people very soon," he divulges.
Looking at a longer timeline, of course Norman would like to continue to push the business in its growth and development. "I'd like to see us stay profitable and get to a large enough scale where we really realize the potential of the categories we are gravitating towards. We co-developed an alcohol-based RTD mule that has been well-received, and we have taken over distribution in about two-thirds of the country, and because it was a ginger-based product, most people who make mules use Reed's ginger beer, so it made sense to take that avenue. These are just some of the ways that we are looking to stay true to who we are, in order to facilitate the tremendous amount of growth we have had so far. If we continue to build on that, I think that we will become a much bigger and better company."
Facing challenges
However, despite his keen outlook, he is not naïve to some of the challenges that lay ahead, yet he continues to demonstrate a pride and confidence in his team for the way in which they soldier through these obstacles. "One of the things we are facing now is navigating the supply chain challenges that are in expanse across the world. We have been trying our best to mitigate those and are planning for the longer term to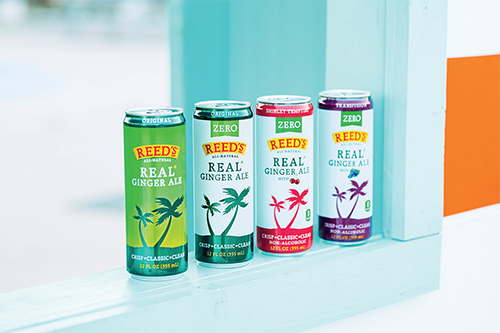 instigate backup plans. However, in trying to react accordingly, there have been some inflationary pressures, so we have taken modest price increases, but we have absorbed a lot of that.
"At the moment, the US is experiencing a shortage of cans, so what we've done is make early bulk purchases to protect ourselves and have a back-up supply of imported cans as well. Additionally, we have entered into longer term contracts to protect those supplies. Another area that we have battled with is the procurement of steel crowns for our bottles. This means, again, collaborating with our supplier network to make sure we have backup vendors and are ordering well in advance to make sure we don't run out. However, in my opinion, the biggest challenge has been the lack of labor for the factories. What we have had to do is expand our network of manufacturing plants and with that, extra hands have been absolutely necessary. Many of these plants have been installed with greater equipment to be able to produce more. So, we have really had to expand our network of packers to keep up with the demand," he says.
As far as the supply chain issues are concerned, Norm believes that those challenges will straighten themselves out given time although will remain in the near-term. Although many businesses are faced with similar constraints, he is confident that as the economy begins to stabilize, and manufacturers find their feet once again, pre-pandemic operations will soon flourish. Until then, the team at Reed's is prepared to remain organized and equipped to continue to do whatever it takes to provide for their customers, and we look forward to catching up with Norm in the near future to hear more about the exciting developments happening at his factories.
www.drinkreeds.com