Regal Entertainment Group strives to provide the ultimate movie-going experience including enhanced food and drink menus paired with innovative technology.
The movie theatre is one of the few places left to escape reality, get away from the distractions of life and fully immerse yourself in the entertainment experience. Smartphones are tucked away, allowing friends and family to enjoy the magic of the movies together while they laugh, cry or sit on the edge of their seats watching the latest box office hit.
Regal Cinemas provide a perfect haven for guests to enjoy this kind of getaway. The leading motion picture exhibitor is based in Knoxville, Tenn., owning and operating one of the largest theater circuits in the United States. Two key components of an individual theater's magic are hospitality and state-of-the-art technology.
"To me, what we do is about hospitality, giving guests a warm welcome and ensuring an unmatched movie-going experience," says John Curry, senior vice president of food service and Cinebarre. "Our teams have a genuine desire to provide an unforgettable movie-going experience for our guests. When people want to spend a couple hours of their time with us – we know their time is precious and we must deliver!"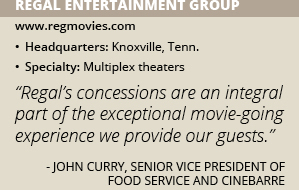 Curry recognizes that movie theater magic begins long before the lights dim to start the show. From buying a ticket via the Regal mobile app or at regmovies.com to choosing from a wide array of scrumptious snacks at the brightly-lit concession stand, Regal aims to exceed guest expectations.
Great Place to Work
Regal's passion for excellence begins with its team members. Regal is recognized by the Great Place to Work Institute for providing an exceptional environment for team members.
The company ranks over 90 percent in the categories of great atmosphere, great communication and great bosses with an emphasis on keeping team members focused while maintaining a fun, energetic atmosphere where workers can thrive. Regal's dedication to its team shows that the organization is invested in bettering lives both inside and outside the theatre.
Philanthropy
Regal's desire to make a difference goes beyond providing movie magic in theaters. Established in 2003, the Regal Foundation is dedicated to supporting national and local philanthropic groups. Curry is also a member of the Regal Foundation Board.
Curry's exemplary leadership and attention to the community were evident when the wildfires struck Sevier County, Tenn., in 2016. His food service team rallied to mobilize the Cinebarre food trailer and paired with Red Cross to aid those affected by the fires by providing hot meals to those displaced and volunteers.
"It was about using our resources to assist those who truly lost everything," he says. "Mobilizing the Cinebarre food trailer gave us an extremely important opportunity to help take care of our East Tennessee neighbors."
Innovation and Technology
Regal's innovation creates the ultimate movie-going experience for guests with immersive experiences like IMAX and RPX theaters. With large screens and unbeatable surround sound, Regal's partnership with IMAX fully immerses viewers in their favorite films.
Regal Premium Experience (RPX) theaters feature a custom-built premium environment featuring elegant and luxurious seats, a giant immersive screen illuminated by high-quality digital projectors and a state-of-the-art sound system movie fans. Regal's most recent RPX openings include the Regal Crossroads 14 theater in Utah and the Independence Plaza 12 theater in New Jersey. IMAX and RPX are two of many technological innovations that Regal offers to guests nationwide.
One of the most well-known theater updates includes luxury seating, perfect for guests who want to kick back and relax. Select theaters boast "Regal King-Size Recliners" that are comfortable, spacious, adjustable to multiple positions and include a padded footrest. Guests can lounge while enjoying delicious concessions with an experience that brings all the comfort of home to Regal theatres. "Guests are raving about our new recliners," says Ken Thewes, chief marketing officer. "The added comfort invites guests to enjoy spaciousness and luxury while they watch their favorite films."
Along with recliners, Regal is treating guests to reserved seating options. In many locations they can enjoy the luxury of arriving at their convenience, knowing that they can kick back and relax in their favorite seats at their local Regal Cinema.
Regal focuses on providing unsurpassed customer service through its award-winning mobile app, making movie-going convenient and stress-free for guests. The organization continually expands its technological capabilities to further evolve the movie-going process.
Regal understands that its guests lead active lives and that their time is valuable. For this reason, loyal guests are rewarded for seeing their favorite films in theaters by signing up for the free Regal Crown Club program. Earning credits redeemable for popcorn, movie tickets, movie swag and giveaways, this unique rewards program offers incentives for guests on-the-go to enjoy rewards week after week, both in theaters and through the online Reward Center.
Leading by Example
Curry started his career at Regal in 1991 and says that's when he fell in love with the movie business. In high school, Curry held several positions as a Regal employee in Nashville.
In Nashville, Curry met his mentor, Leon Hurst, who taught him about the movie industry from an operations standpoint. Hurst showed Curry that a good manager leads by example and is always willing to do the same work that he asks of his team. Curry's management style reflects those values with a focus on motivating his team members through mutual respect and hard work.
At age 23, Curry became the director of food services at Regal Entertainment Group. In 2002, he was promoted to vice president of food services and in 2014, accepted his current position.
"I started on the ground floor and began opening theatres, managing my own location and ultimately became a district manager," Curry remembers. "I worked my way into the food service department and have been here ever since, becoming the director, then vice president and a few years ago was promoted to senior vice president – it's been a wonderful and exciting journey!"
Food and Beverage Role
In addition to new seating options, Regal focuses on providing the ultimate in concessions. Serving movie classics like popcorn and Coca-Cola, as well as enhanced menus that include new favorites like brew pub pretzel sticks, stonefire flatbread pizzas and gourmet burgers, guests can choose from a wide assortment of food and beverage offerings.
Regal's aim is to keep movie lovers coming back to enjoy the always expanding food and drink menu, as well as seasonal offerings. The company features several limited time offers in food and drink, such as the King of Memphis Burger with bacon and banana peanut butter mayo and BBQ Lava Street Tacos with fiery pulled pork, avocados, and cool sour cream.
Regal also works with mixologists to create specialty cocktails and partners with vineyards and wineries to bring higher-end wines to the beverage menu to select markets. Cocktails and craft beer are unique offerings that can be paired with featured local items or complement national favorites.
Last year, Regal hired a corporate chef to provide his expertise and help enhance its menus and traditional concession items, as well as restaurant-style comfort foods. "We are always following the newest food trends," Curry says. "When we offer guests novel options to try for the first time at Regal, we want them to have that 'wow' experience."
Although Regal stays in tune with trends in the food industry, guests still also love the classics. Regal continues to offer fan-favorites like Coca-Cola, popcorn, and candy. Concessions are an integral part of the movie-going experience, and Regal's variety of options ensures that every guest can find something to enjoy.
A New Experience
As the concession guru, Curry is always searching for new ways to surprise and delight guests, creating an unmatched theater experience. This year, Curry and his team are adding a touch of theater magic to family movie nights by introducing a new line of microwavable popcorn.
Hitting retail shelves in May, Regal fans can now enjoy the concession classic anywhere. Regal partnered with Dollar General to stock its product nationwide this summer and the microwave popcorn is also available in most Regal theaters.
"We have a special offer for the launch, offering patrons $1 off a Coke and popcorn combo when they return to Regal," Curry says. "We are looking to partner with additional retailers that can help us bring the magic of the movies to their customers, as well. Now, fans can take home a taste of Regal when they purchase the microwavable snack, and enjoy the same buttery flavor that they love in theatres."
Cinebarre
The evolution of concessions has been an exciting part of Curry's career. Under his supervision, Regal's menu is constantly expanding to bring the movie-going adventure to the next level. CineBarre locations are one of Regal's most exceptional offerings, creating a fun and exciting movie-going experience with full-service restaurants inside theaters that give guests the chance to relax and enjoy seat-side service at the movies.
"It's not just getting popcorn and a Coke or going to dinner then a movie anymore," Curry adds. "It's having dinner at the movies." Cinebarre locations feature a wide variety of menu items, including fan favorites like "Some Like It Hot Wings" (Nashville Hot Chicken), "Silence of the Lamb Burger" (lamb burger topped with red onion jam, goat cheese and roasted garlic aioli) and "Straight Outta Crouton" (crisp romaine, seasoned croutons, shaved ricotta salata and Asiago Caesar dressing).
"When you walk into one of our Cinebarre theatres, you won't find a traditional concession stand," Curry says. "There is a comfortable bar and seating area in the lobby for guests to socialize before and after the film. Once you go into the theater, a server is there to take your custom order and serve you throughout the movie. You truly get the royal Regal treatment."
Coke and Regal Films
As a leading motion picture exhibitor in the United States, Regal invests in movie lovers of all ages, providing unique opportunities for in-depth involvement in the industry. This year, Regal Entertainment Group and The Coca-Cola Co. collaborated for the 2017 Coca-Cola and Regal Films program.
The program provides aspiring film students with real-world experiences in managing all aspects of filmmaking and the opportunity to work alongside and be supported by teams at major global marketing, cinema, and cinema equipment companies. Those companies include Coca-Cola, Regal and RED Digital Cinema.
"There were 25 schools involved and we received hundreds of scripts from student filmmakers," Curry says. "Regal is involved in this program because it provides a special opportunity to impact young people who would want to be part of the magic of the movies."
The student projects were meant to capture the essence of the movie-going experience and how Coke and popcorn play a part in that, Curry explains. A panel consisting of Regal and Coca-Cola executives, studio professionals and filmmakers voted on the winner whose spot is being aired on all Regal screens in 2017.
This year's frontrunners developed a fun, unique commercial that is synonymous with the Regal brand. Chapman University students Julian Conner and Tom Teller were named the 2017 winners at CinemaCon, the annual gathering of the motion picture theatre community in Las Vegas. "Their short film, Crunch Time, is about a robot standee that comes to life in the lobby of a Regal Cinema, enticed by the sights and sounds of the concessions," Regal described in a press release. "Driven by the irresistible craving, the robot decides to leave its own diorama and head into the theatre with a delicious, ice-cold Coca-Cola and popcorn in hand."
In addition to the spot running in all Regal theaters, RED, the provider of professional technology for the program, awarded Conner and Teller with a SCARLET-W 5K camera package and Chapman University with a RED EPIC-X 6K camera package. "We are proud of this partnership supporting our future filmmakers," Curry says. "It reflects the innovation of the next generation. It was an amazing experience for the Regal and it was heartwarming to see how much it meant to the students."
The Future
Moving forward, Regal will continue to focus on convenience and luxury amenities. "We will continue to work with our partners to bring innovative products to the market," Curry says. "We are grateful for the strong relationships we have with our partners, which helps us provide our guests with the ultimate concession experience."
Curry and his team are always looking ahead. "Change is something that we can always count on," said Curry, "At Regal, we're excited for the opportunity to continue creating a better movie-going experience through a diversity of film and concession offerings."