The brand-new Resorts World Catskills offers a wide array of food and beverage options for every palate.
Resorts World Catskills, a new luxury casino resort tucked in New York's pristine Catskill Mountains, is ready to offer its guests much more than just a thrilling Las-Vegas style gaming experience. Just 90 miles from Manhattan, the luxury resort also promises to deliver mouth-watering culinary offerings to perfectly complement guests' casino experiences.
The casino resort's Vice President of Food and Beverage, Michael Beford, says that he plans to ensure the food and beverage experience aligns with the luxury casino resort's broader vision: to provide guests with world-class offerings, service, and experiences.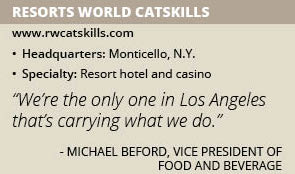 Though he has not worked in the casino space, Beford has deep experience in theatrical culinary destinations that has delivered acclaimed cuisine and aesthetic appeal, as well as celebrated nightlife venues. Prior to joining the casino resort in 2016, Beford worked for restaurant and nightlife developer The TAO GROUP, where he managed hospitality offerings for the Dream Hotel brand in New York City. In addition to his experience with THE TAO GROUP, his work managing multiple nightclubs and restaurants for EMM Group in Manhattan, and his role in overseeing numerous boutique restaurants in Charleston, S.C., has prepared him well for overseeing Resorts World Catskills' culinary and nightlife venues.
"Michael brings the perfect blend of exceptional culinary experience, knowledge of restaurant presentation and excitement to our dining outlets that will keep our guests coming back for more and more each time," said Kevin Kline, Chief Operating Officer and General Manager of Resorts World Catskills. "His accomplishments in New York City speak volumes to his ability to satisfy guests on the biggest and most-demanding stage. We look forward to Michael building an unforgettable and exciting dining and culinary experience here at Resorts World Catskills."
In his role at Resorts World Catskills, Beford is responsible for planning, managing, designing and overseeing the casino resort's 10 varied bar and restaurant experiences, which offer everything from Asian fine dining dishes to comfort food classics.
Above all else, Beford is excited to bring these destinations to life when Resorts World Catskills opens in Monticello, N.Y., in February.
"The opportunity to positively influence our guests' overall experience is what attracted me to this position," he says. "Opening a property is one thing. Making it a destination is one of the most exciting things someone in my business can be a part of."
Unique Offerings
Each decision that has been made at Resorts World Catskills is with guests in mind. Each food market offers several quick-service outlets that are unique to the property. The RW Food Hall offers several different food concepts, while the Good Friends Market focuses on Asian fast-casual options. "We're bringing world-class flavors and cuisine to our property for guests to enjoy, so when they get a bowl of dim sum from Good Friends Market, they'll feel like they're getting something from a secret place in Chinatown," Beford notes.
Lotus, an upscale Asian restaurant, serves refined, authentic dishes. "Lotus offers high-end, delicious Asian cuisine that is hand-crafted by a Hong Kong trained chef," he adds.
Resorts World Catskills has established a partnership with celebrity Chef Scott Conant, who will bring Cellaio, a fine dining Italian Steakhouse concept, which is slated to open this spring. Additional options include The Doubletop Bar & Grill, a sports bar offering craft beers and dishes made with locally sourced and organic products and 24/7 Diner, an always-open diner offering comfort food classics.
Each of Resorts World Catskills' bars and restaurants features classic, high-quality dishes. "We're taking classic dishes from around the world that people love and are creating the best versions of them for our guests," Beford says.
High Standards
Resorts World Catskills' food and beverage offerings are a central part of the property's goal of creating incredible experiences and lasting memories for guests. "For us, it comes down to ingredients, execution, service, knowledge, hospitality and ambiance," Beford says. "We want to create an unforgettable experience for our guests and every decision we've made has been with that in mind."
For a few of the resort's food outlets, this includes riffing on the history of the Catskills Mountain region, a popular tourist destination immortalized in the film "Dirty Dancing." The Doubletop Bar & Grill, for instance, offers a playful nod to the region's history by offering classic resort games such as ping pong and shuffleboard. "The Catskills has become a popular destination for people to unwind and escape. The Doubletop Bar & Grill offers our guests just that," he adds.
The resort – which is designed to meet five-star and five-diamond standards – also features an 18-story hotel tower with 332 all-suite luxury rooms. Room options also include 12 penthouse suites, eight palace suites and seven two-story villas. The property also includes two indoor pools, a spa and a fitness center.
Resorts World Catskills features 100,000 square-feet of Las Vegas style gaming, including more than 150 live table games, 2,150 slot machines, a poker room, and an exclusive VIP player's lounge with luxurious private gaming salons. Live entertainment is available at the resort's 2,500-seat event center, as well as in its bars, restaurants and lounges.
The resort casino is the cornerstone of a $1.2 billion campus that will also expand to include The Kartrite, an indoor waterpark lodge, and an 18-hole Rees Jones redesigned championship golf course, scheduled to open in 2019. An entertainment village providing additional food, entertainment and accommodations is also planned.
The property will play a big role in the revival of tourism in the Catskills region. "This is a beautiful region that has become a popular place for people from New York City to vacation and we're confident that our property will contribute to this resurgence," Beford says.
The resort will also attract international travellers. "We offer guests a first-class experience, luxury amenities, and impeccable service. That, coupled with our picturesque location, positions us to become one of the most comprehensive destination casino resorts in the Northeast."