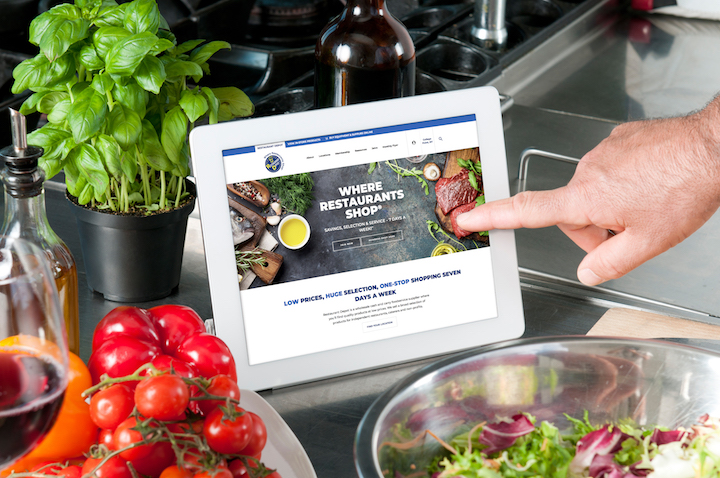 Restaurant Depot is taking new initiatives to improve its customers' shopping experiences.
A wholesale cash-and-carry foodservice distributor known for offering quality products at competitive prices, Restaurant Depot is enhancing its product offering and investing into new technologies to improve the customer shopping experience.
The College Point, N.Y.-based company – which serves a variety of independent restaurants, caterers and nonprofit organizations – launched a new website to make in-store shopping more efficient and is piloting a new self-checkout option at its warehouses this summer.
In addition, Restaurant Depot is growing its alcohol program, taking an omni-channel approach to the sales of equipment and supplies as well as piloting a digital platform to offer its clients insurance.
"Restaurant Depot's goal is to be a one-stop shop," says Jaime Kriss, VP of business development.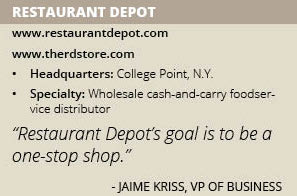 A multibillion-dollar company, Restaurant Depot operates 134 warehouses in 34 states and that number grows each year. Founded 1990, the company has made a name for itself as a leading low-cost alternative to other foodservice suppliers by eliminating the overhead of a traditional distributor, focusing on the needs of independent foodservice operators and offering free membership.
Meeting A Demand
Recognizing a growing demand, Restaurant Depot is expanding its alcohol program, which it started roughly 10 years ago.
"We recognized that alcohol was a gap in our portfolio," Kriss says. "Starting in California, we began to add wine and spirits to our warehouses."
The company currently sells alcohol in eight states and is looking to expand. However, it's been a challenge to enter the market in new states. "Existing distributors determine whether or not we can access national brands, so we put most of our energy into developing private label products, wines and spirits," she adds. "It's an alternative way for small businesses to buy wines and spirits."
Restaurant Depot doesn't charge nuisance fees, such as broken case fees and fuel surcharges and doesn't require a quantity minimum. In addition, it doesn't spend money on marketing which allows it to offer low prices for quality wines.
"One of our customers buys a brand from us at $2.99 and sells it by the bottle for $52 at his restaurant in downtown Manhattan," Kriss says. "If you're a restaurant and you buy a national brand, you have to worry about how much your competitors are charging for that same brand. Our customers have more pricing freedom because our brands are less known."
Emergency Assistance
Recognizing that e-commerce has become a critical channel for buying restaurant equipment and supplies, Restaurant Depot is launching a new "emergency equipment" feature on its e-commerce website, www.therdstore.com.
"If a key piece of equipment breaks down, such as a refrigerator or freezer, a restaurant can be forced to close until the issue is addressed," Kriss says. "This can be devastating for a small business."
In such cases, Restaurant Depot members can visit the website, type in their zip code and search for an emergency replacement for their equipment. Once they find it, they can reserve the item online and then drive to one of its 134 warehouses to pick it up. Some branches can also arrange for a local delivery within 24 hours.
A Faster Experience
It saves money, but shopping at a cash and carry warehouse takes more time than having products delivered. In order to make its customers' shopping experience faster and more efficient, Restaurant Depot has launched a new website to streamline the in-store experience.
"Members can log in, choose the store where they will shop, check the in-store inventory, make an online shopping list and sort items based on the layout of the store," Kriss says. "This helps them work through the list more efficiently" once they visit the store.   
The website permits access their shopping history and receipts for easier bookkeeping and tax preparation. "As we build out this platform, a guiding principle is to make in-store shopping easier and faster for customers," she adds.