Retail Worx is changing the retail landscape with a unique model of hospitality and wellness brands.

Jonathan Krieger and his partners wanted to build a community of hospitality and wellness brands that create meaningful lifestyle experiences for today's conscious consumer.
Using a unique and integrated business model, they created Retail Worx – a company that creates, operates and scales brands in the food, fitness and wellness space while mitigating risk and accelerating growth. Founded in 2016, Retail Worx's community of brands includes Taco Dumbo, Bridges General, BIA and Randolph Beer.
"We didn't just build these brands for the consumer," says Krieger, founder and CEO. "We created this ecosystem of brands to better communities and meet today's demands of both consumers and landlords."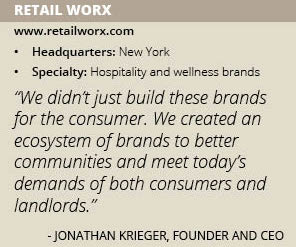 Krieger describes his company as "a creator of food and wellness brands" with expertise in six key components of development – real estate, construction, operations, technology, marketing and finance.
"I spent 15 years as a retail broker in Manhattan helping landlords reposition their retail assets and advising retail brands on rollout strategies," Krieger says. "Six years ago, the world of retail changed. I started seeing brands evolve to meet the needs of a more sophisticated consumer and heard very different demands from landlords."
The demands from landlords were in response to consumers changing their habits. They wanted an elevated experience, demanded higher-quality products and more modern designs.
"I saw a lot of developing brands fail because they did not have the expertise in one or two of those six components," Krieger adds. "Our idea was to identify the categories of retail that would remain relevant to brick-and-mortar as companies like Amazon shifted how consumers shop for everyday goods."
The Birth Of Taco Dumbo
Retail Worx's first original creation was Taco Dumbo, a market-fresh taqueria and cold-pressed juice margarita bar inspired by the healthy southern California lifestyle where beach, surf and sun are synonymous with fresh local food. With four existing locations and seven more scheduled to open in New York before the end of the year, Taco Dumbo cultivates a positive, neighborhood-like atmosphere that captivates customers to return for its healthy, reimagined Mexican cuisine and cold-pressed juice cocktails.
"Taco Dumbo is our answer to the typical quick-serve, fast casual dining experience," Krieger says. "From a price point, we are very much in line with the quick-serve brands. However, all of our locations have full-service bars, ambiance and hospitality more in line with fine dining."
Taco Dumbo has a carefully curated menu with a large selection of vegetarian and gluten-free offerings alongside a variety of meat and fish dishes. Its products are dairy-free and the company uses only kosher meat. Cocktail offerings are focused around margaritas that are made from cold-pressed juices.
"It's a brand that's been received very well by both consumers and landlords," Krieger says. "Landlords are viewing our restaurants not only as rent generators but also as true amenities to improve the energy of the building and help drive tenancy." Aside from Taco Dumbo, Retail Worx will be opening a new fitness concept called "BIA" this summer in New York.
A multidisciplinary high-intensity workout experience, BIA is a brand dedicated to improving health and wellness through an impactful 35-minute full body workout.
Reimagined Convenience
Bridges General, another Retail Worx brand, is a reimagined convenience concept catering to the modern lifestyle by offering healthy and responsibly-sourced snacks, premium essentials and contemporary lifestyle brands and wellness solutions.
Located in top commercial, residential and public destinations, Bridges General health has merged convenience with community by using hospitality and smartly-engineered amenities to differentiate itself. The brand's website states that "by upping the ante in offering, design and culture – we are setting the standard for what convenient looks, feels and tastes like."
Presently, Retail Worx has four existing Bridges General locations and plans to open another six this year.
The company's other brand, Randolph Beer, markets itself as a cicerone-driven brewpub featuring rotating world-class beer lists, self-serve beer walls and healthy comfort food in an artistic, casual and communal environment.
"Randolph Beer is one of the first brands we invested in," Krieger says. "We have since pivoted from investing into other brands to creating our own brands."
When it comes to future plans for Retail Worx as a whole, Krieger has a plan for growth. "Right now, we have a 10-10-30 strategy," he says. "Ten Taco Dumbos, 10 Bridges Generals and $30 million in revenue within the next 12 months. We're really just getting started."