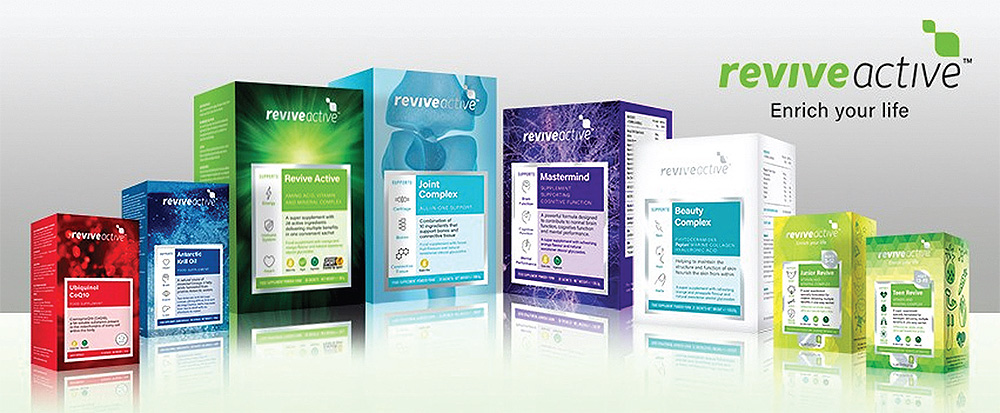 Enriching lives
Revive Active is responsible for a range of life enhancing supplements that have been specifically developed to introduce users to a lifestyle choice of putting their body and mind first
While evidence strongly supports the idea that people today would be best served to supplement their diets with health food supplements, there have always been questions regarding whether
such supplements are actually being made to deliver real benefits. When Dáithi O'Connor founded Revive Active in 2011, he did so with a vision to design, develop, manufacture and market cutting-edge food supplements that are based on science, using only the best quality natural ingredients and delivering them in the most bio-available form. The result of his and his team's efforts is that Revive Active is now Ireland's leading health food supplement brand.
"Revive Active scientifically formulates cutting-edge supplements that change people's lives," Dáithi, who is the company's Managing Director, begins. "All of our products are delivered in single dose powdered sachets containing all-natural ingredients, in optimum levels that deliver real benefits to users. Powdered sachets ensure that the ingredients are served in their most potent form, and that the body absorbs and uses them quickly resulting in optimum benefits being received. Further to this, Revive Active does not use any fillers, binders, salt, caffeine or sugar."
The original product released by the company also carries its name. The Revive Active product is a super food supplement for general health and wellbeing, containing 26 active ingredients in a single dose sachet, providing naturally sustained energy, a reduction in fatigue, increased heart health and immune system support.
Scientific approach
It was followed up, in November 2014, by the Joint Complex product. "This came about after we saw a gap in the market for a joint product that not only dealt with joint pain, but also with the cause of said pain," Dáithi continues. "Joint Complex does just that, and we have received amazing feedback from customers who were previously looking at the prospect of hip or knee replacements, but after taking the product for a prolonged period no longer need the surgery."
From there, Revive Active continued to grow, resulting in a range of products covering children to the elderly. These products include, Junior Revive for 5-12 year olds, Teen Revive for 13-19 years olds, Mastermind for cognitive function, and Memory Health for students, busy professionals and aging individuals, Beauty Complex for skin, hair and nail treatment, and capsules of Krill Oil and CoQ10.
"All of our formulations are evidence based and extensive research is carried out to ensure that each product contains the correct dosages," Dáithi explains. "When formulating, we always look at clinical research and scientific literature, and work with experts in the particular field that we are studying. For example, when formulating Mastermind, we worked with the University of Northumbria and the Brain Performance and Nutrition Research Centre. Additionally, we have collaborated with the Kerry Group, which supplies Wellmune for our Junior and Teen Revive products, and Rousselot of France, which supplies marine collagen for our Joint Complex and Beauty Complex products.
"We only purchase ingredients that are of the highest quality, and we have never and will never compromise on this! We source our ingredients from as far afield as Australia in order to ensure that our products are the very best that they can be. Then, when manufacturing said products, we ensure that we comply fully with all the relevant European Food Safety & Quality Standards."
Revive Active's commitment to quality is reflected in the numerous industry awards it has received in recent years, as well as its five-star status on the Trustpilot consumer reviews website. Scrolling through the comments left by users of the company's products they almost universally praise the "huge improvement in overall health" that they provide, the "healthy and active lifestyle" they help promote, the "quick delivery and friendly service" it offers, and how its employees "could not be more helpful and display excellent customer service".
Revive Active has also gained significant endorsement from public figures. In early 2017, the company proudly announced it had entered into a partnership with three-time London Marathon
winner and Women's Marathon world record holder, Paula Radcliffe, MBE, to act as Revive Active's Brand Ambassador. "Now retired, Paula is a working mum who travels all over the world and who understands the benefits of supplementation," Dáithi enthuses. "Paula herself suffers from a foot injury that developed arthritis overtime leaving her in a lot of pain. She had tried numerous products to try to improve the condition, but none of them really worked until she discovered Joint Complex. She now has more flexibility in her foot and is back running socially and with her children. She also uses the Revive Active product to help combat jet lag and to keep her natural energy levels up, what with all the travelling that she does."
Exciting launch
In order to respond to consumer demands, Revive Active has a strong track record for bringing new products regularly to market and this trend will continue into the latter months of 2018. "I'm personally very excited about a product called Zest Active, which is due to hit the market in late 2018," Dáithi adds. "This product is aimed at the 20-35-year-old market, thus completing our personalised nutritional offering. This product contains all of the key nutrients required for its age category who are working hard and playing hard. Zest Active's benefits include naturally sustained energy, immune system support, healthy brains, and improved cognitive function and muscle function.
"One of the key ingredients in this product is Wellmune, which is clinically proven to boost immune health, maintain overall physical health, protect against the harmful effects of stress, and promote healthy energy levels and mental clarity. We are very excited about the launch of Zest Active as there is nothing like it currently on the market, and it is the perfect alternative to energy products driven by stimulants."
Looking further ahead into 2019, and beyond, Dáithi is also buoyed by the development of a new €500,000 manufacturing plant in Mullingar and his plans for future global expansion. "Opening our new manufacturing plant means that we have more control over supply and quality standards as we bring this part of the business back in-house," he details. "Our plant will be a state-of-the-art facility, covering 10,000 square feet, and it will add a further ten employees to our family.
"We believe that Revive Active will become a global brand by growing our business in the UK, and then entering the US market during 2019. We are grateful that our legacy is that we have brought benefits to so many individuals around the world by bringing personalised nutrition to a mass market and fulfilling a demand that we strongly feel will only grow over time."