Brew believers
One of the fastest growing breweries in North America, Rhinegeist Brewery is making the Midwest proud with its much-loved range of flavorsome craft beers and ciders
When Bryant Goulding met Bob Bonder in San Francisco in the early 2000s, the City by the Bay was in the midst of a craft beer revolution. It was coffee, however, that was initially on Bob's mind. Having decided that Cincinnati would be the best place to launch a new coffee brand, Bob left for the Queen City in 2007, while Bryant went in search of his own calling.
After returning from a three-month trip to South America, Bryant was certain about where his passions lay – with beer. After a period with Anderson Valley Brewing Company in Mendocino County, CA, he joined Dogfish Head, managing its West Coast sales business. It was then, in 2011, four years since his friend had left San Francisco, that Bryant received a call from Bob.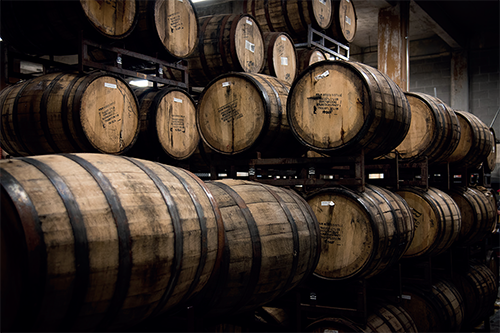 "In the years since leaving San Francisco, Bob had successfully set up his chain of coffee shops, but he had also discovered that his new home was crying out for craft beer," Bryant recalls. "Cincinnati is a city with a ton of brewing history and, before Prohibition, there were 40 or more breweries around the downtown area. At that time, a lot of German-Americans and new immigrants had just moved to Cincinnati and brewing beer was all they knew, so a brewing culture was very quickly established. With this in mind, we thought there could be a real opportunity for us to be a part of that legacy."
Not long after they had reconnected, Bryant visited Bob in Cincinnati. Almost immediately, he fell in love with the Queen City and the pair put together a plan to build a brewery. Soon enough, backed by investors, a 250,000-square-foot site was confirmed at Christian Moerlein Brewing Company's former packaging hall. The location itself would go on to inspire the new brewery's name – Rhinegeist. 'Rhine' in honor of the Over-the-Rhine neighbourhood it now called home, and 'Geist' as a ghostly nod to the area's German heritage and a statement that brewing life was about to return to Cincinnati.
"The Over-the-Rhine neighborhood was, historically, a Germanic area full of breweries separated from Cincinnati by a canal flowing down from the Great Lakes," Bryant explains. "It's a wonderful community with a lot of charm and character, full of beautiful buildings and Italian architecture from the late 1800s. The old packaging hall in which Rhinegeist is situated looks a bit like a brick factory from the outside, but inside it has big concrete pillars, natural light, and so much character. It's a really special place."
Excellence in craft
Since opening its doors in 2013, Rhinegeist has brewed a wide variety of beers across a range of styles. These include Uncle, a British mild ale, and the bestselling Truth IPA – both of which have been on-tap at the brewery since day one.
"In our early years we grew rapidly, increasing our output year-on-year and adding new beer varieties along the way," Bryant reports. "We sold 2000 barrels in year one, 11,000 in year two, 31,000 in year three, 50,000 in year four, and 80,000 in year five. By year six, we were brewing 100,000 barrels, which made for one of the fastest growth trajectories for an American brewery at the time."
Since then, Rhinegeist has matured into a company with steady, single-digit annual growth. Looking back on the organization's irrepressible rise to prominence, Bryant believes that a great deal of credit must be afforded to those within the organization who have helped to make Rhinegeist one of the Midwest's most exciting new breweries.
"The 300 people who work at Rhinegeist are a major leverage point for us," Bryant asserts. "They are all significant contributors to our success.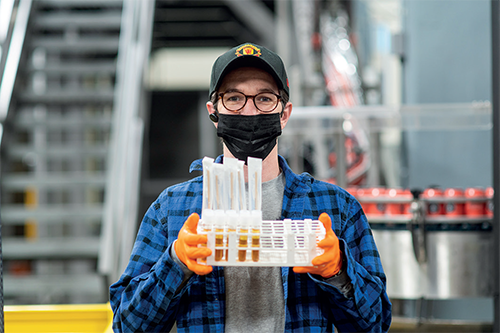 They care about our brand and our ethos, and many of those with long tenures have worked their way up and become department leaders.
"At Rhinegeist, we've always wanted to connect with our customers and stand out from the crowd. The value we provide to local communities is really down to the people we've hired and the way they live out our mission. In return, we aim to create an environment where, if you work for Rhinegeist, I hope you enjoy coming always moving at 100 miles per hour, so we try and slow things down every now and then for our employees, to help them avoid burnout. That, most certainly, has been key to our success, and key to keeping our people happy and at their best."
In 2021, Rhinegeist has remained focused on producing drinkable, flavorsome beers that stand out from the crowd. With the help of an innovative production team, a consistently high-quality product, and a clean, minimalist design, the brewery is gaining more and more fans across the Midwest.
"We are all about snappy beers with finesse," Bryant declares. "We make beers that are dry and finished and that leave you wishing for another sip. Whether you are a beer geek or a complete novice, we want you to know that you are drinking something great.
"Focusing on excellence in craft, we remain innovative and brew everything from German pilsners to barrel-aged beers using bourbon barrels from across the river in Kentucky – the distillation capital of the world. It's not necessarily about volume with us but intensity of flavor, so we experiment with different bugs instead of yeast, as well as brewing ciders and playing around with a lot of fruit."
Still operating from its vast Cincinnati footprint, Rhinegeist has seen its products conquer a number of new regions in recent years, including wider Ohio, Kentucky, Pennsylvania, Tennessee, Wisconsin, Illinois, and Massachusetts. In February 2021, the brewery took another major step forward when it introduced its products to Chicago, where they are now available on draft and in cans throughout the city.
"Chicago is the heart of the Midwest," Bryant states. "We want to continue growing geographically, and Chicago is the next step.
"We are, as I mentioned, trying to take things fairly slow now, but we still like to open a new territory every year or so. In 2022, Michigan will be the focus of our efforts, which will nicely round off our presence in the Midwest."
No matter where Rhinegeist goes, Cincinnati will always be home, and that is reflected in the amount of community initiatives and outreach programs the brewery runs in the area. This includes Charitable Suds, an enterprise that sees Rhinegeist inviting charity organizations into its tap room. A portion of the brewery's proceeds is then donated back to these charities.
"As part of Charitable Suds," Bryant says, "we also have Pint Nights every Wednesday. During this event, customers receive a token with each purchase, which can then be used towards one of four local non-profits, along with any extra donations they wish to make. At the end of the night, each organization receives a donation from Rhinegeist based on the amount of 'votes' they have accrued, while the charity with the most votes also receives a bonus.
"At present, we are donating close to $100,000 to charity each year. Of course, we plan to be here for a very long time, so our long-term goals will be to create more great Cincinnati jobs, continue making a great product, and remain a core part of the fabric of the Over-the-Rhine community."
Flavor is king
With the ability to take a beer or cider from conception to sale in its taproom in less than one month, Rhinegeist is well-positioned to add numerous new innovations to its portfolio in the months and years to come. However, while seltzer products might be dominating the market at present, Bryant says Rhinegeist has no intention to add a seltzer to its range. Instead, the brewery is determined to stay true to its belief that flavor, ultimately, is king.
"Flavor is what we stand for," Bryant proclaims. "Rather than seltzers, we are looking at some hard craft beverages that offer an alternative to beer and cider, but that are very intensely fruity. We really like the flavors we have been able to come up with recently using real fruit, and they will serve as a foray for us into a non-beer space that, quite frankly, is seeing a lot of growth but not a lot of innovation."
Backed by a confident, long-term vision for the future of the business, Rhinegeist hopes to remain true to its culture, producing high-quality beer and making an impact in its local community. Beyond that, in 20 years' time, Bryant would like to reward his workforce by helping the brewery to become 100 percent employee-owned.
"We have a great culture, we have great staff, and we are profitable," Bryant remarks. "I would, eventually, like to see that profitability fed back to the employees who are slowly, but steadily, earning ownership and equity in Rhinegeist, which has been built on the back of their hard work
"As well as standing for quality, consistency, and innovation, we are a brewery that cares, and we hope that our positive impact will reverberate in perpetuity. We have this big beer hall that sits at the center of the community and we really want to use it, and our beer, to bring people together. Beer is a really unique product in that its value increases as you share it with others. Drinking beer alone might be tasty and refreshing, but with friends and family it is a beautiful social lubricant that leads people to talk and laugh and reminisce.
"At Rhinegeist," Bryant adds, "we have a portfolio suitable for all different tastes – from fruity to sour, intensely hoppy to bitter, and very light to rich. It reflects our inclusive, community approach to our work. We want people to come to our brewery, find something they like, enjoy the space, and enjoy their time together."
www.rhinegeist.com