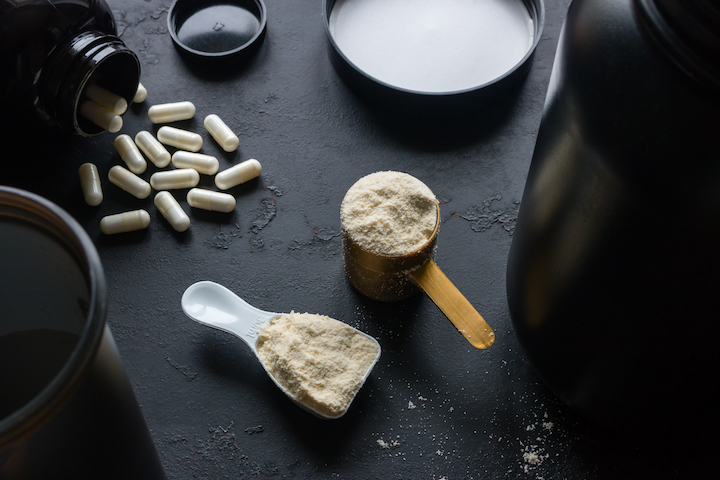 RIBUS creates functional ingredients to be solutions for conventional, natural and organic food.
Rice is a staple food for more than half of the world's population, and according to the USA Rice Federation, this could be because eating rice triggers the human brain to produce serotonin, which is a mood booster and helps to keeps one's appetite controlled. And while rice is beloved in dishes such as arancini, arroz con pollo, bibimbap and paella, RIBUS Inc. has discovered even more uses for rice, and is working with partners to innovate further.
"RIBUS is the acronym for Rice Ingredient Business United States, which my father came up with in 1992," President Steve Peirce explains. "Our pioneering ingredient was made from the bran of brown rice. We got patents to stabilize rice bran and made bran extract, which was a powder that had all the nutrition, but without the fiber. Our extraction fluid was water, so we were keeping it simple and clean."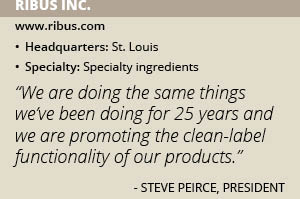 That product – known as Nu-RICE – is still sold by RIBUS today as a emulsifier, hydration aid, compaction aid and extrusion processor because it breaks the surface tension of water and allows powders to fall into the solution in which they are added. Nu-RICE also replaces monoglycerides to provide a cleaner ingredient label. Eventually, RIBUS introduced Nu-FLOW, which is an anti-caking agent made from rice hulls, and is an alternative to silicon dioxide. The company even made an organic version, attracting the spice industry and the organic market.
"Nu-RICE is on the label as rice extract or rice bran extract," Peirce says. "We got started in clean label work 25 years ago when consumers didn't care about that, and we remain dedicated to ingredients people can pronounce and have an idea where they came from. Additionally, rice is hypoallergenic and allows people to move away from allergens like soy."
A New Alliance
RIBUS strives to be the best supplier of high-quality specialty ingredients for food, beverage and dietary supplement manufacturers. Nu-RICE was popular with food and beverage producers, and RIBUS was approached by the supplement market several years ago. These manufacturers liked Nu-RICE, but they needed a lubricant, so RIBUS created Nu-MAG, a magnesium stearate alternative. Nu-MAG uses rice hulls and sunflower oil to provide the lubrication necessary for the production of tablets and capsules. With these products, RIBUS has become the global leader in organic and natural rice alternatives.
"Now, consumers have decided they don't like chemistry lab words and they want their products to have more natural ingredients," Peirce says. "This trend continues, but we are doing the same things we've been doing for 25 years and we are promoting the clean-label functionality of our products. We take pride in being the original clean label ingredient company."
In fact, at the Vitafoods Expo in Geneva in May, RIBUS helped to launch the Clean Label Alliance with its partners to provide cleaner labels in the supplement industry. Its partners include Biogrund, a German producer of powders and film coatings; Bosch Packaging Technology of Germany; Natoli Engineering of St. Louis, which is the global leader in tablet press tooling manufacturing; and Lonza, the Swiss producer of Capsugel.
"We all are leaders in our industries, so we formed the Clean Label Alliance to help customers," Peirce explains. "We all offer free technical support, regardless of whose ingredients the customer is using or equipment they are running. Anyone can make a clean-label dietary supplement and get free technical support from these global leaders in the alliance. We are taking a leadership role to help fellow industry members, and it's an opportunity for each of us to demonstrate our customer service, knowledge and willingness to help."
A few years ago, consumers started buying more clean-label goods, he notes, and now most every producer is focused on cleaner labels in one aspect or another. This is an extension of the trend toward more organic foods that consumers started in the 1990s, and RIBUS is ready to help producers respond to this demand.
"People are looking for cleaner labels, more simply processed foods and goods with improved functionality," Peirce says. "We've heard what consumers are asking for and the industry is listening, too. 'Clean label' is an umbrella term over five to 20 different things that consumers like, such as products that are free from gluten and dairy, are vegan, non-GMO, soy-free and hypoallergenic. All of those fall under the clean label umbrella, and RIBUS meets those needs."
He adds that RIBUS will continue holding true to its strengths while working with quality partners to assist the food, beverage and nutritional supplement markets. "We have really stuck with our beliefs," he says. "We believed in rice from the start and stuck to it. Rice is centuries old, but it keeps more people alive every day than any other food. We have stayed true to rice's benefits and as the market has evolved, we have been there. We will continue to have our ear to the ground to what consumers and producers are looking for."