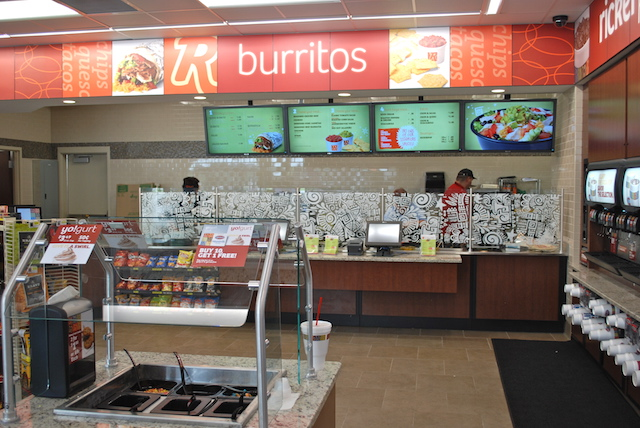 A majority of Ricker's convenience stores will be remodeled this year to accommodate the company's fresh prepared food program.
Ricker Oil Co. prides itself on giving its customers what they want. Not only are its 57 Ricker's convenience stores throughout Indiana the most up-to-date and the cleanest in the area, the company is also not afraid to shift its focus when profit generators change.
"We are getting into fresh prepared foods in a big way," owner Jay Ricker says. "If you are involved in the industry, you know everyone is convinced that you have to have other forms of profit centers because gas and cigarettes are declining. Food is one of the areas you need to be involved in, and when I say food, I'm not talking about a hot dog grill and nachos. I'm talking about a fresh prepared food program."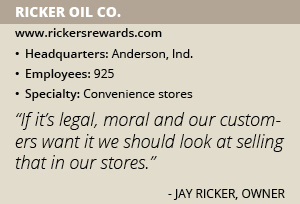 Ricker believes his company has remained successful over the past 37 years in part because he has kept up on the latest trends as a member of a number of trade associations. He is past chair of the BP Amoco Marketers Association, past president of the Indiana Petroleum Marketers and Convenience Store Association and former chairman of the Association for Convenience and Fueling Retail (NACS).
"Especially at NACS, I was around the brightest people in the industry," Ricker says. "If you are involved and attend all the events, you can improve your company. The members are very good about sharing and a lot of our best practices today came from someone who was already doing it."
Getting Ahead
In a span of 10 days in the early 1970s, Ricker graduated from Purdue University, married his wife, Nancy, who was his high school sweetheart, accepted a job with Shell Oil and moved to the Quad Cities. "I wanted to go to a big college, work for a big corporation and never live in Indiana again," Ricker remembers. "I worked for Shell for seven years until we decided I should leave."
Founded in 1979, Ricker Oil began with one tank wagon that supplied gas to Middletown, Ind.'s farmers and service stations. Ricker drove the wagon while Nancy managed the books from their home. Ten years later, Ricker Oil purchased its first convenience store in Middletown, and the company has grown since then to include 57 stores.
Over the years, Ricker Oil has grown through acquisitions and new builds. All the company's operations are in Indiana, concentrated in three areas as part of a strategy to build the Ricker's brand and maintain managerial efficiency. Most of Ricker's convenience stores are in the Ft. Wayne, Anderson and Indianapolis areas. "We build about four stores per year, but this year we only built two because we are getting into the fresh prepared foods market," Ricker notes.
To stay ahead of the competition, Ricker's convenience stores are kept modern, clean, staffed with friendly associates and inspected regularly. "We are very focused on inspections," Ricker explains. "We have every single store inspected every month by an outside firm to rate our customer service and cleanliness. We have another that focuses on food safety, which takes about two hours and a manager's bonus is tied into that. We also are checked to make sure our associates are carding everyone for cigarettes and alcohol.
"We have a variety of outside inspectors and one internally that we have visit our stores," he continues. "We do monthly and quarterly inspections to be sure we are doing what we say we are doing. I can't be at all 57 locations on a daily basis."
Feeding the Demand
"If you would have asked me 20 years ago if we would be selling food or operating an ATM, I would have probably said no," Ricker says. "But it's what customers want and things change so quickly. If it's legal, moral and our customers want it, we should look at selling that in our stores. The point is you have to be flexible and willing to change."
About one-and-a-half years ago, Ricker's bought a food truck, parked it in downtown Indianapolis and served Tex-Mex products to test the market. "We had a good array of products [on the food truck] and we were able to tweak our flavor and quality profile because we didn't want a complicated menu," Ricker explains. "We got the menu to what we think is the best, tried it out in a couple stores and are now rolling it out in virtually all our stores."
The company is building only two new stores this year because it is remodeling 20 locations to accommodate the food program. "Our son, Quinn, came to me with the food program idea and we had had pizza and other programs that did OK," Ricker says. "So we knew we needed to do a better job with it."
Ricker's has also partnered with a new supplier to provide fresh deli sandwiches, fruit and vegetables daily, and at a reasonable price. "The big issue is getting fresh product like that delivered and still sell it at a competitive price," Ricker says. "We do have waste, but we understand that. This is a quality product and soccer moms can feel comfortable eating it themselves and buying it for their family at a reasonable price."