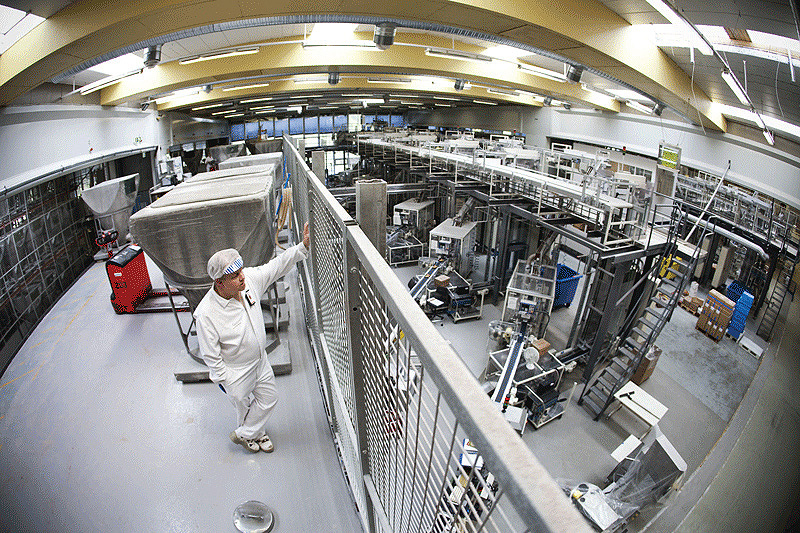 Striving for self improvement
Thanks to the 'Our Future' programme, Rieber & Søn has improved every aspect of its operations and increased its profitability
"Towards the end of 2008, the company began a large, complex programme it called 'Our Future'. This programme was specifically designed to examine various aspects of the company, from its many different business units and its product portfolio, to the production side of things and its various purchasing methods, all of which have since been consolidated to one location, here in Bergen," explains Patrik Andersson, chief executive officer of Rieber & Søn. "The whole purpose of 'Our Future' is to increase the overall efficiency of the company, both from an administrative point of view and in regards to the Rieber & Søn's factory operations, and the results have already begun to be seen with 2009 and 2010 being particularly good years for the company, driven by a dramatic increase in profits."


Operating predominantly within the Nordic region, Rieber & Søn manufactures and supplies a variety of own brand food products to the retail market. Founded in 1839 by P.G. Rieber, Rieber & Søn's humble beginnings as a trading company and a vinegar factory kick-started a legacy that now extends for more than 170 years. Today the company is responsible for more than 20 different brands, produced and marketed from its 17 factories and sales departments, spread across 12 countries.
Strong footholds
"Rieber & Søn has several strong footholds in product groups including sauces, soups, bouillons, casseroles and ready-made dishes," Patrik continues. "In Russia, the company is co-market leader within the snack market, and by snacks I mean items such as nuts and dried fruit, and it also holds a strong position within the bakery sector in Poland and Sweden. Elsewhere countries like Denmark and the Czech Republic have also seen considerable improvement in market conditions in recent years, something that has played a significant part in increasing the profitability of Rieber & Søn."
By the end of 2011, the company will have completed a full factory audit across the company in relation to the 'Our Future' programme: "The goal of this phase is primarily to establish new, more efficient ways of working while also reducing overall operating costs," Patrik says. "In undertaking this work the company has received excellent support from Celerant Consulting. The relationship between the two companies has been a co-operative partnership, with Celerant taking a very hands-on approach, actually going into the factories and working with Rieber & Søn employees to achieve the best possible results. Honestly, without the support of Celerant, the goals the company has achieved to date would have been hard to realise indeed."
The overall quality of the products made and sold by the company is another area that has benefitted considerably from the programme: "As well as having a central organisation working out of Bergen, Rieber & Søn has teams of people on the ground, in each of its factories, constantly dealing with food safety and quality issues," Patrik enthuses. "The company is currently working non-stop to achieve ISO-22000 approval for each of its facilities by actively working to these standards each and every day. What this has helped accomplish is a reduction in the number of recalls and quality complaints, and while there are always further steps that can be taken, the progress made thus far has brought about significant improvements."
With the 'Our Future' programme heading towards its conclusion, Patrik believes it is time for the company to start looking at future opportunities: "Rieber & Søn has spent a lot of time working to consolidate and streamline the company, but now is also the time to start looking at how the company can grow in the markets it is already established in, through both organic growth and acquisitions."
New acquisition
An example of this growth plan in action was revealed in May 2011 with the announcement of the company's acquisition of Lierne Bakery, Norway's leading producer of griddle and party cakes for the grocery and catering markets: "Baking, in particular products like cookies, cakes and snacking items, is a particularly important area in which the company wants to expand its presence, particularly as the so called 'coffee shop culture' continues to grow in popularity. The acquisition of Lierne Bakery also provides Rieber & Søn with increased factory capacity within Norway, something that is important to have if the company wants to increase production levels," Patrik states.
As the costs of raw materials continue to rise and the region faces a still somewhat uncertain economic future, Patrik is pragmatic in understanding that the business environment over the next two-to-three years could remain challenging, yet remains confident in Rieber & Søn's ability to prosper: "With a collection of very strong brands, high quality ingredients, good relationships with retailers and a solid supply chain, Rieber & Søn today stands poised to take the work it has carried out to improve internally and use it to focus on increased product development, better marketing and, most important, making the company bigger and healthier than ever before."