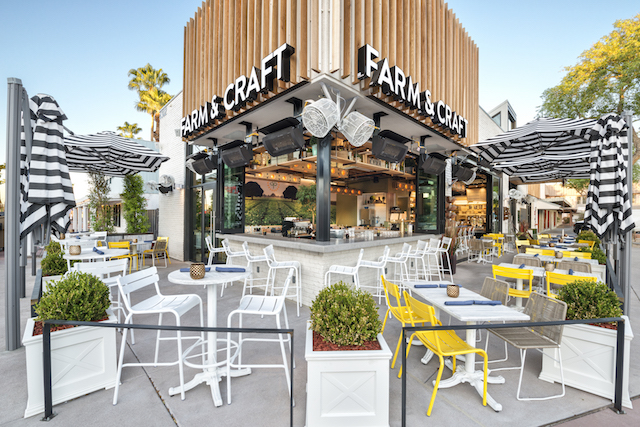 Riot Hospitality uses imitators and inspiration to change.
In 2018, Riot Hospitality made it onto Inc. magazine's list of the 5000 fastest-growing companies. "Since 2010, we have grown 20 to 80 percent year over year," COO Justin Cohen says. "Our first year we were around $4 million in gross sales. Last year we were close to $70 million. I would attribute our growth to creating a product and experience that is unique to the markets we are in."
Riot Hospitality Group was founded by Ryan Hibbert, Jon Wright and Mike Troyan in 2010. The company has 11 locations and five brands that are located mostly in Arizona though it has an El Hefe in Chicago and a Whiskey Row in Nashville. "The Nashville location did $19 million in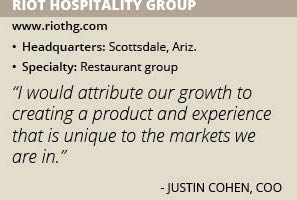 gross sales in its first year," Cohen points out.
The Riot restaurant brands are:
* Farm & Craft – A healthy and sustainable eatery built around a wellness-menu and the community. "Award-wining craft menu designed for optimal health using responsibly sourced products," Cohen says.
* Hand Cut Burgers & Chophouse – grass-fed burger and steakhouse with a hand-crafted cocktail menu. "It's a millennial-type steakhouse," Cohen says. "It has a young, high-energy feel."
* El Hefe – Mexican themed restaurant with nightlife. "A high-end taqueria with sophisticated nightlife," Cohen says.
* Dierks Bentley's Whiskey Row – An American gastropub with country music. It has "incredible food from scratch kitchen with high-energy country nightlife," Cohen says.
* Riot House – A sophisticated restaurant with classy nightlife. It features "high-end finishes that translate with a South Beach feel," says Robyn Moore, public relations manager.
Secrets to Success
When planning its concepts, Riot Hospitality starts with the design of the venue, following by the menu and cocktail program and works outward to music and other aspects of the atmosphere. "There are a lot of nightclubs and bars where the food is an afterthought," Cohen says. "We make sure each food item is a cult item of its own." Riot Hospitality creates different experiences for customers during different times. "We are very thoughtful about how we move through those transitions during the day," Cohen says.
Take the Whiskey Row concept. The day starts with lunch, then happy hour, maybe a sports game followed by live music and at midnight a DJ. "That creates sustainability," Cohen says. "Instead of going to dinner some place, customers go to Whiskey Row and stay four or five hours. It creates a higher number of revenue centers from a business perspective."
Riot Hospitality takes online reviews seriously. "The ability for consumers to post reviews on Yelp and other places can expose deficiencies and efficiencies of the business," Cohen says. "We respond to every single Yelp review on every single location. That is time-consuming but offers an incredible amount of information, giving us a snapshot of our business through the minds of the consumers. They give you incredible insight on what to focus on."
Staying Unique
Success tends to attract imitators. Rather than become complacent, Riot Hospitality uses those imitations as an incentive to reexamine its efforts and make changes. "We are motivated to put ourselves out of the norm," Cohen says.
Take, for example, Whiskey Row in Gilbert, Ariz. "We were the first nightclub and gastropub to open in Gilbert," Cohen says. "After we opened, we saw more people coming into the market. That pushed us to understand what product we were delivering and what demographic it attracts and what we need to do."
Riot Hospitality analyzed its menu and tried to figure out ways to convert lower-selling items into higher-selling favorites. The company next looked at its interior. "The volume we have, there is a lot of wear and tear," Cohen says. "We want to make sure our businesses are always shiny."
Riot Hospitality's corporate chef and beverage directors develop new food and drink items on a regular basis. Their choices are informed by regular tastings and by holding its vendors to strict standards.
Another challenge that comes with rapid growth is not allowing the quality to dilute. That's particularly true of the relationship between management and other employees. "We found as we hired, we created a larger gap between what we felt Riot Hospitality should be and our team," Cohen says. "We cleared some space last year so we could reconnect and regrow our business from the inside out."
With the help of consultant Process Mentors, "we've worked the last three months to examine who we are at the core and who we want to be as we grow," Cohen says, "and how we train and teach that as we scale into that new market."
For Cohen, that means having a personal mentoring relationship with roughly 80 managers in the company. Riot Hospitality prefers to develop and promote employees internally. Of the 25 or so employees in the corporate office, 90 percent have been promoted from within. Another challenge is to create processes that can be scaled as Riot Hospitality grows. Those include processes for training, payables, staff orientation, product management and cleanliness.
Start-up Attitude
Riot Hospitality is pursuing continuous growth. Recently, it signed a lease to open a 30,000-square-foot Whiskey Row in Denver. Simultaneously, it plans to open new restaurants around the country and in Arizona as the right real estate becomes available, and is working on new concepts.
But Riot Hospitality retains the outlook of a much less-established company. "I look at us as a $100 million start-up," COO Justin Cohen says. "We still have a lot of options. We are still deciding what path to take."