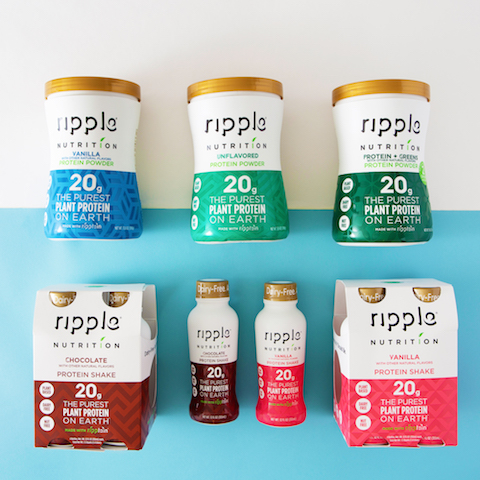 Ripple Foods focuses on product innovation to offer its customers more options while continuously working to improve the flavor profile.
Competition in the plant-based protein segment continues to rise as more consumers actively seek these options in their diets. Plant-based food sales have doubled over the past year and research firm MarketsandMarkets projects the global plant-based protein market to reach $5 billion by 2020.
Ripple Foods entered the market in 2016 to offer consumers dairy-free, plant-based milk, half and half, and yogurt in a better way. The company's goal has always been to provide a product that tastes good first and foremost, and is nutritious, and continues to do so today.
"People are looking for more plant-based protein sources, and what was once a few brands when we first launched in 2016 has turned into people clamoring for space," Vice President of Supply Chain Brian Hudon says. "The No. 1 obstacle we have to overcome when we are trying to get people to buy our products is their initial negative response to our products being made with peas. When we do demos in stores and get people to try the product, we win based on flavor."
Neil Renninger and Adam Lowry co-founded the Berkeley, Calif.-based company after working in the biofuels and environmental products industries. "The name 'Ripple' was derived from the idea that small changes that you do in your life can have a ripple effect and create products that have a chance to facilitate change in the world," Hudon explains. Ripple Foods' milk products are sold in 48- and 12-ounce containers, along with its shelf-stable kids' products, and a vegan half and half product. Each product is on par with those from dairies, Hudon says. "We deliver eight grams of protein per serving," he says, adding that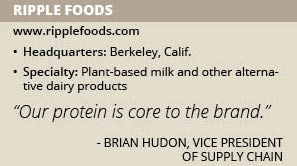 they feature lower sugar and fat contents. "We don't want our customers to feel like they're making a trade-off."
Taste the Difference
Ripple Foods takes a raw material plant source and extracts protein, which is tasteless, and leaves behind the starchiness. This process results in a cleaner protein base. Today, the company uses peas for this process.
Ripple Foods' vendors have contributed to its success over the years, including Roquette America Inc., a global leader in plant-based ingredients and a pioneer of new vegetal proteins. "Roquette continues to be one of our strongest partners," Hudon says. "They have been instrumental in helping us keep up with our demand in terms of supplying us with the protein source as the market gets tight in terms of pea protein availability. Roquette has been with us since the beginning and continues to be a strong advocate for our brand and continue to supply us with the resources we need."
Ripple Foods has discovered a way to make the protein taste even better. "Our protein is core to the brand," he says. "It's very visible on the packaging and we are about to announce a breakthrough that makes protein taste even better. We will launch new products in 2019."
Ripple Nutrition
In September, Ripple Foods launched Ripple Nutrition protein powder and shakes with 20 grams of protein. Like all Ripple products, Ripple Nutrition is plant-based, dairy-free, nut-free and soy-free. The new line debuted exclusively at Target, but the company will be expanding distribution in 2019 to all its retail partners including Whole Foods Market and Meijer Inc.
"We have had a lot of buzz around these products as consumers were looking for something in the plant-based nutritional space that delivered a better overall flavor profile and these products deliver that," Hudon says. "The space is cluttered with plant-based options that taste chalky and are off-putting from a flavor profile, so we are excited about the launch of these products and expect great things from this."
Maintaining Supply
Ripple Foods has expanded its supply chain in response to launching new a new product line. The company uses contract manufacturers and continues to seek new partners and experts in the space as product innovation remains a priority.
Prior to its entry into nutritional powder and shakes, Ripple Foods was a cold chain, shipping everything via refrigerated trucks and storage. "That's quite a bit more expensive than ambient, but with the launch of these new products we had to find partners on the ambient transportation side to maximize our cost," Hudon says.
Ripple Foods has invested more resources into securing continuity of supply in the event one co-packer can't service the business. "We had a brief supply interruption this year," Hudon says. "Our customers were disappointed they couldn't find our product for a period of time and we put significant effort into making sure that won't happen again. We developed a long-term plan to ensure our co-packers align with our long-term plans."
In addition to investing in supply chain resources, Ripple Foods also began advertising campaigns in three core markets that Hudon says was a huge success. "The metrics demonstrate that we contribute to the market growth. We are going to expand our campaign to eight markets in 2019 and gain distribution in key regions of the country," he adds. "We are putting our marketing efforts towards ensuring folks are aware we are available to purchase our products."
Moving forward, Ripple Foods plans to continue innovating and educating consumers about its plant-based protein products. "Consumers are buying based on the nutritional aspects of plant-based products, ones higher in protein that meet their nutritional needs and also on taste," Hudon says.