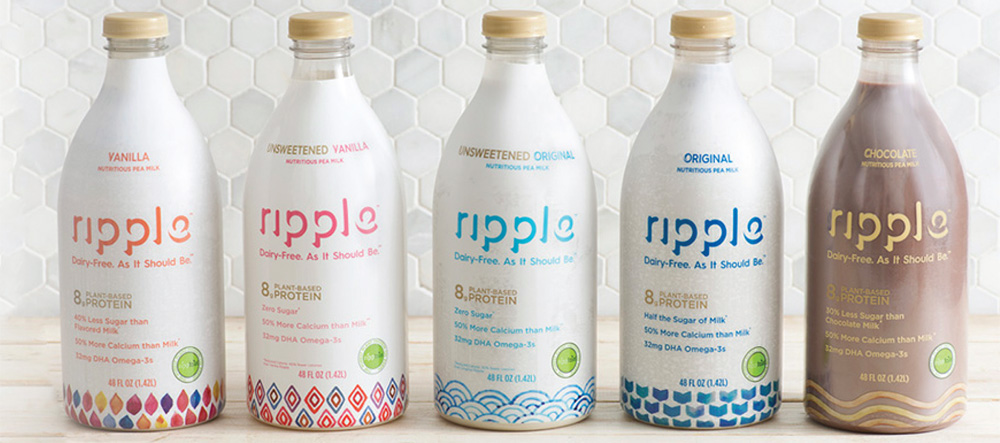 Ripples in the milk market
Ripple Foods is emerging as one of the fastest growing dairy alternatives producers in the US, with its innovative clean protein extraction technology enabling it to make delicious and nutritious plant-based products
When we formed the company in early 2015, our idea was to bring a plant-based milk alternative to the existing marketplace that was to be something completely disruptive for the category,"
begins Ripple Foods' Vice President of Supply Chain, Brian Hudon. It took the producer of plant-based dairy products only three years to distribute its goods to over 16,000 stores in the US and Canada, continuing to go from strength to strength and showing determination to expand beyond North America in the coming years.
"Prior to Ripple being established, there were a lot of alternative milk beverages in the marketplace that either lacked in taste or lacked in nutrition," Brian explains. "What we did, was create a proprietary process to extract a cleaner protein base from plant-based material, which in our case is yellow peas. In this process, we remove the starch from the plant and, once cleaned, blend the protein with fats (and sometimes sugars, for our sweetened products) to make delicious dairy alternatives using fewer ingredients than a lot of the other products available in the market."
Having commercialised the milk production process, the company enjoyed the aforementioned rapid growth in distribution, whilst continuing to work on developing new products. "In 2017, we launched a vegan half & half and a shelf-stable kid's product and this year, we released our Nutrition product line of protein powders and shakes. Furthermore, in January, we brought our Greek yoghurt alternative to the market, which can now be found in Kroger stores across the country."
What remains to be viewed as Ripple's flagship product, however, is the company's nutritious pea milk that comes in five different flavours – original and unsweetened original, vanilla and unsweetened vanilla, as well as chocolate. "We invest a lot in R&D, so that we are able to launch new products in a relatively short space of time," Brian notes. "There are a lot of well-established key players in this marketplace, so, in order to stay competitive, we have to be quick to market and lead with innovation. Alongside the products we have developed this year, we are getting ready to introduce a number of other disruptive alternatives throughout the entire 2019."
Honest and transparent
As Brian affirms, good products speak for themselves. The pure quality of Ripple's items has certainly been a leading factor for the company's early success, but there is more to the expediency with which it rocked the American market. "First and foremost, we built a management team of very experienced industry experts. For example, our sales and marketing team comprises of people who have achieved this kind of rapid growth with other companies," Brian points out. "We recruited these people for their proven track record and used their contacts to build strong business relationships and get our products out in a number of markets relatively quickly. From a supply chain standpoint, we applied the exact same approach by hiring well-versed professionals who knew how to build a scalable and efficient supply chain."
In Brian's opinion, there is a clear trend among consumers who are now increasingly looking for alternatives and, more specifically, plant-based foods to provide these alternatives. "They are not necessarily trying to go vegan, but they are certainly showing willingness to add more plant-based products to their diet. This will result in a decline in the overall dairy market as consumers look to find plant-based alternatives. Today's consumers, especially millennials, are also better educated and much more conscious of what they are putting in their bodies. Keeping this in mind and taking into account their desire to learn more about the products themselves, it is important for us to have an honest and transparent brand that will be at the forefront of the upcoming nextgen food revolution. To think about it, we have a planet to feed, whose population will reach more than 9.5 billion people by 2050, so we are going to need all the non-animal-based alternative sources
we can get, to achieve this goal," he analyses.
UK trial
Emboldened by the fact that a lot of consumers from all over the world are already reaching out to the company with requests for its products, Ripple is now preparing to conduct a trial in the UK in the coming months. "We are working with a couple of retailers to get our brand on their shelves and see how the customers will react. Our strategy has always been to get up and running in the US, establish a solid base, and then consider expansion into other markets, including the UK, Europe, Asia, and Australia. We were able to expand into Canada with a lot of success last year, so it is time to place a few bets in some other markets and see what happens," Brian enthuses.
"Ultimately, we want to be a brand that is known for creating delicious plant-based foods," he continues, discussing Ripple's long-term ambitions. "To do that, we have recognised the need of having a well-established and rich assortment across a number of different product categories, such as ice cream and cheese, in addition to milk and yoghurts. Another target of ours is to expand our distribution network and get into several retailers we are looking to work with in the years to come. It is a pretty aggressive growth we are after, as we want to grow by double digits every year in the next five years. Last but not least, we would like to leverage our protein technology, as well, by continuously optimising it and exploring further opportunities for its application."