Rise Baking Company's quality and service help it capture a larger share of its market.
No matter how large it grows, Rise Baking Company never overlooks the importance of its talented team. "They are the key ingredient to our success," Vice President of Administration Kristen Rieser declares. "We can't win without them."
Minneapolis-based Rise Baking Company specializes in providing artisan breads, baked cookies, frozen cookie dough and crispy bars for national grocers and in-store bakeries. "We're a powerhouse in the baking industry," Senior Vice President of Sales Jeff Getzkin states.
The company, he explains, was formed by blending multiple legacy businesses. "We started with New French Bakery in 2013," he says, noting that the company later acquired Best Maid Cookie Company in 2014, Hudson Baking Company in 2015, South Coast Baking in 2016 and most recently Choice Foods in 2017.
Today, the majority of Rise Baking Company's business is private label for the top 20 national grocers and in-store bakeries. "Most of what we make is specific to our customers' needs," COO Eric Ahlgren says.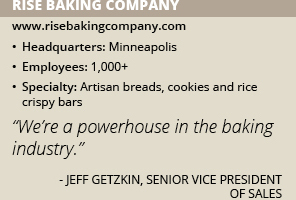 Only the Best
Rise Baking Company sets itself apart by using only the highest quality ingredients in its products, Marketing Manager Courtney Wilman says. "We use nothing but the best when we're sourcing," she says.
For example, its crispy bars feature the same ingredients you would use at home – real butter and marshmallows. "You can't compare it to a Kellogg's Rice Krispie product," Ahlgren says.
Its peanut butter crispy bar is made with crisped rice and creamy peanut butter, "topped with a rich, chocolaty butterscotch frosting," Getzkin says, adding that the bar is one of the company's top sellers.
Rise Baking Company distinguishes itself with its go-to-market approach, which leverages relationships from its legacy businesses. "We've been able, as an example, to cross-sell the bread to our cookie customers and the cookies to our bread customers," Ahlgren says. "They like our quality, like our service and we develop products that they want."
The company is also focused on speed to market, Rieser adds. "Many of our competitor's struggle with that," she says. "We're able to utilize our resources to meet our valued customers' needs. Our experienced team has the capabilities and passion to deliver results."
Making Room
Rise Baking Company is expanding its footprint, including an addition that will grow its location in River Falls, Wis., an additional 30,000 square feet. This will allow the plant to produce both cookies and crispy bars, as well as strengthen its workforce, Ahlgren says.
The addition will include updated employee areas such as an expanded lunchroom, training areas, locker rooms and office space overlooking the production activities. "We're making sure that the moment our team walks through the door, they recognize how important they are," Wilman says.
Rise Baking Company also recently installed a state-of-the-art artisan bread line at its headquarters in Minneapolis, and is expanding its facility in Springdale, Ark. This will make room for two new frozen cookie dough puck lines, Ahlgren says.
"It's basically supporting the growth of our business," he says, adding that the company has established a strong niche between large competitors and smaller, regional players.
"We're just as nimble as the small regionals, but we can provide the large retailers with national service," Ahlgren says. "This has enabled us to take market share from the largest competitors out there."
High Standards
Rise Baking Company focuses strongly on its relationships with vendors, especially in its key ingredient categories, which include chocolate, grains, sweeteners and oils. "I personally spent about six months touring the country to develop those relationships, determining who were the most capable, highest-quality suppliers out there to support our needs," Ahlgren says.
During the evaluation process, he paid close attention to their food safety and quality programs. "We need to know that when their ingredients land at our plants they're made safely to the highest standards," he says. The company seeks vendors with robust food safety programs and impeccable service records.
Passion for Results
Rise Baking Company has nurtured a culture where people are dedicated to the organization's success. "We have a lot of passion for what we're doing," Getzkin says. "We work hard and we play hard."
Employees also are willing to wear different hats to lend others a hand. "Everyone takes a project and runs with it," Wilman says. "They go above and beyond, working diligently to get to the finish line at the same time."
The future looks strong for Rise Baking Company as more consumers want the level of quality we can offer, Getzkin says. "People that shop at the bakeries want high-quality products and they're willing to pay extra for it," he says.
The company, which has enjoyed double digit annual growth in recent years, expects that to continue as it branches out more into the foodservice market. "We're focused on delivering a great product and great service," Getzkin says.
Innovative Baking
Rise Baking Company regularly brings innovation to its operations. "Our research and development teams are continuously looking for new ways to improve our existing formulas," Getzkin says, noting that they work with customers to meet their specific requests.
"We've created an innovative way to maximize that freshly baked bread experience with minimal effort and waste," Getzkin says. "All products are individually pre-packaged, pre-labeled and ready for the consumer to take and bake at home, in 15 minutes or less."
Rise Baking also highlights its Fast PanTM Technology, which is a panning system for its frozen cookie dough that provides "up to 70 percent labor savings for some of the largest baking operations in the United States," Ahlgren says.