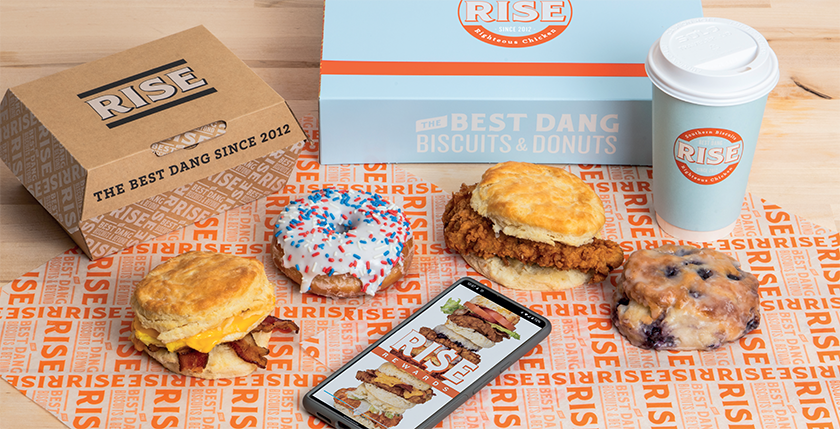 When Rise Southern Biscuits and Righteous Chicken began business nearly ten years ago, biscuits were thought to be a distinct product of the South. Now, however, their appeal is becoming widespread, and the company bearing their name intends to capitalize on that ubiquity
Taking the biscuit beyond ordinary
What started as a simple concept – great fast-casual food made with premium ingredients by people who care – has transformed into something much larger. By pushing boundaries with ostensibly ordinary ingredients and innovating familiar Southern flavors, Rise Southern Biscuits and Righteous Chicken (Rise) has outgrown its humble origins. From its original, flagship store in Durham, North Carolina, the brand has stretched its wings and expanded into full-blown flight, now holding multiple locations across its home state, as well as numerous others in Kansas, Maryland, Virginia, Georgia, Tennessee, and Oklahoma.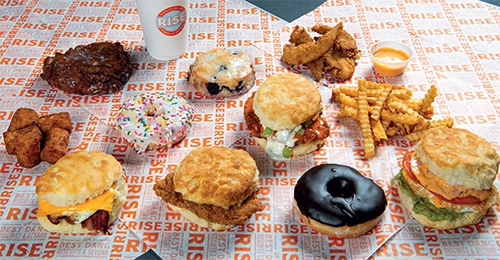 For nearly ten years, Rise has served up the finest biscuits – or scones, if you live outside of the US – and chicken, garnering many accolades and a loyal following in the process. Yet, unquestionably, the chief driver of that recognition is its humble-turned-gourmet biscuit.
Rise likes to keep things simple when it comes to its signature product, using just five ingredients, including real butter and soft wheat flour locally-sourced from Renwood Mills in Newton, North Carolina. But that doesn't mean its flavors have to be. Popular dishes on the menu include Rise's classic Southern biscuit paired with its famous, righteous chicken – by which it means: tenderized, antibiotic-free meat, brined in buttermilk before being fried until crispy and golden-brown – and the so-called Sweet Country Blues: a glazed blueberry biscuit encasing an all-natural, clean-label pork sausage. Customers can also expect Southern staples like crunchy fried okra, cheese grits, cheddar tots, as well as pimento cheese, and Nashville hot sauce.
For vegetarians, Rise offers a range of meat-free dishes such as avocado toast, a favorite of their customers, as well as vegetarian sausages made with a variety of country spices, and a fried green tomato and pimento cheese biscuit. "We look revise our menu once a year and have an ongoing conversation with our store managers, taking into account all the information they share," says Brian Wiles, COO at Rise Southern Biscuits and Righteous Chicken. "While we have fan favorites, which come back every now and then, we're always looking for fresh ideas and new flavors. "One thing that doesn't change, however, is the quality," he continues. "We don't use shortening in our biscuits. We use real butter and make them in-house every day. Sometimes we will add berries or cinnamon, glazing them into the biscuit dough and putting them in the fryer, before then lightly dusting them in powdered sugar. By finding new ways to dress our signature item, we keep things exciting. We aim to push the boundary of expectation, and that makes us really proud, but it also means people keep coming back for more."
Making a difference
Indeed, in November, Rise will celebrate ten years in business. The brand has come a long way in the last decade – and, for company CFO Ken Priest, the reasons behind that are quite simple. "Our business model is based on taking care of people," he explains. "Whether that means our customers or our employees, we always try to make a difference. One way we're currently doing that is through the integration of technology, future-proofing ourselves and the wider food and restaurant industry, which will then allow us to keep caring for people in many years to come."
Successful commercial relationships abound, and Rise has developed a strong network of award-winning local producers and nationwide food distributors. These include, as mentioned previously, Renwood Mills, but also the Durham-based roaster Counter Culture Coffee, as well as Cooper River Farms, Springer Mountains, Goodnight Brothers Country Ham, and US Foods."Sometimes these partnerships just fall into your lap," explains Brian. "If you've been around long enough and are known for creating a high-quality product, then sooner or later people will start knocking at your door – and our door is always open. By taking the time to create an open dialogue with these companies, we can make sure that they not only understand us but are aligned with our core values.
"We need to be headed in the same direction," he says. "We personally visit our suppliers, touring their facilities to better understand how they work and to show our gratitude since, without them, we wouldn't be where we are today. With Renwood Mills, for instance, we've met the individual farmers there and seen the fields they grow their wheat in. It's incredible to then go back and see our signature Southern biscuits being served in-store, knowing exactly where each of their stories began."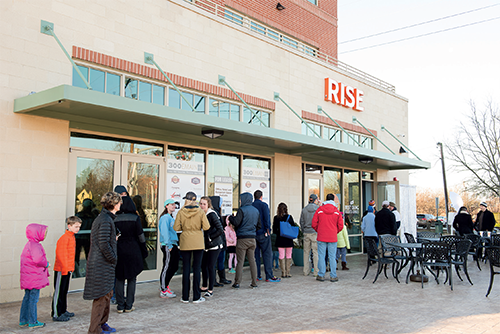 Yet those fresh, soft, and warm-buttered biscuits weren't always the core focus of the brand. The popular fast-casual chain has been through an evolutionary arc since its inception, originally trading under the name Rise Biscuits and Donuts. However, several years later, Tom Ferguson, the late CEO and Founder of Rise, decided to transition away from the original breakfast-based concept to allow the business to scale.
As Brian makes clear, having biscuits and donuts baked in-house every single day was too much of a burden on staff. "In the beginning, we did everything by scratch," he remembers. "We were making donuts and biscuits from base ingredients every day, which requires a tremendous amount of labor and employees to come in the night before. We made the bold decision to swap fresh-baked donuts for frozen ones, and instead channel our focus into predominantly biscuits and chicken."
Biscuits and people
Prior to the rebrand, Ken points out, Rise felt like two distinct companies operating under one roof. "Initially, changing to frozen donuts was very strange because we had always made everything fresh. However, it enabled us to elevate our biscuits and chicken, which people were wanting more than anything else on the menu. The biscuit is the backbone of this company and always has been. For a little while, customers began to think of Rise as a donut place, and that bothered Tom because he founded this company with a vision to make interesting, high-quality sandwiches from scratch and turn the humble biscuit into something extraordinary.
"Biscuits were once a discernibly regional food," he adds. "Yet, with the popularity of food television and the openness of internet discussions, the boundaries of regionality have since loosened. In fact, we're currently preparing to open a new location in California, which we wouldn't have ever thought possible ten years ago. It's been an incredibly rewarding journey. Of course, we've made mistakes. But we refuse to beat ourselves up over them. We learn, we improve, and we move forward."
Taking this evolutionary approach ensured that Rise could successfully pivot and adapt its operations when the pandemic eventually hit. Indeed, by 2019, it had already built a convenient and easy-to-use online store, allowing customers to browse menus and order food directly to their door with the click of a button.
"When Covid-19 dramatically changed the food industry, it was really only a simple switch for us," explains Brian. "We had already begun to move away from cashiers, establishing a simple kiosk system across all our stores, and we had integrated third-party delivery companies into our online ordering system. Following on from that, we ran our sites with a locker function – customers could place orders online and have their food stored in heated lockers, ready for contactless collection at a designated time. By linking this system with external delivery firms, we could also offer a safe and timely drop-off service that customers and drivers alike valued highly. It's not that Covid-19 wasn't a struggle, but because of the infrastructure that we already had in place, we weren't hit as hard as others."
"Years before the pandemic, when we were reading the tealeaves of what restaurants would look like in the future, we were seeing trends that suggested every restaurant would become smaller and have less people working in them," reveals Ken. "In the end, we built something that could survive an unprecedented global health emergency. While our competitors lagged behind, we stayed ahead of the curve. As we move forward, we intend to remain there, investigating the efficacy of robotics within kitchens.
"Things are moving fast," he concludes. "We have numerous franchise agreements underway, and we intend to open between 25 and 50 new locations within the next ten years, with more of a focus on corporate sites going forward. At the end of the day, we're a biscuit company, but we're also a people company, and we want to grow. That way, we can continue elevating our people, offering them a bright path forward."
www.risebiscuitschicken.com