IT'S A WONDERFUL LOAF
The weather is beginning to turn cold, and darkness is creeping further and further into the morning of millions as they hurry to work to break free from the impending rush hour. Orange lights separate this cold morning from others, though, and they spell: Wenzel's The Bakers (Wenzel's).
The business behind the characteristic orange façade and the warming smell of freshly baked bread emanating beneath it began in 1975 with just one shop and an on-site bakery. Wenzel's took things slowly, gradually developing its growing estate of stores. Centralized shops started to grow organically, and in the early 2000s the popular chain pushed out its robust expansion plan.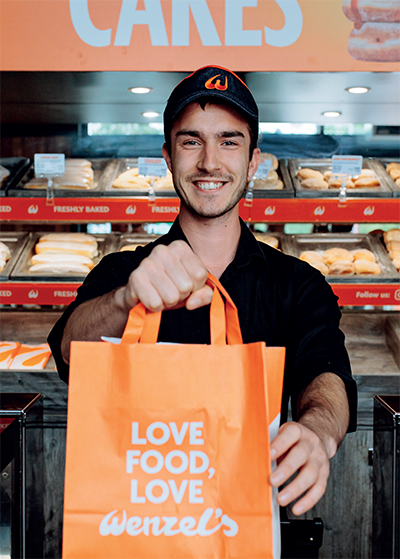 Slow expansion turned into rapid progression. Fast forward to 2022, and Wenzel's now runs 100 shops. What started as one family's Northwest London sweet dream has firmly become a favorite among clientele living under the NW postcode – and beyond.
Valued team
Wenzel's and its famous baked goods can be found in stores across Greater London (Mill Hill, Shepherd's Bush, Kentish Town), Bedfordshire (Luton), Berkshire (Maidenhead, Reading East, Windsor), Buckinghamshire (Aylesbury, Chesham, Denham), Essex (Basildon, Debden, Southend-on- Sea), Hertfordshire (St Albans, Hemel Hempstead, Rickmansworth), and Surrey (Staines-upon-Thames, Woking).
The mission is simple: offer the best of baking at reasonable prices to a batch of adoring customers. Simple, yes – but no easy feat given the heat of the competition. Fortunately, Wenzel's rises above the rest with its sharp sense of dedication, insightful approach to innovation, and cordial customer service.
"Passion is a priority at Wenzel's, and it leads most of our key projects," begins Karl Spinks, General Manager at Wenzel's. "Our management team works closely with each other on all projects, which allows us to remain a family business. There are very few – if any – borders between the team; we act as one seamless entity. This filters through to all staff in our other departments; product development suggestions and improvement requests are taken on board from every level of the organization.
"The working environment of all team members is very important to us, and we ensure that we have the latest equipment to create the best possible working conditions," he goes on. "Indeed, we offer excellent career growth for our employees, and the company is a strong advocate for upskilling team members to help them grow as individuals."
Key suppliers
Wenzel's also works closely with local charities, food banks, and nearby schools with the aim of making the lives of others just that bit sweeter. Additionally, the business devised a plan to treat long-time celebrity fans to a Wenzel Orange Card. This is an extra special thank you to A-list loyalists for their ongoing public and private support, entitling them to a little slice of heaven whenever they want.
"But we do not stop there," says Karl. "Looking externally, we rely on some key suppliers to help provide stability and structure. In doing so, we are able to provide the best quality products to our customers. Without these suppliers, we would not be in the position that we are today."
Delicious menu
Using only top-quality ingredients to create fantastically fresh products, the brand has curated a varied menu of almost every kind of baked good imaginable. First, Wenzel's appears to say, let them eat cake: strawberry, vanilla, and chocolate fondant facies, all topped with a dollop of cream and coated in icing and a chocolate drizzle; fruit cake slices, made from a vanilla sponge which are also available in a vegan variety; and showstopping occasional cakes, including 'Chocolate Elegance', 'Unicorn', 'Football Themed', 'Salted Caramel Cone', 'Oreo Cake', 'Fresh Fruit Gateau', and 'Photo Celebration'.
Second, Wenzel's encourages customers to savor the savory: fresh loaves, baguettes, and pastries; jalapeño snacks, made with creamy soft cheese, breaded to add a golden crunch, and served with either mayonnaise, yoghurt and mint dip, BBQ sauce, or tomato ketchup; chicken wings and strips; as well as spring rolls, meat and vegan sausage rolls, and pizza slices. Third, groups are not a problem; in fact, they are encouraged with Wenzel's delicious bridge roll, sandwich, and baguette platters (ranging from chicken and cucumber to egg mayonnaise and cress, plus many more).
"We instill traditional values, quality, and freshness in all our products, while also utilizing the best ingredients available," details Karl. "This is tied in with our focus on employing a modern approach to business and providing our customers with the latest trends and up-to-date offerings. We pride ourselves on providing something for everyone and have a range that will suit every palette. Complementing our food is an equally delicious variety of drinks: freshly ground coffee, tea, hot chocolate, and many different cold beverages.
"Across the business, moreover, we operate a wide range of locations in a varying degree of environments: retail parks, town centers, shopping malls, and tube stations," he reveals. "Nevertheless, our ethos is the same in every shop location: we want to create warm environments with product placement at the forefront of our store designs. But we go further. Indeed, we provide staff with the best possible working conditions and are in the process of expanding the staff changing and canteen facilities at our headquarters. We have already had a new ventilation system in our 32,000-foot bakery, and plan to add solar panels in 2023 that will provide green energy to cover our usage."
Customer engagement
Recently, Wenzel's released gingerbread mummies and spooky themed donuts as a Limited Time Offer (LTO) for Halloween. As Karl tells us, the new product development team at Wenzel's has developed an LTO line of Christmas products to elevate the London-based bakery's market presence. "The range is going to be truly fantastic," he notes. "It will incorporate all areas of sales and consist of gingerbread coffee, handmade snowmen cupcakes, and seasonal savory hot slices – plus much more! It will draw from customer feedback and social media trends. Indeed, by engaging with our audience in this way, we are able to stay ahead of our competitors and keep our offering fresh and exciting."
Fresh and exciting – two adjectives that acutely capture Wenzel's future. Before the end of the year, the chain expects to open a further six stores, venturing into new territories and boroughs. Pushing northwards, Wenzel's storefronts will be spotted across the Midlands and, back past its primary locus, along the south coast with another 40 stores planned for 2023.
www.wenzels.co.uk