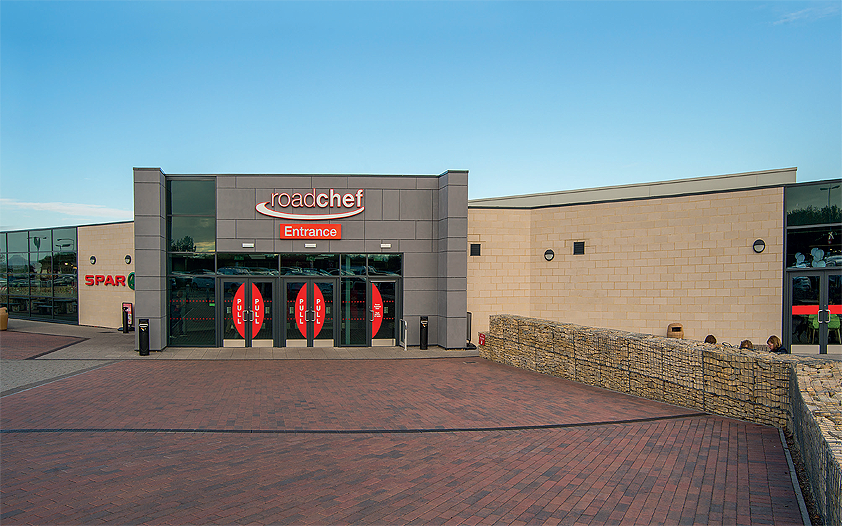 Road to recovery
With 30 locations providing a restful and relaxing environment for more than 52 million road users each year Roadchef has become one of the UK's favorite roadside service area operators. Conveniently located on motorways and major trunk roads across the length and breadth of the country, the company offers customers access to popular brands like McDonald's, Costa and Days Inn, as well as an ideal place to take a break and recuperate before the next leg of the journey.
Despite Roadchef's enviable position in the market and undoubted popularity, 2020, and the Covid-19 pandemic with which it will always be synonymous, presented the company with a range of complex challenges. However, though the organization was forced to make use of the Government's furlough scheme, Roadchef remained operational and continued to provide vital food, drinks and toilet facilities 24 hours a day.
"Footfall dropped by around 95 per cent after the outbreak of the pandemic, but we had to leave the lights on and keep our teams in the building to man the tills and keep the place clean and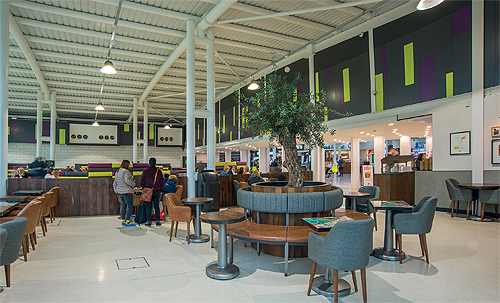 tidy for any customers that did turn up," explains Mike Jackson, Roadchef's Director of Supply Chain & Charity. "In the first lockdown, we provided a critical service to drivers who were key workers moving goods around the country."
After adapting quickly to the onset of the Coronavirus crisis, Roadchef worked to mitigate the impact of the virus, focusing on clear communication and a sense of unity to improve the company's chances of success. While numerous factors contributed to Roadchef's robust and resilient performance over the last year, the company's Retail Director, Mark Rogers, believes that the firm's greatest asset has proved to be its workforce.
"Our front-line colleagues that remained in the business last year were superstars," Mark says. "In the early days of Covid-19, people were not even wearing masks and yet our employees were out there every day without any gripes or issues."
Re-training staff
Howard Lockwood, Roadchef's Catering & Brand Development Director, echoes Mark's thoughts. "We have all been really surprised at how willing people were to make some fairly massive sacrifices when it came to initiatives like furlough," he reports. "They were really understanding and supportive of what Roadchef was trying to do. I think what helped in that regard was the way we were able to communicate regular updates and legislation changes."
With the worst of the pandemic now behind it, Roadchef is feeling positive about the UK's impending return to a more normal way of life. In fact, Mark believes that the changes enforced by Covid-19 may actually make the business stronger in the future.
"In the recent past," Mark states, "a lot of colleagues would have worked solely in catering or retail or admin, but during the pandemic, with less people in the business, multi-skilling became a necessity and people rolled up their sleeves and were willing to work in a lot of new areas. At one point, WHSmith was the only brand trading and you might have found someone from McDonald's and someone from Costa working in-store and learning new skills. A more multi-skilled workforce like this will only benefit Roadchef going forward."
Retail plans
As we move deeper into April, with spring in full bloom and a successful vaccination program bringing new hope to the UK, Roadchef is finally experiencing an increase in sales and footfall across its network of sites. Further easing of restrictions scheduled for the UK, coupled with longer days and better weather, mean that Roadchef is now preparing for its next big undertaking – a summer resurgence initiative titled Project Rebound.
"Staycations and UK holidays are going to be a huge positive for us this year," Howard declares. "I think the biggest challenge will be fitting people into our sites, making sure they remain socially distanced and getting them in and out safely. We are currently looking at opportunities for outdoor spaces like click and collect, which we tried last year, and there is a massive push at the moment for external catering. There's a lot of positivity surrounding summer right now, so hopefully the British weather won't let us down!"
Always abreast of the latest consumer trends, Roadchef is acutely aware that customer demands this summer will be directly linked to a growing sense of freedom from lockdown and a proliferation of reunions with family and friends. Consequently, Mark reveals that, in the retail segment, the company will be turning its attentions to more personalized treats and gift items.
"We believe there will be a lot of disposable income for gifts and indulgences as customers visit friends and family, take day trips and go on holiday," he predicts. "We've had a great 18 months of trade on personalized chocolates and t-shirts, which has been boosted by our work with Cadbury and a company called Emagination, who have commissioned wraps containing messages like 'Missed you', 'Reunited' and 'Freedom'.
Environmental initiatives
"In 2020, we launched our first store with Prezzybox – a successful online gifting business – and we think that will come into its own this year. We'll also be adding Prezzybox concession areas in nine or ten WHSmith stores to really try and capture the giving mood. If you want to say thank you to someone for looking after your pets, or just encourage your kids to play outside, we'll have something for that. This year it's all about summer fun and we want to reflect that in our retail experience."
Similar changes in focus are expected on the catering side of the business at Roadchef as more customers take advantage of the long-awaited opportunity to eat out, as well as the chance to splash out on syrups, sauces and extras that are generally unavailable at home. No matter what happens, when customers return to full capacity across Roadchef's 91,000 square feet of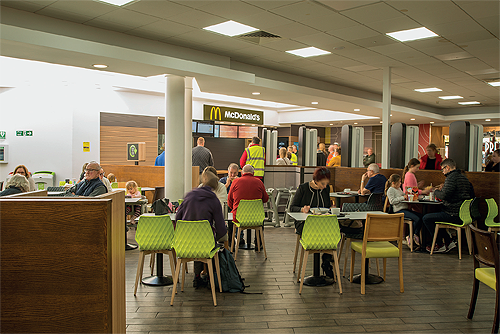 catering space and 41,000 square feet of retail, the company knows it can rely on the strong relationships it has built over the years with a wide variety of brands, distributors and suppliers.
"It's always important to have likeminded distributors that will help you in your hour of need," Howard asserts. "A number of our suppliers pulled together and helped us out immensely over the last year. It all comes down to the relationships we've built. We've all worked together to come through this unscathed."
It is, understandably, difficult for Roadchef to look beyond the limitless potential of the summer ahead, but that doesn't mean the company is neglecting a long-term approach to business. The company is conscious, for example, of the significant impact electric vehicles (EV) will have on the firm, and is determined to map out a future that is more environmentally-friendly.
"The electric revolution will have a huge effect on dwell time at our locations as customers who, at present, spend around 20 minutes onsite, take 45-minute rest stops whilst their cars charge," Howard points out. "Going forward, we will be looking at transforming the EV driver experience, whether that is through providing different services or ensuring guests are not stuck in the darkest end of the car park with the longest journey to get to the main building.
"As our customers make more eco-conscious choices, we too will be playing our part. At present, we are very involved in the recycling of various waste streams, including PET plastic, cardboard waste and coffee grounds. We are also proud recipients of Zero to Landfill accreditation.
"More generally, all our electricity comes from green sources as part of a close relationship with Co-op Power, who purchase all our energy for us via wind farms in Scotland," Howard remarks. "Additionally, as part of a recent reworking of our company policy, we now offer our staff the opportunity to purchase hybrid or electric vehicles. We are grabbing hold of these environmental initiatives and making them happen."
Brand recognition
From partnerships with sustainability-focused companies like Planet Mark to the sale of carbon neutral burgers in its Leon outlets, Roadchef continues to take steps to better the communities in which it operates. "Barely a day goes by when someone is not organizing or carrying out a sponsored run, swim or cycle," Mike observes. "As a business, we've just started working with surplus food solution Too Good To Go, which is helping to reduce waste. After the year we've had, everybody is feeling very enthusiastic about doing something positive."
In the years ahead, Roadchef will continue looking for opportunities to grow the business, both through acquisition and new openings, as well as retaining its reputation for quality, convenience and unbeatable service. Boosted by the recent addition of locations in Magor and Sutton Scotney, Roadchef is hoping that a great British summer headlined by Project Rebound can catapult the organization towards a rich and rewarding future.
"The Roadchef estate will, no doubt, expand and evolve over the next decade as the board searches for new market niches," Howard maintains. "We remain focused on experience, convenience and value, but in the longer term, it's all about making sure that we differentiate ourselves from the competition.
"One of the things our research suggests is that when people stop, they are not always entirely sure of where they are geographically, let alone whose building they are walking into. As we carry out our vision in the next 12 to 18 months, we want guests to start associating Roadchef with great brands and great service. Whether someone stops at one of our locations in Sandbach or Sedgemoor, we want them to be pleased that it's Roadchef."
www.roadchef.com