Building its reputation on rock 'n' roll, local craft brews and American comfort food, Rock & Brews anticipates greater expansion.
One song can be linked to so many memories. The first couple strums of the guitar can transport you back to the day you saw your favorite band perform this song in concert. Rock & Brews pays homage to classic rock 'n' roll artists and is a place where memories can be relived and new ones made.
"It's such a unique look to have a huge open ceiling – 26 feet of open space – with posters of famous bands you grew up with," says Michael Zislis, co-founder, restaurateur and hotelier. "There is an emotional attachment. Imagine sitting on the patio. It's a bright, sunny day out on our patio and you are with your family and thinking life doesn't get much better than this. Then your favorite song comes on and when you hear that song it reminds you of the glory days."
Rock & Brews was born out of five friends' love for rock 'n' roll, craft beer and American comfort food. Although paying homage to classic artists is a key element, the restaurants also had to have great food and an extensive beer menu.
The Manhattan Beach, Calif.-based company was co-founded by Zislis, KISS front men Gene Simmons and Paul Stanley, and concert industry and merchandising veterans Dave and Dell Furano. The first Rock & Brews opened in 2010 near Los Angeles International Airport in the beach community of El Segundo, Calif. "We brought four things together: an outdoor beer garden, craft beer, craveable food and matched it all up with great service," Vice President of Operations Bill Goldblum says. "Our staff is friendly, they care and they love what they do. It's a major part of the guest experience."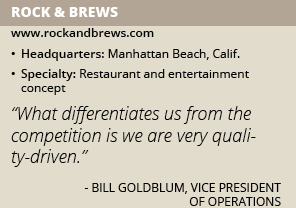 Consistent Quality
Rock & Brews' affordable, casual American cuisine is made from locally sourced produce and ingredients. "What differentiates us from the competition is that we are very quality-driven," Goldblum says. "We have five-star restaurant chefs developing our recipes."
Even with locations nationwide, Rock & Brews prides itself on sourcing regionally and making as much from scratch as possible. "Bill is tasked with making great food replicable," Zislis says. "It's one thing when you have a chef that makes incredible pizza dough in a gourmet restaurant that takes 27 steps, but you can't do that in a franchise. You have to be able to replicate it."
To achieve great food consistently, Rock & Brews trains its general managers, as well as kitchen and bar managers for four weeks at its El Segundo location. "There's nothing more important than training," Goldblum says. "We hire GMs and kitchen managers with culinary backgrounds because our freezers are small and we cook mostly from scratch. They, too, have to have a passion for food."
Rock & Brews offers a vast beer selection, ranging from 48 taps in its smallest locations up to 72 in its larger restaurants, to pair with its quality comfort food. "Fifty-two is our goal; one for every week of the year, " Zislis notes. "That multi-selection of beer is really important right now. Beer has become this powerful attraction and diners want to drink local craft beers."
Staying Distinctive
Interest in franchising the brand came about five years ago when Rock & Brews was recognized by Delta Airlines at LAX Terminal 5 for being a "local brand that was very exciting," Zislis says. Today, there are 19 Rock & Brews locations throughout the country and internationally. All but two corporate-owned locations are franchised or licensed deals. "Next year we should be up to 28 locations," he adds. "It's expansion, but thoughtful expansion."
Considering itself a suburban brand, Rock & Brews strives to become part of the fabric of the neighborhood. "Rock & Brews strives to be in good demographic locations with ample amounts of parking," Larry Drasin, senior vice president of design, says. "We are not looking to be in Times Square in New York; we are looking to be in Long Island. Some brands only want to be in the heart of the city. We want to serve those in the suburbs."
Once a location is secured, Rock & Brews helps its franchisees understand the brand and offers several options of designs depending on whether the restaurant will be in an arena or freestanding, for example. "We educate them to what are our important brand elements that make Rock & Brews distinctive," Drasin explains. "Through the artwork and classic rock posters, we create a unique classic rock art gallery experience for each individual store, giving each store its own sense of place."
Its location in The Colony in Dallas, Texas, for example, highlights artists that resonate most in that area, such as Stevie Ray Vaughan and Janis Joplin. "We make [the design] site-specific," Zislis says. "We meet with architects and help with the design and building timeline. We get really involved to make sure they are successful so the brand is successful."
Rock & Brews does not create the same cookie-cutter restaurant every time. "Bob Lombardo of RSI Group is a local, Costa Mesa, Calif., company that builds out our southern California stores," Goldblum says. "We work directly with those types of contractors to help franchisees understand the brand and develop a powerful location."
"It's not an inline, 5,000- or 6,000-square-foot model," Zislis adds. "We get pretty inventive. A lot of restaurants pride themselves on looking the same. We direct the ship the other way."
Growing Smart
"We know what we can do and the right way to do it," Zislis says in terms of growth. "Our big thing is to have great Yelp! reviews and make sure satisfaction is growing. Our job is to control the growth we have now."
To ensure Rock & Brews stays on a thoughtful growth path, Michael Sullivan recently joined the team as the company's new president and CEO. "Sully, as he is known by his friends, helped grow Buffalo Wild Wings from under 150 restaurants to over 1,200," Zislis says. "We hired Sully because we are at the point where we are preparing for our future growth."
Rock & Brews will open a second corporate office in Chicago next year to accommodate its continued growth in that city and around the country. Rock & Brews in December opened a new location at San Manuel Indian Bingo & Casino in Highland, Calif. "This is our first casino and we are very excited," Zislis notes. "There's an excitement to reinvigorate the space with classic rock 'n' roll and highly exceptional food. It's a good model."