Rockview Farms is expanding production into ultra-high-temperature pasteurized and extended-shelf-life beverages with a third plant in southern California.
As fine chefs know, your food can be no better than its ingredients. With this in mind, family owned and managed Rockview Farms controls its major ingredient – milk – by owning the cows that produce it. "The DeGroot's are farmers first." Vice President of Operations Joe Lunzer emphasizes. "The milk processed at our three processing facilities comes from cows owned and managed on our farms. We manage the production from cow to consumer to ensure the highest-quality dairy beverages reach our customers' tables."
Founded in 1927, Rockview Farms was bought in 1965 by Pete DeGroot, a dairy farmer who supplied the company. "We are a large dairy farming family that has extensive experience and knowledge in the dairy industry," says Vice President of Sales and Marketing Curt DeGroot, who is Pete DeGroot's grandson. "We've been farming in the U.S. since my grandfather emigrated from the Netherlands in 1927 and started milking cows. He had his first dairy a handful of years after that and stayed in the dairy farming business for the rest of his life."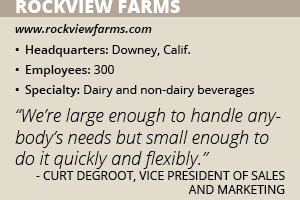 The majority of Rockview Farms' dairy products – milk, ice cream, buttermilk, sour cream, yogurt and strained Greek yogurt – are produced with milk from cows at its three farms, two of which are in southern California and one in Nevada near the California border. "None of our cows are treated with artificial growth hormones," DeGroot says. All of the farms are within 280 miles of the company's three California processing plants that are in Downey, Commerce and City of Industry.
The plant in Commerce produces cultured products, such as yogurt, sour cream, buttermilk and some ice cream mixes. Rockview Farms is building its third processing plant in Industry that will be a subsidiary named Ninth Avenue Foods. It will produce extended-shelf-life and ultra-high-temperature pasteurization (UHT) products.
The 55,000-square-foot plant will be a beverage copacker primarily in milk, flavored milk and organic milk, but it will also process nondairy products, such as almond, soy and coconut beverages and nondairy creamers.
Ultra-High-Temperature Pasteurization
UHT extends the shelf life of refrigerated dairy products. "With conventional milk, you're getting from 21 to 25 days of shelf life," Lunzer estimates. "With UHT, you get around 90 to 100 days. The shelf life allows it to flow through grocery distribution channels as opposed to the traditional dairy direct-store delivery model."
UHT capability affects producers more than consumers. "Consumers are generally not going to notice," Lunzer declares. "By the time the milk goes through the distribution channel, it might have two months to two weeks before grocers pull it off the shelves. Once you open a container of the milk, it has the normal 10-day shelf life."
Some of the UHT products are new to Rockview Farms. "UHT is a really unique capability usually reserved for multinationals," Lunzer maintains. "You don't typically find it in family owned operations. We've hired people who have extensive knowledge in that process."
Millions of Gallons
Rockview Farms has an estimated 300,000 square feet of processing and warehouse space in its three plants. It also has two cold storage warehouses, one in Southgate, which is across the street from the Downey headquarters, and the other in Industry. "We keep the milk below 40 degrees at all times, and that helps keep it fresher," Lunzer says.
"We've done some upgrades recently to modernize our white milk plant in Downey," DeGroot says. "Upgrades like refrigeration on the warehousing side and pasteurization upgrades ensure the milk is very cold when it's packaged, when it gets on a truck and when it's delivered to the customer." This care pays off in results. "We're very proud of our quality, and many people comment on how fresh and delicious Rockview Farms milk tastes," DeGroot says.
Recent capital expenditures at Rockview Farms include new equipment for manufacturing Greek yogurt, a warehouse management system and an emphasis on paperless operations using tablet computers. "We're large enough to handle anybody's needs but small enough to do it quickly and flexibly," DeGroot says. "We're still a small company compared to our competitors that are nationwide dairy processors."
Commercial Foodservice
Approximately one-third of Rockview Farms' milk is sold in the food service channel. "Many food processors use our milk and cream in salad dressings, soups or even mashed potatoes – you name it," DeGroot says. Rockview products are served in a great variety of places, including schools, restaurants, prisons, county facilities and on cruise ships. "We produce custom shake mixes for many customers including a large hamburger chain in Southern California," DeGroot continues. "We also co-pack for some large retail grocers."
"We are best known for the exceptional level of service these marquee customers demand," Lunzer adds. Rockview Farms does custom formulation work and produces private-label products for companies that don't have the expertise, the investment in dairy processing or the knowledge of the food safety regulations and quality controls involved. "If you're not familiar with those regulations, it's a significant barrier to entering the market," Lunzer notes. "But if you've got a great product, brand, marketing idea and sales machine, then we do a good job of making a product for people who need it."
Because some major grocery chains own their own dairy plants, much of Rockview Farms' dairy products are sold under the Rockview Farms brand in independent grocery stores. But the milkman has not completely disappeared. "There's still a handful of home delivery guys who've been doing it for years and years and have one truck and a single operation," DeGroot marvels. That service is provided mostly in more affluent coastal communities in Southern California. "Some milkmen carry a whole line of groceries," he points out.
Greater Variety
By producing the variety and sheer number of dairy and nondairy products that today's consumers demand, producers risk cannibalizing their own products, Lunzer warns. The Greek yogurt trend appears to be commoditized, but organic and whole milk are growing in market demand. "Long shelf life is a must because of the extensive distribution channel those products need to go through," he stresses. "UHT is really the answer and the only option. Our foray into UHT is a must if we want to stay current with market trends."
Over the past holiday season, Rockview Farms celebrated the 50th anniversary of the family's ownership with a holiday party for employees — many of whom have been with the company for decades — and their families. Rockview Farms' entire management team including Amos DeGroot, Pete's son, and Ted DeGroot, Pete's grandson, were on hand to welcome everyone.
DeGroot attributes the company's longevity to his grandfather's advice. "You've just got to hire people who are smarter than you and work as hard as you," DeGroot says. "My grandfather was very generous with giving his key employees incentives as if they were owners. 'If you pay them like they're owners, they will act like owners,' he would say. He was big into profit-sharing, even in the 1960s."
That philosophy of hiring smart employees and treating them well continues to this day. "Those ideals of Pete DeGroot when he took over the company still hold true today – how to motivate employees and your management team and how to treat employees," Lunzer concludes.