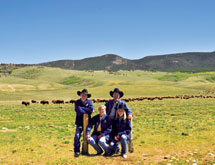 Rocky Mountain Natural Meats
It has been a long time since millions of untamed North American bison roamed the western range. But the bison population has stabilized enough that bison meat consumption is on the rise in the United States. Rocky Mountain Natural Meats has become the leading bison meat provider in the world, processing more than 400 head of bison per week and distributing product under the Great Range Brand Bison label.
"Our strength is based on the relationships we have with both customers and producers," owner Bob Dineen says. "We are the largest bison meat provider in the industry, and we can supply products to any grocer or foodservice customer because of our flexibility and processing capabilities."
Slow and Steady
Founded in 1986 as a small meat distributor focused on bison, the company strives to provide high-quality meat to grocers, distributors and restaurants throughout North America. Rocky Mountain Natural Meats also distributes bison products to Europe, and additionally processes approximately 300 head of beef cattle per week on a custom basis.
The company has grown steadily over the past 15 years. Rocky Mountain Natural Meats built its first USDA facility in 1998 and completed an addition in 2004 before moving into its current home – a 50,000-square-foot, state-of-the-art fabrication and further-processing facility – in 2007.The company has built long-term relationships with bison producers by offering a reliable outlet for their animals and by helping them to level out the production schedule to coincide with the natural cycle of the animal. All bison calve in the spring, however market demand requires product availability year round.
"There are peaks and valleys when animals are ready for market, and we work closely with our producers to try and match supply to demand," Dineen explains.
On the other end of the supply chain, Rocky Mountain Natural Meats has put a great deal of work into building relationships with customers and helping to heighten awareness of bison meat in the minds of consumers. The company has established solid relationships with grocers like Whole Foods Market, Kroger and Safeway.
By offering a fresh, case ready one-pound package of 90 percent lean ground bison under the Great Range label, Rocky Mountain Natural Meats has gained a foothold on grocer shelves nationwide and has helped build Great Range Brand Bison label's presence in the market.
"Demand has grown because consumers are looking for natural products," Dineen says. "There is a great deal of process control on the production side because this is a small industry and line speeds are slower. Consumers are looking to try something they know is healthy, safe and nutritionally superior to other proteins, and most important of all it is a delicious product."
Once Rocky Mountain Natural Meats establishes a relationship with a grocer, it is ready to provide them with a diverse array of case-ready bison products. The fresh bison line includes ground, hot dogs, pot roast, strip steaks, medallions, sirloin steaks and ribeye steaks.
Rocky Mountain Natural Meats continues to make regular internal investments. At its fabrication and processing facility, the company has installed grinding, packaging and labeling equipment that have increased throughput. This helps the company ensure it can produce enough product for the demand and control food safety and consistency.
The company is also making a major investment in building its own 30,000-square-foot slaughter facility. Currently, slaughter operations are the only part of the process that Rocky Mountain Natural Meats doesn't control. That facility is scheduled to open in 2013 and will add another 30 employees to the company's operations.
"The main reason for building the facility is to give us complete control over food safety and scheduling, and we also hope to find some cost savings," Dineen says. "Initially, we will be able to process about 200 head a day, but we will be able to expand on that number and add additional carcass cooler space if necessary."
Proper Position
In spite of its growth, the bison market isn't about to overtake the beef market. The number of bison that are harvested each year is fairly small. In fact, a little more than 50,000 bison are harvested under USDA inspection annually.
Comparing that number with the roughly 30 million beef cattle harvested annually makes it easy to see that bison represents a small, 0.15 percent piece of the beef industry. But although bison is likely to remain a small niche within the protein market, consumer interest in natural products means there is also likely to be continued growth in bison meat consumption.
"What we want to do is help drive production, increasing the number of bison on the High Plains," Dineen says "We can do that by making the business economically sustainable for bison producers, incentivizing producers to raise bison so we can grow the market slowly as production expands within the confines of the bison's natural herd growth."
Another way Rocky Mountain Natural Meats can pursue growth is through its efforts around helping consumers understand what Dineen called the four degrees of separation between the consumer and the rancher. Rocky Mountain Natural Meats buys from the rancher that raises the animal, processes the meat and sends it on to the market for the consumer.
"There is not quite as much changing of hands with bison products as there is with beef," Dineen explains. "We can help consumers understand how the production process works and understand that these animals are raised completely naturally."
An Improving Market
The bison population in North America will never again reach pre-European levels, but the population has recovered from its near-extinction level of the 1890s. The company estimates there are more than 500,000 bison in America today. The market for bison meat experienced growing pains in the past decade, but it has recovered from a period of oversupply and underdevelopment about 10 years ago. This is good news for Rocky Mountain Natural Meats and Great Range Brand Bison.
"Everything starts with getting quality product from the producers and upholding that quality as we pass it on to consumers," Dineen explains. "We will find new customers on the front-end through product demonstrations and in-store advertisements to create more consumer demand. The market is working well for producers now, and we are excited about the future."