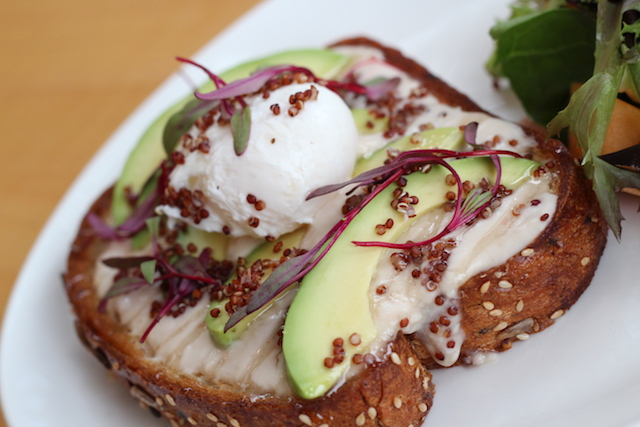 Rocky Mountain Restaurant Group
Rocky Mountain Restaurant Group aims to franchise and grow its Urban Egg concept.
Over the past 16 years, Rocky Mountain Restaurant Group of Colorado has grown from annual sales of $850,000 to nearly $20 million and from 23 employees to more than 450. In 2019, founder and owner Randy Price aims to focus on eggs.
Urban Egg restaurants, that is. Urban Egg A Daytime Eatery focuses on locally sourced, organic ingredients. "The time is right for the breakfast market" Price says. "We plan to be ready with the franchise piece by the third quarter of 2019."
Price has 11 restaurants divided among three concepts. Salsa Brava (three locations), Sonterra, and Urban Egg (soon to be eight locations in Colorado).
Urban Egg features natural juice blends, gourmet benedicts and pancakes, organic quinoa, stuffed French toast, avocado toast options and traditional items. A build-your-own Bloody Mary bar, selection of mimosas and margaritas, fair trade coffee and burgers, salads and sandwiches are also available. The focus is on outstanding quality and sincere service in a fun and upbeat atmosphere. "This formula has been our guiding principle and will continue to be," Price says.
Urban Egg partners with 50 local suppliers. "Our guests appreciate that when they dine at Urban Egg, they are supporting other local and regional businesses," Price says.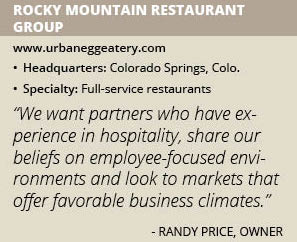 Background
"At 14, I cooked pizzas in Detroit. My dad was in the auto business," Price says. He worked through high school and college in eateries from Kansas City to Arizona.
Price attended Northern Arizona University where he earned a degree in business and hotel & restaurant management in 1989. After graduation, he sought the best training in the industry and went to work for Houston's Restaurants. "I was attracted to Houston's because of their top-ranked training, their standards of excellence in service and quality and their high average unit sales," Price says.
He stayed with Houston's for three years and appreciated its approach to gross sales and quality. He then went to work for Brinker International to learn from a company that was more net income and employee focused. Price managed Chili's in the Phoenix area in the early '90s.
Keys to Success
Price says having a clear vision and executing it precisely is important in the restaurant industry, which takes passion and hard work. Another key is caring for employees. Rocky Mountain invests in leadership development, education, training, team building and a wellness program for employees.
"We treat employees as family and guests as friends," Price says. "When employees need help, we help. We want to be there for them so they know they are not just a number". As part of that, Price takes managers on annual retreats. "We get out of the restaurants and are able to share best practices, have fun and recharge," Price says. "We emphasize maintaining a balance between work and personal lives."
Rocky Mountain is developing an online platform that will guide employee with onboarding and training while helping teach Rocky Mountain culture. "With todays employees, online training helps with retention," Price says. "We want to train our employees on our business practices and also provide them with materials to advance their careers should they so desire. In addition, Rocky Mountain is developing ways to educate employees about personal finance and budgeting.
"We feel this can be an added benefit and help develop longer term employees," Price says. "Kids are not getting this in school and we feel this is important information that can offer life long benefits".
Ready to Grow
Price sees the retail environment changing. "Big box is a thing of the past with online retail," Price says. "Developers are looking to food service to fill shopping centers, leading to increased competition. Competition has never been greater than it is now. We fight for market share and for employees. I do not see that changing. We better be the best at what we do to attract both."
Price is excited about Urban Egg. "We hit a home run with Urban Egg," Price says. "Strong sales north of 2 million, respectable cost of goods and well above average store profitability. Not to mention, our employees appreciate not working nights. He adds, "Urban Egg is ready to grow. We are excited about the franchise piece and look forward to many years of growth, success and fun in the breakfast segment."
Award-Winning Concept
Rocky Mountain Restaurant Group plans to franchise its award-winning Urban Egg breakfast concept.
A few recent awards:
– Top Breakfast and TOP Overall Restaurant
– Fort Collins, Coloradoan 2019
– Best Breakfast, Brunch, Local Chain
– Colorado Springs Gazette 2018
– Top Denver Breakfast, 303 Magazine 2018
– Hottest New Brunch, Eater Denver 2018
– Best Breakfast in Colorado, MSNBC