In the constellation of pizza places that dot Ohio, Romeo's Pizza has been showing off its star quality since its beginning more than a dozen years ago, and winning awards on a consistent basis. Founder and CEO Sean Brauser proudly recounts how Romeo's Pizza was named Best Pizza in the Midwest in 2002, just a year after he and his staff fired up the pizza ovens in the original location in Medina, a Cleveland suburb. That accolade came from the North American Pizza and Ice Cream Show.
"In 2004, we won it again," he says. "We're the only company that ever won it twice."
Later that same year, Romeo's captured the Best Gourmet Pizza in America title in New York's America's Plate competition. The honor recognized the gustatory excitement created by Romeo's Great Ranch and Potato pizza, a pie that features red potatoes, ranch bacon sauce and almond slivers.
"I then got an appearance on the Food Network. It all kind of snowballed into a lot of publicity," Brauser says. "It really just propelled us into growth."
More recognition came in the form of awards in the past five years. The company won the Best Pizza in the Midwest award a third time in 2013.  And in 2009, 2010, 2011 and 2012, Romeo's Pizza was named the People's Choice as the Best Pizza in Columbus at Slice of Columbus.
Brauser's pizza prowess has taken him beyond domestic borders. He's been to Italy no less than eight times. His pizza team threw dough so expertly in the World Pizza Championships, an annual competition held in Salsomaggiore, Italy,  that they brought home two gold medals in the freestyle acrobatics category, he says.
The chain's growth reached its zenith between 2007 and 2009 when about 20 new Romeo's Pizza locations opened in the Cleveland and Columbus metropolitan areas. There was one 18-month period during that timeframe, Brauser recalls, when a new Romeo's Pizza was opening every three weeks.
Currently, there are 34 locations, and Brauser says the company is cooking up plans for another major growth spurt. "We're hoping to have [a total of] 60 in the next two years," he relates. Romeo's Pizza employees number about 700, including kitchen staff, managers and drivers.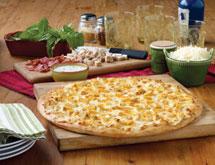 Brauser, an Ohio native, got his start in the pizza business when he was just 24. After earning a finance and marketing degree from Bucknell University in Pennsylvania, he moved on to owning a pizza shop in New Jersey. When he returned to Ohio, he bought out a small pizza place in Medina in 2001 and renamed it Romeo's.
Brauser says he was always confident he could successfully transform a small enterprise into a major force in the pizza sector of the food industry. "It's really competitive," he says, adding that he nonetheless wasn't fazed a bit. "I love pizza, that's probably the biggest thing. I have a passion for it."
Satisfied Franchisees
Brauser says one avenue of expansion that he's invested in is selling franchise opportunities. Currently, 29 of Romeo's Pizza locations are franchise operations while the remaining five are corporate-owned. "It's a great business to invest in if you're a franchisee," he says. "My franchisees make great money. We keep the initial investment low and we look to deliver a 50 to 75 percent return on investment."
His ideal business model, he says, would include a mix of 80 percent franchise stores and 20 percent corporate restaurants. That ratio, he adds, should be achievable with Romeo's Pizza's expansion plans. "We're focusing on opening in new markets: Cincinnati, Toledo, Dayton," Brauser says. And moving beyond the borders of Ohio is in the company's long-range plans.
But first, Brauser says, the company has its sights set on increasing its presence in its current markets. "We want to put 10 more stores in Columbus," he states. There are nine Romeo's Pizza locations in the Columbus area. The one in Pickerington also features a dine-in option. There are 14 in the Cleveland area and another 11 in the Akron-Canton area.
Many Options
Along with a wide variety of creatively topped traditional thin-crust pizzas and "Thincredible" super-thin crust pizzas, Romeo's Pizza serves up deep-dish pizza. And in addition to having a choice of 12 meat toppings and 16 vegetable toppings, customers may choose from six different sauces. Menu items also include wings, calzones, strombolis, appetizers, subs, salads and pasta.
The company puts a premium on using the best premium ingredients to create the best taste experience possible, Brauser says. "There's a big price war in pizza," he explains. "So many people try to compete solely on price. It's something we don't do." Instead, Romeo's concentrates on quality.
The sauce is Romeo's Pizza's signature ingredient. "We're famous for our pizza sauce; it's a sweet sauce," Brauser says. "The tomatoes we use are picked in the field and put in a can within two hours." He has visited the California facility that packages and distributes the tomatoes Romeo's uses. "It's like a Willy Wonka factory for tomatoes," he says.
Romeo's Pizza likes to dazzle customers with exotic, new offerings. "We launched a 'Pizza of the Month' program in 2014 and introduced a Thai Chicken Pizza in February," Brauser says. Solid-sellers have a chance of being part of the permanent menu.
Although concocting new, non-traditional pizza recipes and working on expansion plans consume much of Brauser's time, the company continues to compete for industry recognition. In March, Romeo's Pizza returned to the International Pizza Expo in Las Vegas. Brauser says he invented a contest for this annual trade show and ran it for six years. This year, he and Romeo's Pizza were back as competitors. "It's just good fun," he says.