Romulus Restaurant Group has grown into one of the nation's largest IHOP franchisees and developers.
Romulus Restaurant Group owner and CEO Chris Milisci joined IHOP fresh out of college as a training manager realizing that the opportunity he was truly looking for was as a franchisee. That's why, 25 years ago at the age of 23, Milisci purchased his first IHOP restaurant. Over the last quarter-century, Milisci has built Romulus up from that first underperforming location into one of the nation's largest franchisees and developers of IHOP restaurants.
As the company marks its 25th anniversary this year, Romulus has more than 80 locations across nine states and continues to add to its portfolio. The keys to the company's success over the years remains the same as it was when Milisci bought his first restaurant, but the company also continues to find ways to innovate within the space while also upholding the standards of the IHOP brand and making the most of its strengths. Milisci says the company is at the forefront of bringing new ideas into the IHOP family, and its forward-thinking initiatives are expected to continue driving the growth of Romulus and the IHOP brand for years to come.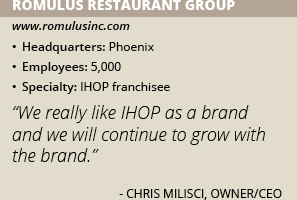 Although Romulus faces the same challenges as the rest of the restaurant industry, Milisci says the company's determination, market savvy and devotion to community involvement have gone a long way toward helping Romulus remain successful. With the company's existing strengths and willingness to innovate in its arsenal, Romulus should continue to hold its position as the nation's leading IHOP franchisee for the foreseeable future.
Core Strengths
One of the core strengths that have come to define Romulus over the last 25 years has been Milisci's understanding of the market and skill in developing new locations. "Since I've started this business, I've been focused on development and I think I've acquired a good knack for finding new locations," he says.
Although the majority of Romulus' IHOP locations are in its home state of Arizona, the company has expanded outward to include locations in New Mexico, Oklahoma, Kansas, Idaho, Texas, Ohio, Indiana and Pennsylvania. Milisci says this outward expansion has been crucial for the company's continued success. "Core to what we've done is build new stores and find new markets," he says.
When entering new markets, COO Chris Sumner says, Romulus brings an understanding of the IHOP concept that allows it to find the best possible locations without trying to fit a square peg into a round hole. "We understand the segment that we're in, and that's key," Sumner says. "We're not trying to be what we're not."
It is that deep understanding of the IHOP concept that allows Romulus to think outside the box and find new ways to be innovative within that concept and remain true to it. Sumner says the company is very active in IHOP's Franchise Leadership Council, which helps guide development of new menu items and other updates to the concept. At the moment, Romulus is involved in an 18-month pipeline of new menu items, and Sumner says Romulus has helped develop a new program of menu items based around different occasions during the average consumer's typical day. "It's ongoing and it's fresh and we spend a lot of time working with the consumer," Sumner says.
In addition to the work Romulus does helping to refresh the IHOP brand and concept, Milisci says the company does a lot to keep its own locations on the cutting edge of the industry. For example, the company is introducing options for guests to pay their checks at their table with a built-in card reader. Milisci says the company also makes an effort to remodel or rebuild 10 to 20 of its restaurants each year to keep them looking clean and fresh.
Recently, Romulus has started to innovate on the development side of the business, as well. Within the last month, the company opened a new restaurant in York, Pa., that measures 4,000 square feet. Not only is this location smaller than the typical restaurant, but it is located in the end-cap of a shopping center as opposed to being a free-standing location. Additionally, Milisci says Romulus recently opened another unit in Tempe, Ariz., that is a 3,800-square-foot endcap that was utilized as retail space prior to the IHOP conversion. This type of location is a good way for Romulus to open a location in a market where property for a free-standing location is scarce or there may not be enough population to support a free-standing restaurant. "We think that's a lot of where we will be going," Milisci says.
Another essential element of the company's success has been its involvement in charitable work in the communities it serves. Sumner says Romulus's involvement in Children's Miracle Network and other charities demonstrate the company's commitment to being a good corporate citizen. "We understand the importance of giving back to the community," Sumner says.
Still Growing
As the company has grown over the years, it has taken on new challenges. Sumner says the challenges involved in operating dozens of locations across multiple states are a far cry from the challenges of operating a single location. "Our biggest challenge used to be a road closure," he says.
Today, Romulus finds itself grappling with the necessity of keeping up with changes to regulations, which vary wildly across the different markets in which it operates. "Our challenges are generally labor-related, regulatory-related and competition-related," Milisci says.
For example, many states currently are making changes to their minimum wage requirements, so understanding how those changes impact the company and its employees is a top priority for Romulus. "We have to learn as a company how to deal with that, stay profitable and take care of our employees to provide the value to our customers they have come to expect," Sumner says.
Despite the challenges, however, Milisci says Romulus expects to continue expanding. Thanks to the company's various strengths and its strong partnership with IHOP, Romulus is on track to bigger and better things. "We really like IHOP as a brand and we will continue to grow with the brand," Milisci says.