Ronnoco Beverage Solutions
Ronnoco operates as a single-stop beverage solution for its clients.
Some companies get set in their ways, but Ronnoco Beverage Solutions gives consumers the fresh, new products they are looking for. "Innovation is the lifeblood of any food or beverage product," CEO Terry McDaniel declares. "We've put a lot of time and focus on it."
Based in St. Louis, the company provides more than 35 private blends and over 300 coffees, as well as its own custom-blended, flavored iced teas, lemonade, cappuccino and hot chocolate. The O'Connor family started Ronnoco in 1904 before selling it to the Guyol family in 1919.
After Huron Capital Partners purchased the firm in 2012, Ronnoco  made the move to becoming a full-line beverage supplier. Today, its products also include juices, smoothie mixes and cups, as well as 24-hour equipment service with coffee brewers, tea brewers, lemonade and cappuccino machines. "Our goal is to be the single-stop solution for the retailers," McDaniel says, adding that the firm custom designs graphics for its clients, which are primarily in the convenience store, foodservice and office markets.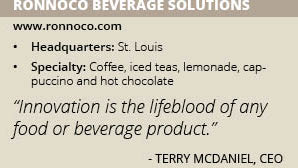 "Whether you're a small chain or a larger chain, we want to help you make your ready-to-drink section look like a high-end coffee bar," he says, noting that its products are available in Mobile On the Run, Petro-Mart and OnCue locations.
On the foodservice side, Ronnoco serves some of the top restaurants in the markets it serves, while its office accounts include Monsanto and Express Scripts. "We also do casinos," McDaniel says, adding these clients include Cherokee Casinos in Oklahoma and the Navajo Nation Casinos in Arizona.
A Perfect Fit
McDaniel joined Ronnoco in January 2018 after completing the sale of Inventure Foods, which specialized in frozen food and beverages. He notes that multiple factors drew him to Ronnoco, including its products.
"Beverage is a very large, vibrant category," he says, adding that he also was impressed by the company's team. "There was a lot of positive upside I saw before joining and since joining."
Under his tenure, Ronnoco has changed its entire strategic plan. "We really focus on expanding our single source solution with current customers and with new customers both within our current geography and new geography.  Our growth has come both internally and externally," he says, noting that this includes the acquisition of Beverage Solutions Group (BSG).
BSG, which is based in Maynardville, Tenn., provides equipment as well as creamers, sweeteners, cappuccino and hot chocolate to clients in more than 40 states. These machines provide a neater, more environmentally friendly and efficient way to provide product to dispense beverages such as coffee and tea.
"That strategy fit into our overall portfolio of what we offer customers," McDaniel says. The purchase also has given Ronnoco access to many new distributors, allowing it to serve many regions it did not previously cover.
"They also had a unique program of providing service for the equipment," he recalls.  "We're going to see if we can expand this concept to service other types of equipment we provide our customers."
Hot Products
Ronnoco recently formed an innovation team to keep its product line fresh. Led by Vice President of Marketing, Michael Becherer, the team brings new products to the market every spring and fall.
Recently, the company launched its own fair-trade organic coffee. "This fall, we're going to introduce several new coffees," McDaniel says, adding that one will be vitamin infused and the other will be derived from Ronnoco's sustainability efforts.
"On the cool side, we've introduced some new lemonades," he says, adding that these include such flavors as raspberry under its State Fair Brand as well as a new line of unique teas sold through bubbler equipment. "We'll also be introducing some ready-to-drink, single-serve coffee products," McDaniel adds
These beverages will be released later this summer and be available in multiple flavors, including a Colombian coffee and a mocha frappe. In addition, "We have other things we're working on where we hope to be first to market," he says.
Adding Capabilities
Ronnoco has recently been in growth mode. Last year, McDaniel says, the company grew its St. Louis plant by doubling its number of packaging lines and adding more coffee bins to adjust to recent growth. The firm also added new equipment to its facility in Oklahoma.
"We were running multiple shifts for a while, but we're now back," McDaniel says. "We've got enough capacity so we can double our volume and be able to manage it."
McDaniel praises the work of Vice President of Operations Stephanie Dents, who oversaw the installation of the new machines. "She did a great job," he says.
Making a Difference
Ronnoco takes pride in its outreach efforts, which include its partnership with LIFT, a Mercon Coffee Group program. The initiative helps farmers increase their productivity in an environmentally conscious manner.
Currently, Ronnoco sponsors 20 farmers in Guatemala, Honduras, Nicaragua and Brazil. "We help them through the funding to get better yield through their farms," McDaniel says, adding that the company assists local schools in these regions through its Seeds for Progress program.
This has allowed Ronnoco to provide electricity and other resources to a school in Nicaragua. This ensures "the students can stay in the school longer until they get their education," he says.
The company also supports a St. Louis-based organization, Angels' Arms, which focuses on providing homes for foster parents who are part of the program and the foster children they support. "Everybody who has ever been through the foster program knows it's got some levels of success but also struggles," McDaniel says.
Ronnoco sponsors a single foster home by paying its bills, as well as for mortgages and utilities. "One-hundred percent of the kids that stay in that program graduate from high school," he adds.
According to McDaniel, taking part in these organizations has positively contributed to the employee culture at Ronnoco. "They all feel good about what they're doing and trying to make a difference," he says.
Ronnoco Proud
McDaniel is proud of Ronnoco's product lines, especially its coffee. "We have had the highest quality coffee for years," he says, adding that consumers have repeatedly ranked the beverage high on surveys.
The company's staff, McDaniel adds, appreciate the opportunity to be a part of the legacy that the O'Connor and Guyol families created. "If you did a survey internally of our people here, they've always been Ronnoco proud," he says. "It's an exciting place to be and I'm glad to be here."
McDaniel sees a strong future ahead for the firm, which now has a reach that stretches to 40 states. But Ronnoco plans to continue through more acquisitions.
"There's a lot of upside in other geographies," he says. "If we could just increase our penetration 30 to 40 percent, it'd be a real game changer for the overall company.
"We've had a lot of opportunity knocking on the door, but if you don't take advantage of it, it'll pass you by," McDaniel says. "We're bullish and optimistic about where we can take this business. We are also thankful for the dedicated associates, loyal customers, great products and a strong supportive partner, Huron Capital Partners which all work together to make the future bright."