Rosati's Pizza acquires Beef Shack and expands into new territories.
Chicago-style pizza is famous. There's nothing quite like it and Chicagoans will argue with anyone that tells them differently.
Rosati's Pizza, the largest family-owned local chain of restaurants in the Chicago metropolitan area, has been serving up this Italian-inspired pie since 1964. Its recipes for stuffed, thin-crust and deep-dish pizzas have helped Rosati's conquer hearts and stomachs in Chicago – as well as other parts of the country.
"Our brand is iconic and our product is iconic," says Daniel Perillo, president of franchising. "We get inquiries from all over the country."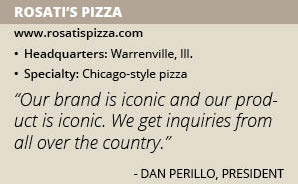 The pizzeria is a fast-growing franchise empire with close to 200 restaurants that span across 18 states. By the end of this year, the eatery will have opened 15 new restaurants and have expanded into new territories: Minnesota, Maryland, Colorado and Alabama. Although it already has restaurants in Texas, it will be expanding into Houston this year.
"Now our growth outside of Chicago is faster than it is inside Chicago," Perillo says. "It really surprised me at how well we do outside of Chicago without advertising."
Where's The Beef?
Having turned Rosati's into a successful franchise empire, the company hopes to do the same with Beef Shack, a Chicago area eatery known for beef sandwiches, hot dogs, chicken sandwiches, burgers, Italian sausage, fresh cut fries and milkshakes. Rosati's acquired the brand about 10 months ago. Beef Shack has two stores in the Chicago suburbs: St. Charles and Elgin. By the end of the year, it plans to open four new locations in Illinois: Huntley, DeKalb, Joliet and Bartlett.
"It's an easily franchised concept," Perillo says. "I love the simplicity." Beef Shack only has 10 items on its menu, requires a modest 1,500 square feet of operating space and has a drive-thru. "It's easy to execute and we think it will be successful," he adds. "But the No. 1 thing is the food. It's outstanding."
Beef Shack is famous for its beef sandwich that is slathered in a blend of mozzarella and provolone cheeses along with Chicago-style hot dogs made with Vienna beef.
Fast-Growing Empire
The Rosati's pizza empire has been growing at a fast pace in the past decade since the company started franchising. Out of the 200 Rosati's restaurants, about 30 are company-owned with the rest being franchises.
"We'll soon be averaging 15 to 20 stores per year," Perillo says. "So you're looking at 100 to 125 new stores in next five years. But the number is not as important as the people who are running it. We want to build a brick house, not a cardboard house. We want the sort of franchisee that respects the brand."
Rosati's seeks entrepreneurs with a hard work ethic and business experience that want to be hands-on involved with their restaurant. "We're looking for folks that want to own and operate the store," Perillo says. "A person that wants to work at the store and go through training."
Entrepreneurs interested in opening a Rosati's franchise must have at least $100,000 in liquid assets and a net worth of $400,000. The company charges a franchisee fee of $30,000 per location and an ongoing royalty fee of 5 percent. It also collects a 1 percent advertising and marketing fee.
Franchisees can choose three different Rosati's store models. The most popular is the carry-out model that averages between 1,200- to 1,300 square feet. A full bar and restaurant option is another option. It generally takes up around 3,500 square feet and features about 100 seats and a bar. Finally, there's a hybrid model that has carry out with about 20 seats and takes up about 2,000 square feet.
Rosati's start-up program includes assistance in store design, facility construction, site selection and field assistance. The company works with various brokers and architects that are available to assist franchisees.
Franchisees will also receive five weeks of training at one of Rosati's corporate store in the Chicago area. One week of ownership training which is mostly classroom. After that, franchisees receive on-site assistance from two to four corporate trainers for two weeks after opening. Rosati's also assists its franchisees with soft openings and grand openings, and offers ongoing support once the store opens.
Rosati's is a preferred vendor with the U.S. Small Business Administration (SBA), which makes it easier for franchisees to obtain loans, Perillo says.