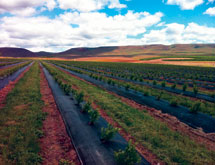 After more than a century and four generations of family management, Roy Farms Inc. has enjoyed success by maintaining a passion for the business, forming strong client and supplier relationships, "and sticking to our moral compass," Owner and President of Hop Production and Sales Mike Roy says. "That's served us pretty well."
Moxee, Wash.-based Roy Farms produces apples, blueberries, cherries, and alpha and aroma hop varieties that are used in beers. Roy's great-grandfather, Adelard Roy, started the farm in 1907 in Yakima Valley, Wash.
"He started out mostly with cattle and hops," Mike Roy says. Over time, the company moved away from cattle and diversified into apples, cherries and blueberries. However, hop varieties remain the company's main crop to this day.
Today, Roy Farms has four hop-picking and processing facilities spread out over its land holdings. "We'll run a 30-day harvest, 24 hours a day, seven days a week," he says, noting that a large percentage of its products are sold to craft brewers, including Lagunitas Brewing Co., Bear Republic Brewing Co., Victory Brewing Co. and MillerCoors LLC.
Roy adds that the company's international alpha sales and others are focused through John I. Haas, a hop product and service provider with an international footprint. "We have had a very long relationship with them," Roy says.
Devoted to Hops
Roy Farms' wealth of experience has made it skilled at raising hops, Roy says. "It's a unique little industry," he says "There isn't a lot of information out there [about it]."
This and the expenses involved provide barriers for others to enter the hops market. "It's very expensive to get involved in hop production," he admits. "You invest a lot of money into the picking facilities that sit 11 months out of the year."
But that does not make Roy Farms any less committed. "It's something we want to continue to do," he asserts. "It seems like once hops are in your blood, it's hard to get rid of them. We've been devoted to them for [more than] 100 years."
Switching Gears
Roy Farms has adjusted to changes in its customer base in the past few years, Roy says. "We used to be more geared towards international sales," he recalls, noting that its focus now is domestic craft beer producers.
Many international breweries, he explains, are not buying hops because of excess inventory. "That pressure, combined with strong craft growth, made us decide to switch gears and service the domestic craft market," he explains.
Fortunately, the domestic market keeps Roy Farms busy. "[Our clients] are growing really strong and they're consuming a lot of the acreage," Roy says. "It's good, but it's also creating a new need for farmers to invest into their ranches, whether it's buying new lands and putting up new trellises."
Making Sustainability Stick
One of Roy Farms' main initiatives is its culture of sustainability, Roy says. "It takes a lot of time and effort to cultivate that type of culture," he says. "That's something that our customers are appreciating."
This includes maintaining a healthy soil ecosystem without depending strongly on fertilizer, micronutrients or chemicals to fight insects or disease. According to the company, experience has shown that plants can thrive and resist pest infestation when grown in healthy soil.
"Out in the field, water usage and water efficiency is a huge [focus] around here," Roy adds. "We're really looking at … how we apply water and how we measure how much water we put out onto the field."
Roy Farms is performing a lifecycle assessment with the Institute for Environmental Research and Education. "We're in phase two of measuring our impact on the environment," Roy says.
After evaluating the data, Roy Farms will see how it has improved in its environmental initiatives and present it to its employees, shareholders, lenders and customers. "We're working to take that information and everything else we're doing and really making sustainability stick," Roy says. "It's the heart of the company, and it has been for a long time."
But Roy Farms also needs to engage its employees in these initiatives more, Roy admits. "A big part of this whole sustainable evaluation/communication process is really looking at how we can elevate our employees and help them succeed while creating a better quality of life," he says.
He explains that the company wants to promote this by raising the whole pay scale. Additionally, the company is looking at such concepts as communal eating areas where they would have more interaction at lunchtime. "[That is one of several] different types of ways to foster more of a community around here," he says.
"This would help sustain our business and workforce by creating a better way of life than what has been," Roy says. "We don't want to just provide employment, we want to create a great work environment which promotes happiness and well being … a sense of purpose. This will sustain all."
Human and food safety also is on Roy Farms' list of initiatives, Roy says. "We became Farm Wide GLOBALG.A.P. certified last year," he says, noting that it is engaged in other third-party certification systems such as salmon safe.
These will help Roy Farms develop more guidelines and bring another set of eyes to its operations. "It's always good to have another party auditing your company as well as [doing it] yourself," he says.
Another initiative is worker safety, Roy says. "We've been doing that for a long time and continue to develop our safety program [with] the amount of training and communications around a safe work environment," he states.
Revising the Mission
Roy Farms Inc. recently rewrote its mission statement to reflect its mission of sustainability, CFO Mike Roy says. "It really summarizes what we're doing," he says, noting that the firm wants to spread its message throughout its community and the rest of the world.
"The vision is to consistently improve agriculture for the good of all stakeholders without compromise," the statement says. Its guiding principles include human and food safety; community and environmental stewardship; employee empowerment, innovation and creativity; and premium products, services and a great work environment.
Roy Farms will continue growing on all levels, including its hops and fruits. "It's going to be a great, constant evolution," Roy says. "We're going to continue to grow and learn and do things better.
"I just see us doing that forever," he says, noting that it plans to double in size. "Our total holdings are probably over 5,000 acres."
He also wants to improve the company's employee retention. Sometimes its staff can reach lows of 200, but it also experiences spikes where the size rises to more than 600 during the harvest. "A lot of decisions we're making [today are giving us] a more stable work force where the bulk, if not all of our employees, [are here] year-round," he says.
One of these decisions includes looking at low trellis hop production to reduce the total man-hours needed to grow a hop crop. "We decided to machine pick all our blueberries, and we continually look to be more efficient in our production systems so we can reduce total man hours and more importantly maintain a steady pace without the labor spikes," Roy says. "We are looking at new production systems across the entire farm so that we can reduce the harvest labor spikes."