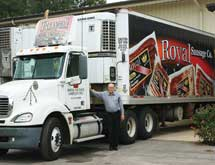 There's no secret to the success behind Royal Sausage Co. in Pell City, Ala. As CEO Curtis Capps says, it comes down to the old adage that the customer knows best. "Basically, we've been able to give good customer service and being able to adjust to the needs of the different requests from our customers," Capps says. "A lot of larger companies wouldn't do that."
Curtis and his brother Bennie Capps sit at the helm of Royal Sausage Co. and Royal Foods. Capps founded the company as Royal Packing Co. in Enterprise, Ala., in 1978. The company relocated to Pell City in 1992 and soon rebranded as Royal Sausage Company. Royal Foods serves as a food brokerage company which handles 15 other meat companies as well as their line of products.
The Royal Sausage brand is well known throughout the southeast, boasting customers in Louisiana, Arkansas, Tennessee, South Carolina, Georgia, Florida and Alabama. The company produces 25 different items packed in a variety of ways and a bevy of sizes. Curtis Capps took time to speak with Food & Drink magazine about the latest additions to its product lines, new equipment in its facility and the current state of the pork industry.
Food & Drink: What new products are you offering these days?
Curtis Capps: We had just started producing smoked hams, and now we're two years into it, and we've been successful. We make it with the skin and the shank of the ham removed, and it has been well received by consumers.
FAD: How much have these new products boosted sales since you launched the line two years ago?
CC: This line has boosted our sales by $2.5 million.
FAD: What other items do you intend to add to your production capabilities?
CC: We're still looking at items like sliced and smoked picnic hams. We started offering picnic hams at the same time we offered the smoked ham, and that has been a good item for us. We now produce 2 million pounds of picnic hams a year as part of our 3.5 million pounds of ham overall.
FAD: What type of upgrades have you made to your production facility?
CC: We've added some new equipment in our facility that produces some innovative packaging that we think is going to make an improvement in the appearance in our packaging. We just introduced it and got it started this year.
FAD: Are there any other facility upgrades planned in the future?
CC: No, we just built a new facility three years ago, and we still have room to grow. We have room to double our volume from what we're doing right now. We have the new 60,000-square-foot building plus the existing buildings we've kept operational, so we have more than 90,000 square feet of space.
FAD: You cite customer service as the reason for three decades of success of Royal Sausage. Can you provide an example of this?
CC: For instance, if a customer wants a product packed in a yellow tray or a black tray or a pink tray, we will pack that to cater to those needs. That is something we feel a lot of larger companies wouldn't do.
FAD: What market trends is Royal Sausage facing these days?
CC: We're dealing with high pork prices that are probably going to last about another six months to a year.  The cost of raw materials has gone up at least 10 to 15 percent from one year ago.
FAD: How is your company adjusting to this price increase?
CC:  We just tried to get a little more efficiency in our operations. When you do different things, you have to find niches to work within to increase your volume.
FAD: Has Royal Sausage Co. had to adjust to any changes in consumer tastes?
CC: We really haven't had to change because we have our profile pretty much worked out.
FAD: What does the future hold for Royal Sausage Co.?
CC: We're just going to keep on doing what we're doing, which is offering quality products at a fair price.