The new owners of Roy's Restaurant are embracing the company's reputation for high-quality Pacific Rim Cuisine and Hawaiian culture.
When he was young, Tokyo-born Roy Yamaguchi had his first taste of oceanside fresh seafood while visiting his grandparents in Maui, Hawaii. The bold and distinct flavors of the Pacific Rim shaped Yamaguchi's decision to become a chef. He moved to Hawaii and opened the first Roy's Restaurant in 1988, setting a new culinary standard for fresh seafood and earning him a James Beard Award in 1993. Roy's Restaurant blended two dynamic principles: delicious food and warm hospitality inspired by the Hawaiian Islands' "aloha" spirit.
The restaurant's reputation for high-quality fresh fish selections has stayed with it even as it changed ownership and expanded to the mainland. Today there are 20 Roy's locations in the continental United States that are owned and operated by United Ohana LLC, and another six in Hawaii, one in Japan and one in Guam. In January 2015, SSCP Management, an Applebee's franchisee, finalized the acquisition of the 20 U.S. locations from Bloomin' Brands. Yamaguchi remains involved in the company and serves as an example for each locations' executive chefs.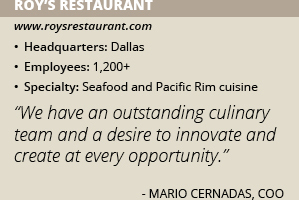 Those chefs, called "chef partners," are tasked with preparing local selections based on the best-quality catch available. Seasonal prix fixe menus highlight fresh ingredients and include a choice of three courses with a featured seafood selection each quarter. Seafood may be its specialty, but the restaurant group is also proud of its premium hand-cut steaks.
COO Mario Cernadas says the company aims for its preparations to be unique and beautiful in addition to being delicious, just as Yamaguchi envisioned when he opened the original restaurant. "Roy's Restaurant allows guests to explore the roots of founder Roy Yamaguchi's heritage and rediscover the flavors of the Pacific Rim," Cernadas adds.
Among Roy's Restaurant's signature culinary creations are its famous Misoyaki Butterfish, Macadamia-Crusted Mahi Mahi, Hibachi-Grilled Salmon and Blackened Island Ahi. The company's reputation is tied to its unique and creative menu, which Cernadas describes as a "sensational adventure in bold flavors."
Much of that creativity is derived from Roy's Restaurant's chefs. "We have an outstanding culinary team and a desire to innovate and create at every opportunity," Cernadas explains. Chefs at each of the 28 Roy's Restaurant locations are encouraged to create their own dishes. Successful meals are often turned into limited-time offers at other restaurants or become a part of the regular menu. Cernadas also credits Director of Chefs Chris George and regional chefs Jason Grasty and Edgar Agbayani with bringing the newest and best ingredients to the menu.
Cultivating 'Ohana'
The philosophy at Roy's Restaurant is centered on the concept of "ohana strong." Ohana is the Hawaiian word for "family". It embodies the idea that Roy's Restaurant employees work united under one brand and in one direction as a team to provide elevated standards, impeccable service and exceptional food and beverages.
The "ohana strong" concept has only expanded under SSCP Management's ownership. Last year, the company implemented a continuous education program where new executive chefs are sent to Hawaii to learn quality and culture directly from Yamaguchi. Executives must follow those ideals as well.
Roy's owner and CEO Sunil Dharod is involved in the daily guidance of the company. Chief People Officer Cheryl Green and CFO Dan Patel, along with Cernadas, complete the leadership team. "The ohana that leads our departments are very gifted and for the most part a team of one," Cernadas says. "I am proud and blessed to work with Chris George, our director of culinary and chefs; Barbara Bretherick, who leads our purchasing department; Terri Horan, our marketing department; Khanh Overholt, our training department; Doug Wittrup and Tina McDowell lead our technology department; and, of course, our joint venture partners John Crippes and Jonathan Diedrich."
Cernadas himself is still new to Roy's Restaurant. He was named COO in July 2015 and has spent much of the past year getting to know the company. "I'm a firm believer that when an individual joins an organization, regardless of the title, that the first three to six months is really about learning the brand, the people and the culture," Cernadas explains. "Soon after my appointment, I noticed a very strong culture and a relentless commitment to quality from all of our ohana."
The first thing Cernadas did after joining Roy's Restaurant was to train at its Bonita Springs, Fla., location. He followed that experience up by traveling to Hawaii to immerse himself in the brand's heritage. "Through the change of leadership and ownership I wanted to make sure what we do at Roy's on the mainland is the vision Roy had," he says.
Cernadas found the staff in Hawaii to be welcoming. They treated him not as a COO but one of their own. "I wanted to see how all this wonderful food was created, prepared and executed," he says, "but at the same time to start looking for some efficiencies and opportunities that the brand may have."
New Era
Following SSCP Management's takeover, the company made several changes in the restaurant group's leadership through recruiting new people or promoting individuals within Roy's Restaurant. SSCP Management moved all of Roy's Restaurant's support organization to its headquarters in Dallas, though the Roy's Restaurant and Applebee's brands continue to operate independently from one another. Cernadas says the move helped Roy's Restaurant to integrate into the new ownership, and having its IT, purchasing, human resources, finance and legal support directors all under one roof is expediting the decision-making process.
The operation within the restaurants is being upgraded as well. Many of the internal systems Roy's Restaurant uses are proprietary and need to be changed over and modernized. SSCP Management is implementing Rosnet at all of its restaurants. Rosnet is a restaurant management software that integrates with data reporting, sales trends, food costs, purchasing, inventory and other restaurant information.
The company is also introducing a new credit and gift card technology provider to its locations. "We're trying to bring Roy's into the most current technology scenario," Cernadas says.
The look of Roy's Restaurant has gotten an upgrade, too. The restaurant's new leadership worked with beer, wine and liquor suppliers last fall to design several new drinks. The menu designs were revamped and the company is exploring new marketing efforts.
Three restaurants received a total remodel and two others were partially renovated to feature a more contemporary look. Training materials were updated to focus not just on the position, but the employee's role in promoting the company's "aloha" culture.
Even the guests are getting involved in the changes. Roy's Restaurant introduced a series of cooking classes focused on Pacific Rim dishes and ingredients. Customers who participate in the classes learn more about Roy's Restaurant's cuisine and have the opportunity to build relationship with the company's culinary team.
Going forward, the company's intent is to grow the brand. Cernadas envisions at least doubling the size of Roy's Restaurant within the next six to eight years. He knows the plan is aggressive and will require the teamwork of the company's "ohana" to make happen.
"Before we do that, we need to understand what the Roy's of the future will look like and how it will feel," Cernadas says. "We also have to make sure the new model can be efficient and successful. We have hired a third-party to help us understand and evaluate our DNA and to start the design process. It is really an exciting era for the brand."