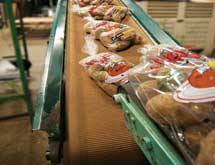 Bancroft, Wis.-based RPE Inc. – a second-generation family farm specialized in growing and shipping potatoes and onions year-round – is a category leader and key player in reshaping the way its industry operates. The company's mission transcends the traditional farmer's goal of providing high-quality, fresh products to a broad customer base offering best-in-class retail solutions to its partners and blazing new trails in category innovation.
RPE is the agribusiness sales and marketing arm of the Wysocki Family of Com­panies, a fully integrated network of businesses that also consists of Wysocki Produce Farm Inc., a multi-vegetable growing operation on about 13,000 acres in Wisconsin, and Paragon Potato Farms Inc., its flagship, state-of-the-art packaging company that serves Wysocki Produce Farm along with 15 other growers. Having its own packinghouse and sales and marketing business gives the company "economy of scale, but also allows us to offer more to our customers than what we are capable of growing ourselves," Chair­man and CEO Russell Wysocki explains.
Running a vertically integrated grow­er, packing and shipping operation is not new to the agricultural industry, but RPE stands apart by offering a grower sales department directly to its customers through offices and partnerships situated across the United States and Canada. It represents more than 50,000 acres of land base, which allows it to provide customers with a dependable, grower-direct supply of potatoes and onions from every major growing region.
"Our goal has been to become a true category captain for our customers and in order to do that, we have to be more than just a brokerage facility," Wysocki notes. "Instead, we provide a controlled and direct sale environment from the facilities themselves. That takes the cost out of the system to its lowest common denominator and allows us to create synergies for all the companies to work together to come up with solutions for growing and servicing our customers."
This also allows RPE to maintain con­sistency by enforcing the same quality standards at all of its facilities. "RPE takes great pride in its quality assu­r­ance department," Wysocki states. "We employ two full-time quality assurance managers, along with a team of people that work to ensure we receive superior ratings within our packaging facilities. Recently, we received the high­est Sup­erior rating from PrimusGFS, which is quite an accomplishment for our team."
Valuable Partnerships
The Wysocki Family of Companies also is co-owner of Central Sands Dairy, a 3,200-cow dairy farm in Juneau County, Wis., with Fair Oaks Dairies. Central Sands is a highly sustainable operation that provides fertilizer to grow grain and alfalfa to support the cattle and features a methane digester that creates enough energy to power more than 900 homes in the area.
Sustainability is a key emphasis at all of RPE's facilities, Wysocki stresses. "RPE and its partner companies are really committed to sustainable farm­ing," he says.
In June, RPE – along with CSS Farms and Plover River Farms – formed Tasteful Selections LLC, which produces specialty potatoes such as fingerlings and baby potatoes that have a uni­que range in sizes, flavors and colors. "Everything about it is different than what the industry is doing today," Wysocki
asserts. "Most grow potatoes for production volume and size profile. We did a lot of research on our primary potato buyer to understand her needs and create the product to meet those needs.
"Tasteful Selections are baby potatoes ranging from about the size of a marble up to the size of a ping pong ball," he continues. "They are your traditional comfort food that has been re-imagined. Also, they have really unique flavor profiles and stunning colors that are perfect for traditional potato dishes, along with new recipes."
'Best of Both Worlds'
Everyone knows customers want price, quality and service, but in the past, they were usually forced to choose two out of the three. "Now you need all three to be competitive within the marketplace," Wysocki says. "But I think there are two more that have been added since the industry has been consolidated, and that's innovation and solutions."
RPE is bringing value-added solutions to the table by offering convenient pre-foil-wrapped potatoes for the oven and shrink-wrapped potatoes for the microwave. It is one of few firms in the industry to have a doctor of agronomy as well as a master agronomist con­ducting field test plots throughout the country as a long-term investment. "We're developing new protocols for our farms and for our supply partners to bring a better-quality product to the cus­tomer base," Wysocki says. "We've also been to Europe and are looking for new varieties to bring to the United States similar to what the apple industry has done. We're taking it to the next level."
The company has grown exponentially in a very short period of time. Since April 2009, it has expanded to include branch offices in Illinois, Minne­sota, Idaho, Georgia and Colo­rado. One of RPE's key competitive advantages is that it knows the customer from the inside out. Its vice president of marketing, for instance, was the produce director for Target Super Stores and now helps RPE "understand the retail side of things, so we can talk to customers in their language and understand where they are headed and what they're trying to accomplish," Wysocki says. "We understand our growers and what their needs are, so we can bring the best of both worlds together."