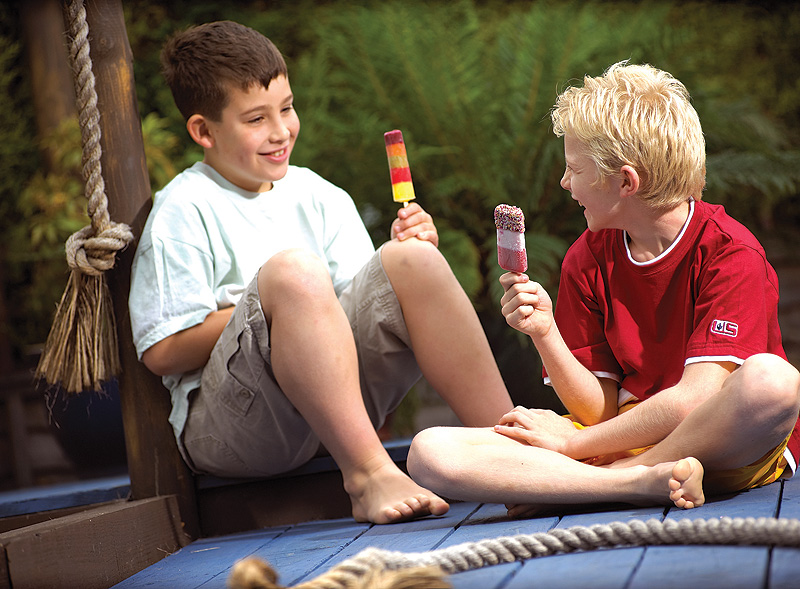 Ice kings
Following a recent major acquisition, R&R Ice Cream is continuing with its growth strategy for both its product portfolio and global markets
From its small beginnings in 1932 when enterprising Italian, Regina Roncadin opened her first ice cream parlour in Germany, R&R Ice Cream is now one of the world's biggest ice cream companies. The R&R stands for Richmond & Roncadin, following the merger of the two major ice cream companies – Roncadin in Germany and Richmond Ice Cream from the UK, in 2006. R&R operates seven production plants across Europe in Germany, France, Poland and, Leeds, Leeming Bar and Bodmin in the UK. Across the entire company R&R employs approximately 2500 personnel and has a turnover of circa 500 million euros per annum.
Manufacturing over 2000 different products, both private label and brands, R&R incorporates some of the best known brands in the ice cream industry, including Néstle who produce Fab, Fruit Pastille and Smarties push-ups as well as ice cream tub products. Other brands include Treats and Kelly's ice cream as well as ice cream bars and ice-lolly products for the mobile market and one of the company's newer additions Skinny Cow. The Skinny Cow range is the first indulgent low-fat ice cream brand in the UK and has had great success following the consumer desire for reduced fat products. Another success story is R&R's Néstle Lion bar ice cream, which won the bronze award in the Best New Ice Cream category at the 2010 British Frozen Food Federation awards.
R&R's extensive market understanding means that it is aware of customer demands and niche requirements, which translates into successful products. The company is the UK's largest ice cream manufacturer and its products can be found across all major outlets including Marks and Spencer and Tesco. Within its extensive ice cream range R&R caters for emerging consumer trends and individual dietary requirements with specific products targeting markets like reduced calories, diabetic-friendly and natural flavourings.


This year marks the 25th anniversary of Richmond Ice Cream and naturally R&R is holding a number of celebrations to commemorate this. Earlier in the year the Leeming Bar factory was visited by HRH The Duke of Kent, who underwent a tour of the facility and unveiled a plaque to mark the official opening of the company's new £2.5 million fully automated waste treatment plant. Previously waste was treated on-site using chemicals, but now materials are separated using high pressure to force waste through a semi-permeable membrane. Clean water passes through the membrane, which retains particles, before being discharged into local water courses and the filtered solid material is then used as land fertiliser. This initiative has enabled R&R to make savings of up to 50 per cent in the cost of treating wastewater, as well as having significant environmental benefits. During the year William Hague, Secretary of State for Foreign and Commonwealth Affairs, also visited the site whilst the Crossgates factory in Leeds received a visit from George Mudie, Leeds East MP.
In June R&R acquired Rolland, France's third largest ice cream company, which exports to over 20 countries, including strong sales in Japan. This purchase increased R&R's staff numbers by a third and is a key part of its major growth plans. Rolland is a strong contender in the supermarket sector largely selling its own label products and also has a presence in the home delivery and foodservice markets. The acquisition has created the second largest ice cream group in terms of supermarket sales in the UK, Germany and France, of more than 500 million litres of ice cream each year. As part of its ongoing growth strategy R&R has a number of other plans in the pipeline including both organic expansion and acquisitions to move the company forward.
Continued investment has also been key to R&R's success with several million euros being channelled into new technical machinery, which will enable a better production flow and overall finished product. This machinery and equipment is sourced from suppliers across the globe, although R&R strives to procure raw materials such as milk from local producers as part of its environmental strategy. The company maintains a strong ethical position, donating 0.25 per cent of its profits to support local charities – the Rainbow Trust Children's Charity and Hope & Homes for Children. Each organisation received a donation of £20,000 in 2009.
Recently R&R attended InterCool, the international trade fair for frozen foods and technology to launch some of its newest innovations and brands. With these R&R hopes to match the success of its new 2010 products such as the Aero 'Double the Bubble' stick ice cream and the Caramac bar, which quickly became the number one selling bar within the multipack 45sector. R&R invests heavily in the research and development of new products, as it believes that this is one of the driving forces behind the company.
R&R's success is due to the strong combination of its consistently high quality products and well-established reputation that enables it to maintain contracts long term. With an innovative approach to ice cream R&R continues to identify new product potential as part of its expansive commercial vision. Anticipating continued major growth for 2011, R&R seems set to retain its enviable market position, whilst its competitors remain out in the cold.