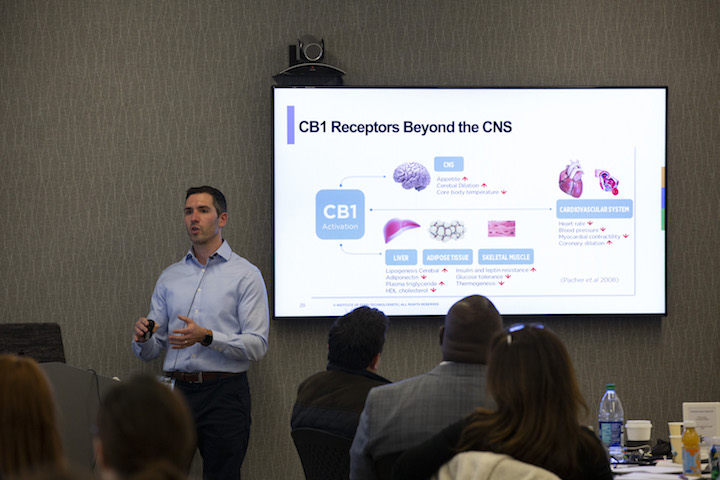 RTI International – Innovation Advisors
Innovation Advisors helps food and beverage companies understand the effects of cannabis before launching into new product development.
Global consumer spending on cannabis is expected to reach $32 billion by 2022, making the fast-growing industry an attractive addition in food and beverage. "We heard last year at a food technology conference that sales of cannabis products in the United States were outpacing ice cream in dollar value," says Innovation Advisor Lawrence Blume, Ph.D. "For over 40 years, RTI International (RTI) has been exploring the risks and benefits of cannabis and contributing to the national conversation. Commercial clients rely on our objective and multidisciplinary approach to assess the potential risks and benefits of cannabis edibles."
Innovation Advisors is a boutique consulting firm that was established 50 years ago under RTI, an independent, nonprofit institute that provides research, development and technical services to government and commercial clients worldwide. Innovation Advisors was initially established to evaluate the commercial application of technologies discovered at NASA with the goal of improving the technologies' economic value and benefits to society.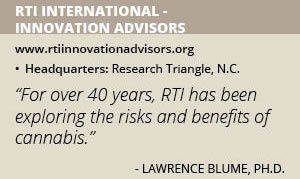 Over the past 50 years, Innovation Advisors has expanded its focus and been part of its clients' most groundbreaking projects. In the past 10 years alone, it has launched more than 100 products, assessed over 20,000 technologies, interviewed in excess of 16,000 experts and formed over 200 successful strategic partnerships for clients. Blume and Susan Mayer, CFS, oversee Innovation Advisors' work in the food and agriculture sector.
"We provide three key offerings to our clients. Through strategic services we focus on transforming innovation capabilities and culture; our go-to-market services focus on the commercialization of new technologies and products; and through our insights services we evaluate technologies, user needs and market opportunities," Mayer explains. "There are few consulting companies that have our depth and breadth of technical expertise. For example, as a certified food scientist with 25 plus years working in food companies and research and development roles, I understand what food companies are trying to accomplish, the science behind products and how to scale a new idea, process or ingredient."
Understanding Cannabis
Over the last decade, Blume has applied his background in cannabis physiology and pharmacology towards novel commercial applications in the medical, CPG and food and beverage spaces. "There is a lot of confusion between cannabis and hemp," he explains. "The defining factor, according to current regulations, is that hemp has less than .03 percent THC while cannabis has a higher THC content. Although CBD and THC have the same chemical makeup, the slight variation in their molecular structures leads to the primary difference between the two cannabinoids: CBD does not produce the typical psychoactive response [high] associated with cannabis use."
Blume explains that CBD has been shown to modulate an array of activities including anxiety, pain, inflammation, sleep, cognition and others through complex mechanisms. The potential health and wellness benefits of CBD resonate well with consumers, and companies that can support and explain the merit of CBD's health effects will be able to differentiate themselves in the marketplace.
"In June 2018, the FDA approved GW Pharmaceuticals' CBD-based drug Epidiolex for the treatment of seizures associated with rare forms of childhood epilepsy. This signaled the FDA's recognition of CBD's medicinal properties," Blume explains. "The Farm Hemp Bill, which passed in December 2018 and legalized hemp, has also impacted the food and beverage space by opening the door for CBD as an attractive new ingredient. However, companies must proceed with caution as CBD is not an approved food ingredient or dietary supplement, and the FDA hasn't formalized a pathway to regulate CBD products."
Cannabis Products
When food and beverage companies are considering the development of cannabis edibles, Innovation Advisors helps them understand the products' feasibility, viability and desirability. Blume indicates there are three types of cannabis consumers in the space today: those who use cannabis edibles for medicinal purposes, those who use them for recreational purposes and those who use the edibles as part of an active lifestyle centered on health and wellness.
"Food and beverage companies must consider those three consumer needs and determine how they are going to deliver against those needs. This will depend on the risks they are willing to take and when they should enter the market," Mayer says. "We ensure clients understand the chemistry, physiology, and safety of CBD, cannabis and hemp-based ingredients so they can make informed decisions about entering this rapidly growing market."
Blume's advice to food and beverage companies is to start with the science. "Any product development team considering cannabis edibles should start with a science and evidence-based understanding of our body's endocannabinoid system. From there researchers can better appreciate and predict how CBD, THC, hemp and other cannabis extracts effect this internal system. Collectively this knowledge will provide companies with the information required to evaluate the health potential and subjective effects of cannabis edibles, and, more importantly, the safety effects."