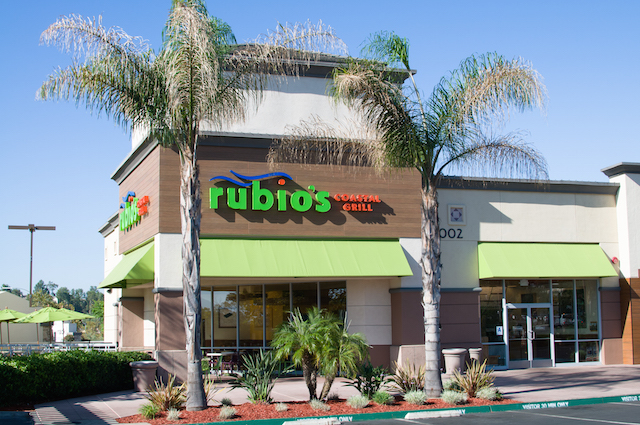 Rubio's has a reputation among its customers for serving only the best-quality seafood.
When customers order fish tacos at a Rubio's Restaurants Inc. location, they can be assured that the ingredients are from reliable sources, Vice President of Supply Chain Clynn Whitworth says. "We have extremely strong credibility with our guests on the quality of our seafood," he says.
In fact, Rubio's representatives regularly visit the farms and plants where its ingredients are sourced. "We want to make sure there's a social responsibility among our suppliers, that we manage our relationships and that they are doing what they say they're doing," he says.
Based in Carlsbad, Calif., Rubio's operates approximately 200 restaurants that serve coastal fare in tacos, burritos, salads, bowls, enchiladas and more. Founder Ralph Rubio started the company in San Diego in 1983.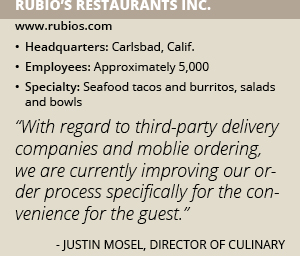 When he was in college, Ralph made trips to Baja California, Mexico to surf, sun and socialize. "While Ralph was down there, he discovered the beer-battered, fried fish taco," Director of Culinary Justin Mosel explains. "He created his own version, the Rubio's Original Fish Taco, and started selling them in Mission Bay, San Diego."
The product, Whitworth says, was a new item stateside. "No one seemed to have had a beer-battered fish taco here in America," he says, noting that Rubio's set itself apart with the quality of its product.
For example, its corn tortillas and chips are "unlike anything anyone else uses," Whitworth says. "They cook them, steep them and stone grind them."
Rubio's also closely monitors the products in its supply chain, "all the way to the restaurants," Mosel says. "We have multiple checks and balances between auditing stores, suppliers and regularly evaluating production samples." Ralph and other representatives from both the Culinary and Quality Assurance teams evaluate Rubio's core products on a regular ongoing basis.
The company's initiatives also include taste tests at its support center in Carlsbad on seafood as well as tortillas. "We do that just to ensure good quality," he says.
Sunshine State
Rubio's has locations in California, Nevada, Arizona, Colorado and Florida. Most recently, it made its move into the sunshine state, Mosel says. "Currently, we have four stores open and we will have eight by the end of February of 2017," he predicts.
The new locations will be spread throughout the state in Miami, Orlando, Fort Lauderdale, Tampa and St. Petersburg. "This is our first expansion from the West to the East," he says.
"We're excited about the whole proposition," Mosel continues, noting that the company has work to do in terms of bringing awareness to the Rubio's brand. "We're a new brand out there, so we're putting a lot of support behind it."
Some of that support comes from San Diego. "There's a lot of personnel going out there to assist with the day-to-day operations and the local marketing as well," he explains. "We want Floridians to understand what Rubio's is all about so we are ramping up the education quickly to bring the San Diego experience to them. I'm confident that once you sample Rubio's fare, you'll be hooked."
Spicy Values
Rubio's strives to offer a strong value proposition to its guests, Whitworth says. "In the last couple of months, [we've looked at] where the guest is going to spend their money," he says. "Are they going to go to the grocery store or are they going to come to the restaurant?
"We're more in competition with grocery stores than we have been before," he says, noting that Rubio's has bolstered its offerings with features such as its salsa bars.
The bars, Mosel notes, allow guests to customize the spice levels of their food to their liking. "We have four unique salsas that we make fresh daily," he says, noting that the bars also offer two sauces that are "made to be very, very hot."
Guests also can add whatever they want to their meals, Whitworth asserts. "The permutations of what you can get at Rubio's far exceed [what our competitors have]," he says. "You just have to ask."
Mosel agrees. "You can add bacon to anything, you can add guacamole to anything, and you could swap out a corn tortilla for a flour tortilla," he says.
Aiming to Win
Rubio's has nurtured an environment where its employees take pride in their work, Mosel says. "We have a strong culture of accountability," he says.
"Our team has done an outstanding job in creating great products and upholding all our values," Mosel says, noting that these include honesty, integrity, discipline, and treating people fairly. "We are a very ethical company. We also celebrate our successes and award people for good work."
Ralph Rubio celebrates every employee that has a 20-year tenure by taking them out to a nice dinner.
Many employees share Rubio's ethics, he adds. "There are a lot of people here that want to win," he says. "Whether you are in the field or at the corporate office we operate like one big functional family. We all aim to serve the best food in the fast casual sector."
The company also enjoys low turnover. Whitworth has 18 years with Rubio's, and Mosel himself is celebrating his 10th anniversary at the firm. "We also have a lot of people that have been here upwards of 20 years," he adds.
Rubio's has helped nurture its employee loyalty by giving them an environment they enjoy working in. Not only does the company have many locations near the beaches in San Diego, but "our corporate office is beautiful," Mosel says. "It's just a lovely layout with floor to ceiling windows and an open floor plan in sunny Carlsbad."
The company also offers strong employee benefits. In addition to rewarding them with incentives, "We started a nine-80 work schedule two years ago," Whitworth says. Through the program, employees work at the Corporate Office for 80 hours over nine days, which enables them to have every other Friday off. "That helps people work out their lives," he says. "Other amenities at the corporate office include, a gym, a fresh herb garden, free (to the employee) espresso machine, a library and a ping pong table. Additionally, we have Food Trucks that stop by every Wednesday."
Growing Every Day
Rubio's plans to grow, Whitworth says. "We're really expanding our offerings of beer, wine and sangria," he says.
The company also plans to open more locations. "We want to add 12 -15 new stores every year for the foreseeable future," he says, noting that the company also is in the process of changing its existing locations.
"We're remodeling them from 'Rubio's Fresh Mexican Grill' to 'Rubio's Coastal Grill,'" he says, noting that it has 70 stores left to remodel. "We're on track to finish them by the end of next year."
The new format will expand Rubio's reach, Mosel says. "We offer global flavors mainly through seafood and featured in the taco, burrito, bowl and salad formats," he says. "Additionally we have a wonderful beverage program, which includes fresh brewed teas, daily made lemonades plus a vast array of bottled bottled beverages. We have a fantastic kids menu as well which makes our environment very family friendly."
Celebrating the Ocean
Rubio's Restaurants Inc. does its part to promote sustainability through its Ocean Goodness campaign, "a figurative and literal celebration of the ocean," Director of Culinary Justin Mosel says. "Everybody enjoys the ocean and we try and celebrate it in many different ways."
Rubio's works to be a friend to the ocean year-round with a majority of its seafood being sourced from sustainable fisheries, recycling plastic and glass bottles in restaurants whenever possible, and using eco-friendly plates and to-go containers. These efforts help reduce the amounts of trash that can end up on beaches and the coastline. The company also supports several ocean-focused causes throughout the year, including coastal cleanups, river cleanups and Rubio's annual CoastFest event.
Vice President of Supply Chain Clynn Whitworth recalls Rubio's CoastFest cleanup from two years ago where it enjoyed a strong turnout, even though it was raining. "We had about 3,000 people show up and over 1,000 pounds of trash removed from the coastline," he says, noting that the company rewarded attendees with free tilapia and shrimp tacos. Rubio's CoastFest also included performances from live bands and a variety of activities for all ages.
The company regularly receives accolades for its coastal cuisine, including the 2016 Best Fish taco (San Diego CityBeat); 2016, 2011 and 2010 Best Fish Taco (The San Diego Union-Tribune); 2016 One the Top 5 favorite Mexican Chains (Market Force Information); and 2015 Top 100 Movers and Shakers (Fast Casual.com).