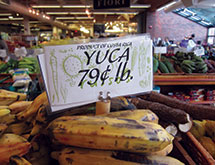 Michael "Tony" Russo recalls a time when, as a child helping out in his father's produce distribution business, he had collected 20 cases of asparagus from a supplier and brought them back to his family's warehouse only to discover that one of the company's drivers had already collected the same amount of the vegetable. After learning that his family was charged for only the first 20 cases collected, he worried about the consequences of holding onto the overage.
"I thought that the supplier would believe we had taken 20 cases of asparagus from them," he says. "I couldn't sleep that night, and worried all night that I had done something that would tarnish my family's name."
Early the following morning, Russo returned the 20 cases to the supplier, who had not yet noted their absence and were surprised to see the young boy. Russo says he understood as a youngster the importance of honesty. Through his home and church, as well as the family business, he learned there was an expectation and a commitment to ethical and responsible conduct in all aspects of business.
Russo, today the president of the wholesale and retail business founded in the early 1920s by his grandfather, Antonio, and later run by his father, Olgo, and uncle, Gildo, continues to follow his family's example. "Integrity and honesty are absolutely essential in this business," he says. "If you don't have integrity, you have nothing at all."
Years of Perseverance
Antonio Russo initially sold fresh tomatoes, lettuce and beans he had grown on a small plot of farmland at the marketplace of Boston's historic Faneuil Hall in the 1920s. Eventually, customers – including Perkins School for the Blind in Boston – started contacting him for deliveries. A few of these customers, including Perkins School, are among the company's customers to this day, "Tony" Russo notes.
The company continued to evolve as a wholesale supplier to small markets during the 1940s and 1950s, before hitting difficult times in the 1960s as a result of consolidation and the rise of national grocery chains. The company persevered as a result of the family's hard work and willingness to "work a lot of long hours," Russo adds. Over time, Russo's – as the company is now known – added accounts, including a six-location market.
Russo's continued to add to its customer base beginning in the 1980s as a result of a growing local interest in food that "Tony" Russo attributes to the popularity of television chef Julia Child, whose program aired locally on famed PBS affiliate WGBH. One of the company's first and most prestigious accounts in Boston was the highly-regarded Maison Robert restaurant, whose mentoring and guidance Russo believes contributed most significantly to its legacy.
Eventually, the company was able to purchase land in 1987 for a warehouse and attached retail space, which opened in 1992 and 1993, respectively. Russo's continues to invest in its facility, with $10 million worth of building improvements made in the past few years. These improvements include adding 20,000 square feet of refrigeration space and additions to the building's truck receiving area.
Pursuing Value
Russo's retail location in Watertown, Mass., offers produce as well as specialty groceries. "We try to concentrate on offering regional merchandise, providing a chance for new and proven companies to sell their products locally," he says.
Russo's market also features a traditional bakery with freshly prepared pasta, baked breads, pies, pastries and cakes. The cheese and delicatessen area incorporates exceptional products produced regionally nationally and internationally, including more than six kinds of prosciutto available daily. The retail flower and plant area focuses on locally grown material in season and also incorporates flowers bought directly from growers in California, Florida, Canada, South America and Europe, especially Holland. A full-service catering and kitchen produces fine hot and cold entrees that compliment the retail sales area. "Ten years ago, we committed to handling to handling produce for the Asian, Indian and Spanish communities," Russo says. "The direct benefit of that commitment is to our retail and wholesale customers."
The company sources produce from growers located across the country as well as Canada and Mexico. "We're committed to the idea of buying as much product as we can and pursuing the best value and quality," he adds. "We have a lot of confidence in our decision-making when it comes to where we buy from and how much we buy in order to provide value for our customers."