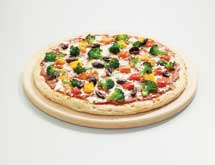 Under its tagline "Crust You Can Trust™," Rustic Crust excels in its niche of providing organic, all-natural pizza crust, sauces and frozen flatbread pizzas to consumers nationwide. The Pittsfield, N.H.-based company was established in 1996 by CEO Brad Sterl. It evolved from an upscale chain of pizza restaurants specialized in Old World European-style pizzas that Sterl had been a partner in. Disappointed in the quality of pizza ingredients available to his restaurant, he started producing his own pizza crusts and sauces, and quickly grew a following.
After serving restaurants across the country with quality pizza ingredients for nearly a decade, Rustic Crust switched its focus to retail grocery stores in 2004; by 2006, it was the No.1 all-natural pizza crust brand in the market. Today, less than 5 percent of its products are sold to foodservice. In February 2010, it acquired American Flatbread, a brand of artisan, wood-fired pizzas.
"By using all-natural and non-genetically-modified ingredients, we've made a commitment," Sterl asserts. "Not a lot of conventional companies out there are willing to do that. It's not about selling an inexpensive product – it's selling a product that tastes great and is cost-competitive. I don't expect us to ever be the least expensive in the marketplace. Beyond the premium ingredients that we use, we have folks that make these products using a hand-made process, and there's a lot to be said for that."
Rustic Recipe for Success
According to Sterl, many pizza ingredient and frozen pizza producers use low-quality ingredients not only to be cost-effective, but to produce as much product as they can as quickly as possible. "Other companies are not willing to spend that amount of money to make a better product," he remarks.
But in today's economy where consumers are visiting restaurants less frequently, they still want their meal experience to be equal to dining out. "For the type of products we make, the market continues to be strong," Sterl says. "We continue to have year-over-year revenue increases. We've been fortunate."
Rustic Crust can produce its crusts, sauces and frozen flatbread pizzas cost effectively because it custom-built its plant and invested in proprietary processes to package its ingredients to have a six-month shelf life, without the need for preservatives or chemical extenders. "Personally, I don't see a need to use all these chemicals," Sterl says. "You're better off using real food and real ingredients."
The company developed a procedure for creating a zero-oxygen atmosphere in its packaging, which prolongs freshness, he explains.
Ultimate Pizza Delivery
Whenever possible, Rustic Crust uses ingredients from local producers in New Hampshire and Vermont, especially for the American Flatbread brand. Its off-season products are sourced from across the country.
Rustic Crust is mindful of new consumer demands by focusing on changing lifestyles and creating products that meet their unique needs. For example, after searching extensively for a qual­­ity cheese replacement,  American Flatbread now offers frozen pizzas for people choosing to live a vegan lifestyle. Rustic Crust recently launched a gluten-free crust for customers who are allergic to wheat-based products.
Sterl continues to oversee all of Rustic Crust's R&D. "As we develop products, we look for consumer feedback as well as what's happening in the industry," he states. His background as a chef allows him to select quality ingredients and come up with new ideas for pizzas. The company also works with outside chefs, taste panels and focus groups. Some of its best ideas have come from the customers themselves.
"Our core brands have a team that travels around the country promoting products at special events," Sterl says. "We sponsor concerts, fundraisers and do a lot of samples and specialized coupon programs to get folks to try our products. We even made one of the highest pizza deliveries in New England when we delivered pizzas to crews at the top of Mount Washington."
In February, Sterl and his crew embarked on snow tractor trek up the 6,288-foot mountain in New Hampshire to distribute crusts, sauces and American Flatbread pizzas to hungry scientists at the Mount Washington Observatory summit weather station. It was the first time they ever ordered takeout. For Rustic Crust, it was the ultimate pizza delivery.