Rutter's has won the respect of its industry and the loyalty of its customers.
After 10 generations of family leadership, Rutter's never stops evolving to meet the needs of its market. One example, Chief Customer Officer Derek Gaskins notes, is the new alcohol selection that the company added to stores spread throughout its footprint.
When the laws changed in Pennsylvania in 2016, allowing convenience stores to sell alcohol, Rutter's quickly had its first beer and wine store up and running. "Today, we have 16," he says, noting that the company has another 15 under development.
Rutter's was not content providing a modest offering in its locations. "When we set our minds that we're going to go after something, we're going to go all the way," Gaskins says. The locations added "caves" that range from 400 to 500 square feet in size and feature a beer selection that includes craft, domestic, local and imported products.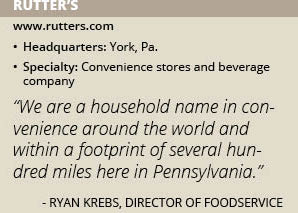 When it comes to wines, "We're going with varietals up to a $30 price point," he says, adding that this reflects Rutter's willingness to take risks to keep customers coming back.
"We have a tag line: 'Why go anywhere else?'" Gaskins declares. "We want to be that place [so] our customers don't have to go elsewhere…for anything."
Legacy in Food
Rutter's has a legacy going back more than two centuries when Andrew Rutter started a farm stead in 1747. "That gave us the start of our fresh focus and food culture," Gaskins says.
He adds that Rutter's started a beverage company in 1921 that manufactured fresh dairy products. Over time, it moved into fresh brewed iced teas, water and other Rutter's branded products.
In 1968, Rutter's began opening its convenience stores, and today has 69 that sell fuel and fresh-made food. Its beverage company still operates to this day, with branded products that are sold by Walmart and Giant Food Stores, as well as pharmacies and grocery stores, throughout five states.
A Household Name
This year marks Rutter's 50th year in the convenience store business. CEO Scott Hartman leads the firm, representing the 10th generation of family leadership.
"My mother was a Rutter," Hartman says, adding that the company has thrived thanks to a focus on success passed down through the generations. "Having that vision and goal is always good. It gives people stability and a place where they can make a long-term career."
Director of Foodservice Ryan Krebs, a chef by trade who joined Rutter's five years ago, praises the company's moral compass. "The meaning of shaking hands and taking someone at their word has always been at the center of this family's business culture," he says.
That continues to this day. "We're trusted and respected within this community," Krebs says. "We are a household name in convenience around the world and within a footprint of several hundred miles here in Pennsylvania."
Made to Order
Gaskins, who has been with Rutter's for five years, praises the company's willingness to be innovative, which includes the hiring of Krebs. "It's very rare that there's a chef running the food program for convenience stores," he says.
"Ryan brought that food background and energy years ago," Gaskins continues. "It's taken us to many heights that others might be scared to do."
Krebs' additions to Rutter's menu included turkey burgers, beef short ribs, chicken pot-pie and funnel cake fries. "They've just exploded," Gaskins says, noting that the stores offer them to customers year-round.
Rutter's also offers pizza that is made with self-activating yeast, "which is unheard of in convenience," he says. "When it comes out, it's like a brick oven pizza." Gaskins admits that the product represented a gamble for the company since the cooking process takes longer than its competitors' products. However, "The customers are willing to wait for quality," he says.
Rutter's also added a line of world-class seafood that includes fried clams, scallops, tavern battered cod, roasted corn and crab chowder, and fried shrimp. "There's a lot of things within that space that aren't there [at our competitors]," Gaskins says.
The stores feature open kitchens, allowing customers to watch their orders being made. "We really want people to see the beginning-to-end process, and really stress the freshness and made-to-order concept," he says.
At the Core
Sustainability is a major area of focus for Rutter's that has been inherent in the company since its start. "By definition, an agricultural business has to be sustainable," Gaskins says. "We've always brought that to the business."
Today, all of the company's store rooftops are painted white and use solar tubes that allow natural light to shine into the store and reduce electrical expenses. On cloudy days, they still harvest light to shine on products and displays. Rutter's also is selling biofuels and was the first in the c-store industry to provide recycling for its customers. Indoor recycling also will be implemented with new bins, while Earth-friendly, recyclable packaging will be put in place throughout the store. "Sustainability has always been core to our business and right at the front," he says.
Rutter's stores recently installed new fryer management systems. Previously, the company manually pumped out used oil and dumped 35-pound jugs of new oil into fryers. "The automated system is literally a wand," Krebs says.
The wand, he explains, will drain the old oil out, put it through a filter and pump it out so it will eventually be recycled. "It sends new oil directly in with a flip of a switch, so there's no jug carrying," Krebs says.
The new systems have been a success for Rutter's. "The stores love it, since filtering fryers is the last thing on the list anyone wants to do," he says. "It's increased the quality and consistency for us."
Krebs also can monitor stores via his cell phone to ensure they are changing the oil. "That allows us to hold them accountable to provide the best quality product to our customers since we're filtering and changing oil effectively," he says.
Meeting Needs
Rutter's copes with constant evolution in its industry. "Things are changing faster, and more often than they used to," Gaskins says. "We have to be nimble, flexible and agile to meet the needs [the] customers have."
Rutter's is in a good position to do that. "With the company at our size and with the way we think, we have the ability to respond to the market at large," Krebs says, noting that Rutter's serves a broad client base.
"We're hitting everyone from age two to 92," he says. "We need to try to think ahead of what their needs will be a year-and-a-half from now and respond."
The company also needs to keep increasing the size of its stores to meet their needs. "When I built the first superstore back in 1995, my dad's generation looked at it and said, 'Are you sure? What are you going to do with all that space?'" Hartman recalls.
Today, he says, Rutter's is designing a store that will cover 10,250 square feet. "They keep getting bigger," he states.
The Eyes and Ears
Rutter's has nurtured a strong culture of excellence within its walls. "Everyone wants to win," Gaskins says, noting that its employees are willing to work hard. "It's a 'roll-your-sleeves-up-and-get-it-done'-type of culture."
It also is one that communicates with its employees. Hartman himself goes out to lunch quarterly with team members of the month to gain insight. "That's a great way to understand what's going on, on the ground," he says.
Any suggestions that employees give Hartman are brought back to the senior management. "Some of our best ideas have come from our store level team members and we take those seriously," Gaskins says. "They're the eyes and ears."
Taking Care
Rutter's takes time to contribute to its local communities. "We just don't talk about it – it's real," Gaskins asserts, adding that the company has given more than $6 million to local charities near its stores in the past decade.
"Whether it's working with local food banks or Make-a-Wish or Leg Up Farm, these are all great long-standing partners that we've had," he says, noting that Rutter's also contributes to cultural groups and performing arts centers.
When Rutter's builds a new store, it also reaches out to local fire departments and police departments. The company's donations have led to the purchase of new incubators for a pediatric unit or a K-9 for the police force, Gaskins says.
Krebs adds that Rutter's partners with Support Our American Recruits to send care packages to American troops as well as Ricky Lee's organization, Music 4-R Vets. The company also gives free beverages to police officers and military that enter its stores in uniform. "We take care of those who take care of us," he says.
Growing Fast
Hartman predicts more success for Rutter's. "We're growing at a pretty fast clip these days," he says, noting that the company grows its store count by 10 percent each year. "We'll be building bigger stores."
This year, Gaskins says, the company will double the size of its corporate office. "We're also doubling our beverage manufacturing capabilities," he says. "While fresh milk will always be core for us, we're looking at other 'better-for-you' healthier products that may be in new beverage categories."
Rutter's also is in the process of inducting the 11th generation of the family into the company. "My son Chris [will] be coming into a role managing petroleum," Hartman says.
Recognizing Rutter's
Rutter's has been recognized on an international level for its work, which has included the International Convenience Retailer of the Year Award for 2014. "We're the only U.S. convenience store chain to receive that award," CEO Scott Hartman states.
In 2017, CSP Magazine recognized it as the healthiest c-store chain in the nation. Chief Customer Officer Derek Gaskins notes that offerings such as its vegetarian black bean burger helped Rutter's earn that designation.
"We were the only c-store to have that product," he recalls, adding that its stores also offer Angus beef burgers and turkey burgers as well.
Last year, CSP named Rutter's as the most kid-friendliest convenience store chain. "That's for several reasons," Director of Foodservice Ryan Krebs says, noting that its locations feature high chairs.
They also offer kid-friendly bags with crayons as well as treats for the youngsters. "In addition to the fried items, they can get fresh, whole fruit," Krebs says, noting that his wife, a nutritionist, loves going to its stores for kids' meals for their young children.
Convenience Store News also named Krebs the 2017 Foodservice Leader of the Year. "I received that recognition in Chicago," he recalls, but asserts that he shares the credit with others for this industry-wide recognition.
"It's an entire Rutter's team that drives that," he says. "But I was certainly honored to represent the company as the leader in foodservice in convenience."